The Muppets Mayhem is out today, and here's everything we know about who the band members are based on
Did you know some of them are based on real people?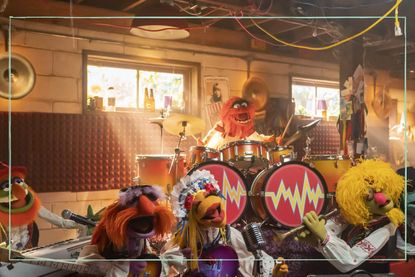 (Image credit: Disney/Mitch Haaseth)
The Muppets Mayhem has arrived on Disney+, bringing nostalgia for parents everywhere, and introducing Dr. Teeth and The Electric Mayhem to a whole new audience.
May 10 is a big day for Muppets fans everywhere, as Disney+ comedy musical series The Muppets Mayhem finally lands. The 10-part series follows Junior A&R executive Nora, as she deals with the chaos caused by Dr. Teeth and the Electric Mayhem. The band are tackling the modern day music business head on, in a bid to record their first ever platinum album. Among the excitement of seeing the beloved Muppets back on television and the chance to introduce them to a new generation of fans, did you know Dr. Teeth and The Electric Mayhem band are based on real people? Let's delve into exactly who they are.
The Mighty Morphin Power Rangers: Once and Always cast recently bought more nostalgia to Netflix, and we took a look at the actors then and now. For those with fond memories of playing with dolls, the Margot Robbie Barbie movie now has a confirmed release date. Proving you can never have too much of the boy who refuses to grow up, Peter Pan & Wendy are back for yet another iteration, and you don't have to wait to catch the movie.
Who is Dr. Teeth based on?
Dr. Teeth was based on Malcolm John Rebennack Jr, who was known by his stage name, Dr. John.
Born in 1941, Dr. John, was an American singer/songwriter, influenced by the New Orleans jazz, blues, and R&B scene. Beginning his career as a guitarist, his guitar-playing dreams were put on hold when his left hand ring finger hand was injured during a shooting. Hindering his ability to play, Dr. John turned to bass guitar before focussing his efforts on playing the piano.
During the early 60s, Dr. John was involved in narcotics dealing, and was running a brothel. These activities landed him with a 2-year prison sentence, and on his release in 1965, he moved to Los Angeles to become a session musician.
A high profile session musician during the late 60s and whole of the 70s, Dr. John worked with the likes of Sonny & Cher, Frank Zappa, Bob Dylan, and Lou Reed. He suffered an ongoing heroin addiction, eventually becoming clean for good in December 1989. He died from a heart attack, in June 2019.
Who is Floyd Pepper based on?
Not based on an actual person, Floyd Pepper's name is inspired by a combination of the band Pink Floyd, and The Beatles' album Sgt. Pepper's Lonely Hearts Club Band.
Floyd's original outfit was thought to be inspired by the suits worn by The Beatles on the Sgt. Pepper album, sometimes paired with a green hat, and occasionally the purple tux that became a Muppets' signature. He serves as the band's bass player, and was originally in a relationship with Janice.
Jerry Nelson, who originated the character, said of Floyd "I always thought of Floyd as a character who had probably been a beatnik first and then - just like real life - probably been a beatnik and then he was into jazz and poetry, then he probably went along with the chase into rock and roll because he needed a job. He drew the line at punk, as I probably did myself, I think. That's why I can relate to Floyd, I guess because he's all those things."
Who is Animal based on?
It is widely speculated although never confirmed, that Animal is based on The Who's Keith Moon.
It has also been suggested he could be based on Mick Fleetwood, Steve Mitchell, John Bonham, Ginger Baker, or Levon Helm. According to CNN, the majority of evidence points to him being based on Keith Moon, as Jim Henson named a Fraggle Rock character "Wembley," which could have been after the town Moon was born.
Born in 1946, Keith Moon took up drumming in the early 60s, joining The Who in 1964 just before they recorded their first single. He gained a reputation for both smashing his kit on stage, and trashing hotel rooms the band were staying in. Suffering from alcoholism, he'd regularly pass out on stage and require medical attention.
He passed away in London at the age of 32. He died from an overdose of Heminevrin, a drug he had been prescribed to treat the symptoms of his withdrawal from alcohol.
Who is Janice based on?
Janice is based on American singer Janis Joplin.
Born Janis Lyn Joplin in 1943, Janis was one of the most successful stars of her time, widely noted for her memorable mezzo-soprano vocals. Finding fame in 1967 at the Monterey Pop Festival, she began her career as lead singer of rock band Big Brother and the Holding Company.
Achieving further success as a solo artist, she made a memorable appearance at the Woodstock festival, with five singles subsequently reaching the Billboard Hot 100. Her final recording, Mercedes Benz, remains one of her most popular today. Janis died of a heroin overdose aged 27, in 1970. She received a posthumous induction into the Rock and Roll Hall of Fame in 1995, still often appearing on lists of the greatest artists and singers of all time.
Who is Zoot based on?
Zoot is thought to have gotten his name from saxophonist Zoot Sims, but was physically modelled on Argentinian sax player, Gato Barbieri.
Zoot Sims was born John Haley Sims, in October 1925, and was a prolific American jazz saxophonist. The name "Zoot" came when travelling with the Kenny Baker band in California at the age of 15. Each band member would have their music stand embellished with a nonsense word. His said "Zoot," and the name stuck. Zoot Sims died of lung cancer in 1985, aged 59.
Leandro "Gato" Barbieri was born in 1932, an Argentine jazz tenor saxophonist remembered for his Latin jazz recordings of the 1970s. Barbieri took a 10-year break from performing in the late 80s, to care for his sick wife. Following her death, he made a return to both recording and performing in the late 1990s, and passed away in 2016. His nickname "Gato," originates from the Spanish word for "cat."
Who is Lips based on?
Lips is the only member of the band with no known origin, he was created solely for performer Steve Whitmire, for him to have his own member of the Electric Mayhem.
Lips doesn't participate in storyline action as much as the others, serving as a musician only, with few lines to say. Speaking about his silence, performer Steve Whitmire said "I felt great whenever he played the trumpet, and I felt terrible whenever he spoke, because I wanted to do this Louis Armstrong kind of voice, and at that point and time, there was some question about whether or not we would offend African-American people by this white guy doing a black voice as a trumpet player."
He continued "We might offend people who liked Louis Armstrong. We weren't sure. I never quite got anywhere with Lips. I'd probably be real comfortable with him now, but at that point, I wasn't sure. I still wasn't ready to do a character."
How can I watch The Muppets Mayhem?
The Muppets Mayhem is streaming exclusively on Disney+, which will require a subscription.
A Disney+ subscription costs £7.99 per month in the UK, or £79.90 upfront for a year. The majority of Disney+ content is available through the subscription, although Disney occasionally releases Disney Plus Premier Access titles requiring additional payment. However, such titles are usually added to the catalogue a short time later, becoming free to watch.
UK subscribers can stream on four screens simultaneously, and register up to 10 devices - the service supports 7 profiles. There is no free trial offered with Disney+ as the initial one week free trial offered during the streamer's 2020 launch, was discontinued after the first month and has not been reinstated.
Related Disney+ Features:
Video of the Week
Lucy is a multi-award nominated writer and blogger with six years' experience writing about entertainment, parenting and family life. Lucy has contributed content to PopSugar and moms.com. In the last three years, she has transformed her passion for streaming countless hours of television into specialising in entertainment writing. There is now nothing she loves more than watching the best shows on television and telling you why you should watch them.