Is Celebrity Hunted on every night? Schedule of the reality series explained
Everything you need to know about when the series airs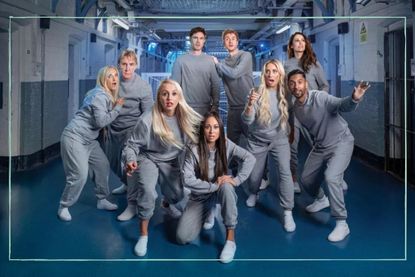 (Image credit: Channel 4/Future)
Celebrities are back once again to give up their comfortable lives, and being tracked by a team of Hunters - and its all in aid of Stand Up To Cancer.
The award winning and BAFTA nominated Celebrity Hunted, has returned to Channel 4 for a fifth season. Premiering on March 28, viewers are already gripped as ten more famous faces become fugitives, attempting to evade capture by the Hunters - a team of surveillance experts. Working in pairs, this years sees comedians and hosts of the Off Menu Podcast, Ed Gamble and James Acaster teamed up. They are joined by Strictly Come Dancing's Katya Jones and best friend and former Olympic snowboarder Aimee Fuller. Life-change experts Nik and Eva Speakman form another team, with Strictly star Saffron Barker and TV Mathematician Bobby Seagull also trying to evade the Hunters. Completing the line up are Coronation Street's Nicola Thorp with fellow actor boyfriend, Nikesh Patel. Can the celebrities stay off the radar and remain at large for two weeks? Read on to find out when Celebrity Hunted is on TV, and if it will be shown every night.
Elsewhere on Channel 4, the recent documentary Paula looked at the troubled life of the enigmatic Paula Yates. Also on the channel, Outed covered what did George Michael do to find himself at the centre of a tabloid whirlwind, and how he turned the situation into a positive. Keeping the documentaries coming, those asking what did Charles Bronson go to prison for, had all their questions about the notorious criminal answered - he is currently seeking his sentence to be overturned, discussing this in Bronson: Fit To Be Free?
Is Celebrity Hunted on every night?
Celebrity Hunted isn't on every night, but will air in the same weekly time slot of 9pm on Tuesday evenings.
Speaking to Radio Times about why she wanted to take part, Aimee Fuller said "A lot of my career has been an individual sport and I'm the one standing up there at the top and I take the weight of the pressure, but for this, we get to split the load between Katya and I. I think it's a unique opportunity."
This was very clever @thespeakmans but mark my words, we're onto you!Missed last night's first ep of the new series of #CelebrityHunted? You can catch up now on @channel4 #All4 pic.twitter.com/tzJYJm5I5XMarch 29, 2023
See more
Katya Jones added "It's an event that raises awareness and funds for Stand Up to Cancer, which is always a bonus. I just think it's actually that I'd like to do something outside of Strictly. I think it's a great chance for me to show my different sides and versatility, plus who wouldn't want to hang out with your best friend for two weeks, right?"
When is Celebrity Hunted on TV?
Celebrity Hunted will next air on April 4, 2023. Once episodes have aired, they will immediately be available for streaming on Channel 4 catch up service, All4.
Ian Dunkley, Commissioning Editor for Factual Entertainment at Channel 4 has spoken of his excitement at the series being back for a fifth instalment. He said "We are delighted to be bringing back one of the most thrilling nationwide chase games with an esteemed group of celebrities supporting the amazing efforts of Stand Up To Cancer."
Tom Hutchings, Executive Producer for Shine TV added, "Get ready for the adventures of our best set of celebrity fugitives ever as we release them, for the first time, in epic prison break-out style! Expect the unexpected as our fugitives enlist the help of their celebrity friends, hide out in the most daring locations and get chased around the UK by our fearless team of Hunters, headed up by Chief Lisa Theaker."
How many episodes of Celebrity Hunted are there?
`There will be a total of six episodes of Celebrity Hunted, with each episode being one hour in length.
The celebrities are taking part in the show as part of Stand Up To Cancer, which is a joint national fundraising campaign from Cancer Research UK and Channel 4 to speed up progress in life-saving cancer research. Launched in the UK in 2012, Stand Up To Cancer funds translational research, turning academic breakthroughs into new treatments that make a real difference for cancer sufferers. 
More than £93 million has been raised in the UK to date, funding 64 clinical trials and projects involving more than 13,000 cancer patients. To give £40, £30, £20 or £10 to the cause, viewers can text FORTY, THIRTY, TWENTY or TEN to 70404. To find out more about Stand Up To Cancer and how you can support, visit channel4.com/SU2C.
Why was Nikesh Patel missing from the first episode of Celebrity Hunted?
Nikesh Patel was missing from the first episode of Celebrity Hunted due to contracting COVID.
His partner on the show Nicola Thorp, is also engaged to Nikesh. Speaking about him being absent from the first episode, Nicola said "I'm feeling a bit emotional, I miss Nikesh. I can't wait for him to just be here. He's got COVID. Hopefully he'll be better soon, testing negative and turning up to join me on the run."
Speaking to Virgin Radio about the chance to eventually appear on the show, Nikesh said he was initially apprehensive about taking part, then excited at the chance it presented to imitate the character from a very popular franchise. He said "Very smartly, one evening, Nic just put the show on. I was like, 'Oh, wait. So I get to basically live out all of my fantasies of being Jason Bourne for real? 100% yes.'"
Related Channel 4 Features:
Video of the Week
Lucy is a multi-award nominated writer and blogger with six years' experience writing about entertainment, parenting and family life. Lucy has contributed content to PopSugar and moms.com. In the last three years, she has transformed her passion for streaming countless hours of television into specialising in entertainment writing. There is now nothing she loves more than watching the best shows on television and telling you why you should watch them.