Is Paul Hollywood married and does he have kids?
Wondering; is Paul Hollywood married? We have the lowdown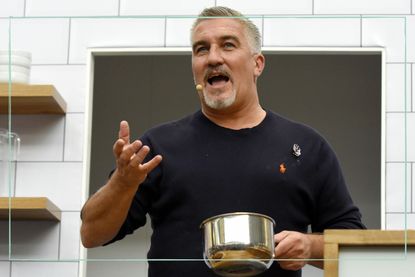 (Image credit: WENN Rights Ltd/Alamy/Future)
Goodto Newsletter
Parenting advice, hot topics, best buys and family finance tips delivered straight to your inbox.
Thank you for signing up to GoodTo. You will receive a verification email shortly.
There was a problem. Please refresh the page and try again.
Is Paul Hollywood married and does he have kids? With the new series of Bake Off finally here, viewers interest in the judge's private life has piqued.
The Great British Bake Off contestants for 2023 have been confirmed, and the long-awaited 14th series of the nation's favourite baking shows is landing on our screens. The hosting line up is also looking a little different this year, with the new Bake Off host now confirmed for the upcoming series. Such is the popularity of the gasping at showstoppers and guessing who might take the crown, the show has spawned several other iterations including Celebrity Bake Off, and one for those across the pond - The Great American Baking Show.
It's not just laughing at the innuendo and soggy bottoms, and hunting down Bake Off recipes to recreate at home that viewers enjoy - they also find the home lives of the presenters and judges fascinating. With this in mind, we take a look at whether judge Paul Hollywood is married, and whether he has kids - sadly, you can't visit where Bake Off is filmed when the tent is up, to ask him and find out for yourselves.
Is Paul Hollywood married?
Paul Hollywood isn't currently married, having divorced his wife in 2019.
Hollywood met first wife Alexandra while he was working in Cyprus as head baker at a five star hotel, and she had taken a job as a scuba diving instructor on the island. The pair married in Cyprus in 1998, but briefly separated in 2013 when it was revealed Hollywood had been involved in an affair with his co-judge on The American Baking Competition, Marcela Valladolid. Once reconciled, Paul and Alexandra stayed together until 2017 when they separated once again - a divorce was finalised in July 2019.
Speaking about wanting to wait until looking for love again once the marriage was over, Alexandra said to Hello "My own marriage was too over-seasoned with extra marital affairs for my taste and so I opted out and chose the single menu instead. As I regained my confidence, my freedom and myself after so long, I discovered that it really isn't a cliche to say happiness really does comes from within."
She expanded on being single for self-care, adding "I still get the occasional well-meaning comment - that I'll get 'snapped up soon' (rather like a supermarket meal deal) people don't like to believe that a woman can be happier single and I'm told that I shouldn't worry, that I'll meet someone special again. But that's just it. I already have. That someone special is me…"
Come and join me for a fabulous day out @thamefoodfest for food demos, Chefs, cooks, tents filled with all sorts of deliciousness ,music and an awful lot of fun ! 30th Sept /1st Oct pic.twitter.com/tqzmoXeKYJSeptember 18, 2023
See more
It was when Hollywood separated from Alexandra that he began dating 23-year-old Summer Monteys-Fullam; at 51, he was 28 years her senior. The pair reportedly met when Paul had arranged a birthday party for Alexandra at the bar where Summer worked - they began dating shortly after Hollywood was separated.
Hollywood is said to have presented Summer with a gagging order to prevent her her discussing their relationship. Said to be upset by these actions, the young woman ended their romance soon afterwards, in 2019.
Summer then took part in an Instagram Q&A, and when asked if she'd rather date someone not in the limelight, answered "100%, I'm not interested in the slightest in dating someone famous again. It was a disaster!! Lol". Summer now works as an aesthetician in Cheltenham, specialising in lash extensions and lip enhancements.
Does Paul Hollywood have kids?
Paul has one son with first wife Alexandra named Joshua, who is currently 21-years-old.
Paul doesn't share pictures of himself and his only son to social media, and mum Alexandra only shares an occasional snippet - therefore, little is known about what Joshua is currently doing. The most recent update Alexandra gave her Instagram fans about her son, was on his 21st birthday.
On October 1, 2022, she posted a sweet snap of the pair, captioned "I can't believe it, those years have gone in the blink of an eye and yet I still remember the moment I first saw him, like it was yesterday️. Being a parent is a privilege not a right - we don't own our children, they are lent to us and sooner or later we have to let them go (which is really bloody hard isn't it?) but watching Josh become the clever funny and inspiring young man he is, has been the most wonderful journey - I'm so very proud of him."
The last time Paul spoke about his son was in a 2016 interview with Digital Spy. Speaking of the regular father-son activities they could undertake, he said "I normally say to him, 'What do you want to do? Do you want to go-kart, do you want to go shopping, do you want to play on the Xbox, do you want to go kick a ball around?'"
Explaining that his son was beginning to forge an interest in baking, he added "And he's a teenager, so he'll normally go, 'I want to play on the Xbox'. But recently he said, 'Dad, I want to bake with you. I got a bit emotional about it, if I'm honest.'"
Is Paul Hollywood engaged?
Paul Hollywood is thought to be engaged to current girlfriend Melissa Spalding, whom he has been dating since 2019.
Paul reportedly met 39-year-old Melissa at the pub and B&B she runs in Ashford, which is close to where he resides. It is thought the couple moved in together just before lockdown, although Paul has remained tight-lipped about the relationship, rarely speaking of his alleged wife-to-be in public.
It was suggested by Hello magazine that previous press intrusion into his private life is the reason Hollywood distances himself from discussing it in recent years. He said "The press intrusion can be such a horrible thing to deal with, and it isn't fair, because there's no right to reply."
He added: "I've withdrawn a lot in the last six years and I'm happiest at home, just putting on my slippers and dressing gown in front of the telly. I don't go out that much and being in large groups of people makes me nervous."
According to the Evening Standard, a source close to the couple said at the time of the engagement "Paul proposed some months ago, but they have been keeping it very quiet since then. It's only in the past month that she has begun wearing her engagement ring out in public, and sharing their news with friends." He has still not commented on the matter publicly.
Does Paul Hollywood wear blue contacts?
Despite his recognisable piercing blue eyes, Paul Hollywood doesn't wear blue contact lenses.
Speaking on the Hits Breakfast Show, Paul discussed the rumours surrounding his eye colour. When asked if it was enhanced in any way, the baking star replied "Erm... I don't know, they are quite blue. It depends what light I'm in and in the tent it's quite white."
He then added that he's always been told he has his grandad's eyes, saying "I was looking at photographs and they're very, very similar, so it's my Grandad I've got to blame for them." His eyes are also offset by his famous tan, "I catch the sun really easily," he said, adding "I always have done, and so, I've always got a tan before I start and as the Bake Off goes on, the make-up girls always take the mickey because I'm getting darker and darker as the Bake Off goes on 'cause it's getting warmer and warmer."
For more Bake Off news, we look at whether new presenter Alison Hammond is married and if she has kids. We've already revealed where Bake Off , filmed, but we also have the lowdown on where Bake Off: The Professionals is filmed.
And we've got plenty of Bake Off related recipes for you to try too, from Mary Berry's lemon drizzle cake and Paul Hollywood's scones to 2015 winner Nadiya Hussein's teriyaki salmon.
Parenting advice, hot topics, best buys and family finance tips delivered straight to your inbox.