Is The Clovehitch Killer based on a true story? Chilling inspiration behind the thriller now streaming on Netflix
Prepare to be chilled to the bone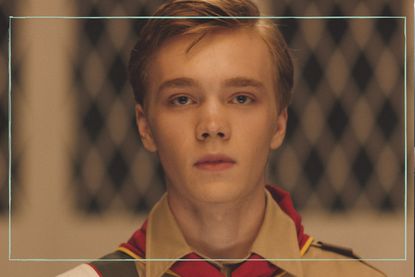 (Image credit: Everett Collection Inc/Alamy/Future)
As Netflix expands its catalogue of thrillers with The Clovehitch Killer, the tense film is raising a lot of questions - and the answers are spine chilling.
The Clovehitch Killer was first released in 2018, a coming-of-age thriller directed by Duncan Skiles and written by Christopher Ford. The film follows 16 year-old Tyler Burnside and his devout Christian family who live in a rural town in Kentucky. The town's residents are haunted by the memory of the Clovehitch Killer, a serial killer who murdered 10 local female victims 10 years previously, before disappearing and never being apprehended. When Tyler begins to suspect his father could be the killer, he sparks a series of disturbing events. With the film now added to Netflix, interest has been piqued surrounding whether storylines featured are based on real events - read on for everything you need to know.
Also on Netflix, another recently added film has viewers asking if Fall is based on a true story (opens in new tab). The Fall ending (opens in new tab) pulled off a huge twist, but it did leave some viewers with questions. Featuring real TV towers and desert backdrops, Fall filmed (opens in new tab) almost entirely location, and we have all the details regarding exactly where.
Is The Clovehitch Killer based on a true story?
The Clovehitch Killer is based on the true story of serial killer Dennis Rader, the self-titled BTK Killer. Rader gave himself this name due to the way he killed his victims - bind, torture, kill.
Rader commit his first murder On January 15, 1974. He strangled four members of the same family in their Wichita home, stealing a watch from the house as a souvenir - he favoured taking underwear from subsequent victims. In April 1974 he killed a 21-year-old woman after breaking into her house. Her brother was present whom Rader non-fatally shot, before stabbing the woman to death and escaping. He later wrote a letter detailing the murders at a Wichita library, with the words "the code words for me will be…bind them, torture them, kill them, B.T.K."
Over the following two decades, Rader murdered five more women. As his victim number mounted, he grew annoyed by the lack of media coverage and began writing letters to local TV stations. As a result of his letters, the coverage set off the media panic he craved. However, he then waited eight years before murdering a neighbour in 1985. In 1986 he killed a 28-year-old mother of two, and 1991 saw his final killing - the strangling of a 62-year-old woman in her rural home. Rader was eventually caught in 2005, and sentenced to 10 consecutive life sentences.
In The Clovehitch Killer, Tyler's father whom he suspects could be the murderer, is a Scout leader and extremely religious. The real Rader was also a Scout leader, and heavily involved in his local church, which is where he was eventually apprehended.
Is Dennis Rader still alive?
Dennis Rader is still alive, and is now 78-years-old. He remains serving his 10 consecutive life sentences at the El Dorado Correctional Facility.
After Rader carried out his final known murder in 1991 and went quiet, on the 30th anniversary of his first murders in 2004 a local newspaper ran a feature about him. It speculated he had either died or was already in prison for another crime. Rader responded to this by sending evidence from his ninth murder to a reporter. Over the course of the next year, he sent further packages to the media and left items around Wichita proving he was still out there. He would leave drawings, photographs, written accounts of his killings, and sometimes dolls posed to mimic the murders.
In January 2005 police recovered a cereal box containing a note where Rader asked police about their ability to trace a floppy disk he wanted to send them. The police placed a classified ad saying it would be safe for him to do so. Rader proceeded to send the disc, which police traced to his church - he served as president of the congregation at the time. His DNA was matched to the semen found at one of his crime scenes, and he was arrested - he even expressed shock the police had tricked him into sending the disc.
The Clovehitch Killer: Cast
Charlie Plummer (Boardwalk Empire, Granite Flats) as Tyler Burnside
Dylan McDermott (The Practice, 1984) as Don Burnside
Samantha Mathis (The Strain, Billions) as Cindy Burnside
Madisen Beaty (Other People, The Fosters) as Kassi
Brenna Sherman (The Last Summer, Confessions of an Exorcist) as Susie Burnside
Lance Chantiles-Wertz (The Three Stooges, Scorpion) as Billy
Emma Jones (Chance) as Amy
Speaking to Movie Maker (opens in new tab) about taking on the role of Tyler, Charlie Plummer said "I'd actually met with the director [Duncan Skies] and screenwriter [Chris Ford] back when I was 15 or 16. My agents had sent the script to me just to give it a read through and I really loved it. I really loved that it was taking a genre that I was a big fan of growing up and kind of turned it on its head, playing with the central idea of the film: examining the part of growing up where you realize your parents aren't who they say they are.
Duncan's goal was to engage with this in a very suspenseful manner, while sticking to who these characters are at their core and never shying away from that. I felt like it was a really gutsy script in that way and that was one of my favorite aspects about that. When I met with Duncan, I found that I really liked him a lot and liked his plan for where the script would go. When Dylan [McDermott] signed on, I got excited hearing how passionate was about the project and the character, especially with a character like this. After that, I went and did a couple different movies and was able to get a little more experience under my belt before I came back to this. You always need some experience before you do something as intense as this."
The Clovehitch Killer: Reviews
The Clovehitch Killer has received positive reviews from critics, but a mixed response from audience members.
Johnny Loftus from Decider (opens in new tab) said "With its washed-out palette of quiet streets, homelife tchotchkes, and teenagers pedaling around on bikes, Clovehitch doesn't have to peer into any torture lairs or show us any murderous acts, beyond some Polaroids and cross-dressing revealed and a diagram or two depicting "devices of pain." Instead it plays the Suburban ideal of family and domesticity against layers of sinister foreboding and out-of-context Bible quotes, and lets McDermott inhabit his clunky white New Balances, pleated dockers and meticulous goatee with an air of put-upon dad that barely conceals his murderous fetishism. It's quietly riveting, and a few deft touches of editing in its final moments keep the revelations of its narrative in play despite the mounting evidence against Don."
Emilie Black from Cinema Crazed (opens in new tab) added "The Clovehitch Killer is a family drama/investigation film that takes its sweet time to find its groove but once it does, the rest becomes like watching an old show you've always loved watching. For those with an interest in serial killers or who grew up loving serial killer stories, this is one of those films that shows an angle rarely approached in film as it comes from the family angle and how a father potentially being serial killer could affect his son, his younger daughter, and his wife as well as those around them and gravitating in their circles. It's an interesting take that is mellow on the violence and basically bloodless but it doesn't meant that not parts are brutal or that the psychology of things is not well done as it is here. The Clovehitch Killer is one of those films that take their time but stick around in the brain for a while once it's been turned off."
One enthused viewer wrote "This is one of those great horror-thriller movies that are only made once in a great while when the stars align... To quote Alfred Hitchcock, "Terror belongs in the home" and that's exactly what this film did. Inspired in part by the BTK serial killer. Dylan Mcdermott's performance as Father, Scout leader, and possible serial killer Don Burnside is chilling, to say the least. A psychologic rollercoaster! and a masterclass in acting! Truly this is one of his best performances and one no Dylan Mcdermott fan should miss!!!"
However, one unimpressed audience member said "The characters are played way too over-the-top as religious radicals. It diminishes the realism of the entire thing. And the overall movie is set-up for a classic hero-saves-the-day ending but the audience is left hanging with a mild ending where the antagonist only gets some of his comeuppance, but he only gets some of that and the protagonist only gets some vindication."
Related Netflix Features:
Video of the Week
Lucy is a multi-award nominated writer and blogger with six years' experience writing about entertainment, parenting and family life. Lucy has contributed content to PopSugar and moms.com. In the last three years, she has transformed her passion for streaming countless hours of television into specialising in entertainment writing. There is now nothing she loves more than watching the best shows on television and telling you why you should watch them.