Where is Fall filmed? Locations featured in the Netflix survival thriller
The cast even performed their own stunts for filming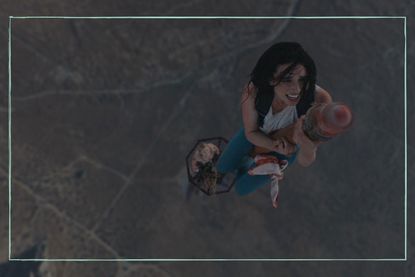 (Image credit: Everett Collection Inc/Alamy/Future)
Do you want to know where the Netflix movie Fall was filmed? Keep reading, we have everything there is to know.
Fall is a dizzying, heart-stopping thriller currently streaming on Netflix. The breakout hit on the platform has viewers watching in droves as the tense action unfolds, and asking if Fall is based on a true story (opens in new tab). When Becky finds herself consumed with grief and abusing alcohol, best friend Hunter suggests the pair climb 2000 feet up a disused TV tower to help Becky heal and recapture her sense of adventure. What actually happens is a section of the rickety ladder they use to climb the tower crumbles, leaving them stranded with no means of communication - and no way down. Not a film for those who suffer vertigo or a fear of heights, let's delve in to the movie's filming locations and other exciting behind-the-scenes information - the Fall ending (opens in new tab) has also been posing some questions that we've dived in to answer.
Elsewhere on Netflix, the Outer Banks season 3 ending (opens in new tab) was another tense watch, and viewers immediately needed news of a season 4. The true story (opens in new tab) behind The Strays on the streamer is certainly shocking, as the film's writer weighs in on how a story his mother told him provided the basis for the plot. The Strays ending (opens in new tab) was also a shocking one, and we break down everything that happened for those who couldn't quite believe their eyes.
Where is Fall filmed?
Fall was filmed in California, specifically the Shadow Mountains in the Mojave Desert, Los Angeles County, and Lancaster city.
Speaking to Radio Times (opens in new tab) about finding the perfect filming location, director Scott Mann spoke about scouring California for the right spot. He said "We looked at buildings, we looked at different things, and mountains and whatnot, and ultimately we came across the tower. And we just realised there was so many of them out there – and the height of these things, they're all 2,000 ft and above. And it got us excited, it genuinely did."
Once the location had been decided on, a set resembling a tower was built on the upper portion a nearby mountain. Due to the sheer height and positioning of the set, and special camera lenses used, the actors really did appear to be thousands of feet in the air. Mann said "And so basically, we were actually above 2000 ft, so all the kinds of camera work and things to capture the movie, Virginia and Grace were really immersed into what it was like to be up there – because they really were up there!"
Actor Darrell Dennis who plays Randy in the film, shared a picture of filming in Lancaster to his Instagram account. He shared a selfie from the desert, with filming in full swing behind him. The caption read "So grateful to be back on set (my happy place), shooting a movie in the age of Covid!! #setlife #hollywood #actorslife."
Is the B67 Tower real?
The B67 TV Tower is a real tower, and is an abandoned tower known as the Sacramento Joint Venture Tower. Also known as the KXTV/KOVR radio tower, it is located in Walnut Grove, California.
Speaking to Radio Times about finding a tower to form the basis of the story, director Scott Mann said "I think the key to it was finding these actual towers that exist in America, that exist in the desert there. It was just like that is the perfect location, the perfect kind of character to be at the centre of this nutty thing."
He added "We scoured all around California, and it was during COVID, so we'd just drive and drive and drive to these random remote locations, to try and get access. A lot of them had kind of radio masts and things at the top of these mountains and you're just finding the right kind of top of a mountain with the right cliff and the right sunlight positioning."
Did they really climb the tower in Fall?
No, the actresses portraying Becky and Hunter didn't really climb the tower in Fall, the real tower was only used for the film's opening sequences to set the scene.
The tower was recreated on location in the desert however, to look authentic. Virginia Gardner (Hunter) and Grace Fulton (Becky) also performed their own stunts during filming. In a video shared to Instagram, director Scott Mann elaborates on recreating the B67 tower for filming - builders of the actual tower were brought in to build the set. Mann said "We got the guys who built the original tower out in Arizona that it's based from, and to do the height work we found a location on the very tip of a mountain with a big drop off. So it's thousands of feet up, getting there was hell. But then we built a 100ft tower on the edge of that, so that when we filmed them [Gardner and Fulton] they seemed 2000ft up."
In a video shared to Twitter, Grace Fulton says "It was never expected we'd do our own stunts. It was always offered, if we wanted to try it. I think there was just so much curiosity on my part, and Ginny's, to try it - and we did."
In this exclusive behind the scenes look at #Fall, we get to feast our eyes on some of the INSANE stunts actors Grace Caroline Currey and Virginia Gardner performed while filming the flick 😱'Fall' is now in theaters and on Vudu!🎟's —> https://t.co/I3csV9Zw7j pic.twitter.com/EBtYuwPXbgSeptember 27, 2022
See more
Why did Becky and Hunter climb the tower?
Hunter and Becky climbed the tower in Fall, for Becky to try and find closure after the death of her husband in a climbing accident.
Becky's husband Dan had died in a climbing accident the previous year, and she had become lost in grief. Lonely and abusing alcohol, her life is now very different to the one she had with Dan - the pair of them were very active, thrill-seeking whenever they could. Hunter suggests the best friends climb the tower to spread Dan's ashes from the summit, and for Becky to reach closure and feel catharsis.
Grace Fulton spoke to Coming Soon (opens in new tab) about portraying a woman dealing with grief in the film. She said "I just think loss as a whole is such a nuanced, layered thing. I love therapy. I'm a big proponent for it. Definitely journeying through different loss experiences of my own. I was excited to try to map out kind of what Becky's going through and the events. As an actor, I like to map out my performances so I can kind of know where my character is emotionally, situationally, especially considering we filmed stuff out of order.
But I think, definitely the loss factor was really exciting for me to explore. My heart broke for Becky, so I felt kind of protective to tell her story. But then the stunt element as well, how physical it is. I was a little afraid I wouldn't be able to have, I don't know, the energy, the fullness of myself to be so emotionally heavy, and do so much physical craziness. But I was excited for the challenge."
Related Netflix Features:
Video of the Week
Lucy is a multi-award nominated writer and blogger with six years' experience writing about entertainment, parenting and family life. Lucy has contributed content to PopSugar and moms.com. In the last three years, she has transformed her passion for streaming countless hours of television into specialising in entertainment writing. There is now nothing she loves more than watching the best shows on television and telling you why you should watch them.