Is Fall based on a true story? As the survival thriller starts streaming on Netflix, viewers have questions
The film is leaving viewers feeling queasy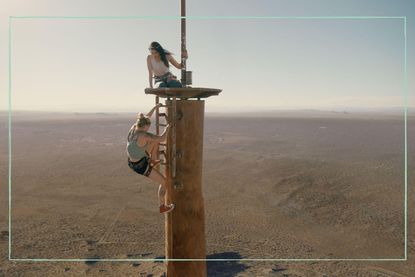 (Image credit: Lionsgate/Everett Collection/Alamy)
As Fall arrives on Netflix UK, the film and its dizzying heights and thrilling storyline is leaving viewers asking for the truth behind the story.
In Netflix's Fall, Becky is mourning the loss of husband Dan, in a climbing accident the year before. Depressed, abusing alcohol, and estranged from her father, Becky's best friend Hunter suggests they do something positive to commemorate the anniversary of Dan's death. Hunter's suggestion is for the pair to climb 2,000 feet up the decommissioned B67 TV tower in the desert, to scatter Dan's ashes and try to find closure. Once the ashes are scattered, the pair make the descent back to the ground - but the corroded ladder breaks apart, leaving the women stranded with several hundred feet between them and the next intact section. With no way to call for help and no way down, the film is a tense and dizzying ride before reaching its final conclusion - viewers have been quick to ask if Fall is based on a true story (opens in new tab) Read on to find out if Fall is based on a true story, and have other burning questions about the film answered.
The movie Fall filmed (opens in new tab) predominantly on location for authenticity - we reveal exactly where the action was shot. Also on Netflix, The Strays ending (opens in new tab) has left fans wondering if a mother really could do that to her children - The Strays true story (opens in new tab) explained by the film's writer, reveals that such actions could be possible.
Is Fall based on a true story?
Fall isn't based on a true story, and is purely a work of fiction written by director Scott Mann and writer Jonathan Frank.
Speaking to Radio Times (opens in new tab) about the inspiration behind the film, Scott Mann explained he and Frank were hit with the idea while working on a separate project together. He said "The inception of the height idea came about when we were shooting Final Score at a stadium in the UK. We were filming at height, and off camera, we got into this interesting conversation about height and the fear of falling and how that's inside of all of us, really, and how that can be a great device for a movie."
Elaborating on this with SciFiNow (opens in new tab), Scott said he was actually filming a stunt with Dave Bautista for Final Score when inspiration struck, with Mann adding "We were stood on this high roof, and obviously everyone's being super safe, but the threat of that drop was there. Then we started talking about how heights are this weird thing, because it's kind of nothing. It's a psychological, inert, fight-or-flight kind of thing, like a fear that we all have."
Adding to the experience, the production team really did film at huge heights. They faced intense heat, rainfall, swarms of insects, and hurricane-like winds - all at 2000 feet above the ground. Mann discussed the authenticity this added to the film, saying "At 2000 feet, doing this stuff, for me that's the big thing that made a huge difference. You feel that it's real."
He added "It's embracing the nuance and mess you get from filming up at a height because the cameras can get knocked by the wind, and the sound isn't perfect. They all have an effect on the viewer. I think there's an energy that you can capture when you're on location that you can't fake. So I think that all fed into to that and the psychological trauma for Virginia and Grace."
Does Becky survive in Fall?
Yes, Becky survives in Fall, while its Hunter who meets her end. Hunter dies much earlier in the film than viewers think, and is actually a hallucination of Becky's for most of it.
Earlier on in the film when Hunter made the leap to reach the suspended backpack, she had actually died at this point and never made her way back to Becky - it was Becky's mind that told her Hunter made it back alive. When Becky wakes the next day to find a vulture pecking at her wounded leg, she kills it before making her way down to where Hunter's body lies.
Becky writes out a message on her phone for her dad, placing the phone inside a shoe and into a large wound in Hunter's body. She pushes the body from the tower, hoping the padded out phone will survive the fall, and pick up enough signal at ground level to get the message to her father and alert him to her predicament. The trick works, and her father arrives at the tower with emergency services in tow, and Becky is rescued.
Fall: Cast
Grace Caroline Currey (Revenge, Awkward) as Becky Connor
Virginia Gardner (Heartstrings, Gaslit) as Shiloh Hunter
Jeffrey Dean Morgan (The Walking Dead, Supernatural) as James Connor
Mason Gooding (Ballers, Love, Victor) as Dan Connor
Jasper Cole (The Family Business) as Steve
Darrell Dennis (Leaving Normal, Degrassi) as Randy
Speaking to Coming Soon (opens in new tab) about reading the script for the first time, Grace Fulton said "I definitely remember reading it all in one sitting and just being so engrossed in the story, in the concept of getting to audition for Becky and a role that would be, it's my first lead from start to finish. I've never had so much to do on a set across the board. I think when I read the script, and there were so many twists and turns, and there was so much activity that I would get to do if I got the part.
I didn't know if I was gonna have the part yet obviously. But I was just hungry for the challenge. I just wanted to see how they were gonna make it, how practical it was gonna be. So when I first talked to Scott Mann, it was really exciting when he started telling me, 'We're gonna build this tower and you would be outside. Are you afraid of heights?' I was like, 'No, I don't think so. I hope not. I want this role.'"
On the difficult filming conditions, Currey also spoke out to say "I think Ginny and I, we got a lot of help from actually being outside in the elements. There's pros and cons, the pros are that you actually are sweating, exhausted, fighting dehydration from being in the sun all day, and just the most insane temperatures of heat. Insane wind speeds also, that you just get so exhausted from being knocked around all day by the wind.
Like we're talking such strong winds that we'd have to come down from the tower sometimes because it got dangerous for us to be up there. I mean it's, there's definitely some trauma trying to remember this experience. I gotta be honest because it was crazy. Ginny and I would look at each other and just go, 'What did we get ourselves into?' Cause we're high up and sweating like crazy. Not to mention having to do the stunts and say lines, you know, that can be hard enough sometimes."
Fall: Reviews
Fall has generally positive reviews, holding both a 79% critic and audience score on review aggregator Rotten Tomatoes.
Dallas King from Flick Feast (opens in new tab) offered 4 out of 5 to the film. He said "The stakes are continually raised, a real kick in the teeth given they are already 2000 ft high, as they must contend with losing their supplies, circling vultures and a secret that could drive an unscalable wedge between them. The runtime extends slightly too long. Like a rope pulled too tight that threatens to snap. However the film manages to maintain the tension just long enough to reach its thrilling conclusion."
Jake Wilson from The Age (opens in new tab) added "There are only so many ways you can film two actors in a single location, whatever the supposed altitude. But Frank maintains suspense with enough success to vindicate his reliance on old-school, non-digital techniques. Themes, it's fair to say, are less of a priority: this is straight-up genre filmmaking, rather than the "elevated" kind. The cautionary-tale aspect of the story is undercut by a final homily about living life to the full, while a revelation about Becky and Hunter's shared past lands with little of the intended emotional force."
A thrilled audience member wrote "Hands down movie of the year! It will have u at the edge of your seat the whole movie and give you anxiety! This movie needs to win some awards! Produced by an underdog production company and they did AMAZING!"
Another referred to the dizzying heights featured in the film, saying "I thought it was surprisingly entertaining considering there were basically only 2 people starring in it. The special effects were very convincing as it appeared that for a good part of the movie the main characters were stranded 2000 feet above ground. It kept me at the edge of my seat, and even though heights don't bother me, I felt queasy during some of the scenes. I would recommend seeing it."
Related Netflix Features:
Video of the Week
Lucy is a multi-award nominated writer and blogger with six years' experience writing about entertainment, parenting and family life. Lucy has contributed content to PopSugar and moms.com. In the last three years, she has transformed her passion for streaming countless hours of television into specialising in entertainment writing. There is now nothing she loves more than watching the best shows on television and telling you why you should watch them.