What did Luther Get sent to prison for? Everything that happened in season 5 as The Fallen Sun streams on Netflix
Why is he locked up?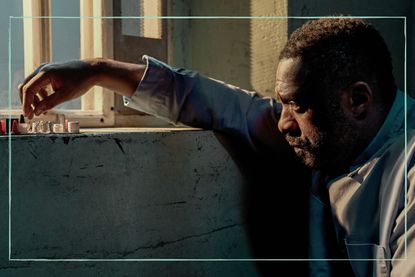 (Image credit: John Wilson/Netflix/Future)
For all Luther fans, now that Luther: The Fallen Sun is available on Netflix, you might have some questions - we are here to answer them.
Luther: The Fallen Sun is another show following the current trend of concluding a long-running series with a film. Acting as a final part to the TV series of the same name, Idris Elba reprises his role as the titular character while also acting as the film's producer. Following a small cinematic release on February 24, fans of the show are delighted to now be able to stream the film conclusion on Netflix, but they do have questions. Namely, viewers want to know why Luther is in prison - keep reading to find out why he's there, and answers to other burning questions about the exciting production.
Also on Netflix, millions are tuning in to watch a survival film, and asking is Fall based on a true story (opens in new tab)? With real TV towers and desert backdrops, Fall filmed (opens in new tab) almost entirely on location and we reveal exactly where. The Fall ending explained (opens in new tab) ties up any loose ends left by the movie, after that mind boggling twist left some viewers confused.
What did Luther get sent to prison for?
Luther is in prison for the crimes he was suspected of committing throughout the course of the Luther series - these are killing DS Halliday, Alice Morgan, Benny Silver, and hitman Mr. Palmer.
Although not responsible directly for any of these crimes, Luther wasn't always a straight detective. Throughout Luther season 5, Luther is involved in an ongoing feud with gangster George Cornelius. George hires hitman Mr. Palmer to kill Luther after becoming annoyed with Luther's repeated ability to foil his plans. Mr. Palmer holds Alice and Benny Silver hostage, to bait Luther into a rescue attempt. Benny is shot when he tries to covertly describe the hitman's appearance to Luther, to help him find them.
Luther does eventually track Mr. Palmer down - although he threatens him with a gun, he ultimately doesn't pull the trigger. It's George, the man who hired Mr. Palmer, who ends up shooting the hitman. However, George has a photo of Luther pointing his gun at the dead Palmer, and shows it to Schenk, implicating the detective in both Mr Palmer and Benny's murder. Schenk responds by telling Halliday to bring Luther to the station.
Luther's sometime enemy and sometime lover Alice Morgan, also kills Halliday in a fit of jealousy, deciding to frame Luther for her death. Declaring her love for Luther, Alice then shoots him - just before she can get a second shot in, he pushes her from some scaffolding. Although his instinct is to then save her, she cuts his hand, forcing him to let her fall. Moments after Alice plunges to her death, Luther is arrested.
At the time of his arrest, Luther is therefore a suspect in the murders of DS Halliday, Alice Morgan, Benny Silver, and Mr. Palmer. With the events of Luther: The Fallen Sun taking place a couple of years later, the detective is in prison for being framed for these crimes.
Do you need to watch the Luther series before the film?
No, viewers do not need to have seen the Luther series before watching the film. The screenwriters wrote the screenplay to deliberately enable anyone to watch, regardless of their knowledge of the character.
Speaking to Netflix Tudum (opens in new tab), Idris Elba said that although there are plenty of nods to the series for die hard fans to admire, Luther is also not a difficult character to grasp. He said "I think John's just John, right? This film, whether you know John or not, has a start, a middle and an end and you get thrown into it."
Writer Neil Cross also emphasised the lack of need to be familiar with the series, adding "We're a loyal bunch, and respecting the existing fans was essential to us. But we're also a welcoming bunch. So it was just as important for there to be no cost of entry for new viewers."
Does Luther die in the film?
No, Luther does not die at the end of the film, and there is an implication that further Luther films could follow.
By The Fallen Sun's conclusion, Luther has successfully caught the serial killer, and been taken to a government safe house. Martin Schenk informs him he won't be returning to prison, believing the government will offer him a job. Several government cars arrive at the safe house, and a suited man congratulates Luther on taking down the killer.
The man tells Luther that "Chief would like a word," gesturing to a car. The person in the car is never seen, as Luther approaches cautiously. The film ends at that moment, leaving the door wide open for the franchise to extend into a sequel - although there has been no official word on this just yet.
Luther: The Fallen Sun reviews
Luther: The Fallen Sun has received mixed reviews, currently holding a 66% critic score and 85% audience score on review aggregator Rotten Tomatoes.
Victoria Luxford from City AM (opens in new tab) was largely positive about the film, saying "It's not quite a revelation, but Luther: The Fallen Sun is a grimy noir that will delight fans of the long running series. After years of being linked with Bond, Elba shows that he is doing just fine with his own antihero."
John Serba from Decider (opens in new tab) wasn't impressed, adding "Without the series' episodic structure, this Luther feels trapped in its feature-length structure, leaving little room for character development, contextual implications and subtext. It isn't about much of anything, not moral ambiguity, the corruptibility of modern tech or even the origins of sociopathy. It's a lousy procedural, in too much of a hurry to be detailed. It's structured not as a suspenseful mystery but a haphazard chase lacking the type of twists and turns that might make it clever. And it's unrelentingly grim and humorless. But hey, at least it's handsome, right?"
An audience member was very enthused, writing "Excellent big screen adaptation of the television series, with Idris Elba reprising his iconic role as DCI John Luther m. Gripping plot and excellent ensemble performance by the full cast makes this a must-see suspense film!"
However, another didn't have many good things to say, adding "The escape from jail was a joke . The middle made no sense and the end was a poor attempt at a James Bond villain style genre that just didn't work. Very poor script that felt like a group of young kids had sat around a table throwing ideas around to see what would stick. Jason Bourne or James Bond was what this was trying to be and failing miserably."
Related Netflix Features:
Video of the Week
Lucy is a multi-award nominated writer and blogger with six years' experience writing about entertainment, parenting and family life. Lucy has contributed content to PopSugar and moms.com. In the last three years, she has transformed her passion for streaming countless hours of television into specialising in entertainment writing. There is now nothing she loves more than watching the best shows on television and telling you why you should watch them.