The Strays ending explained: What happened to Neve in the Netflix mystery thriller?
What happened when Neve's past caught up with her?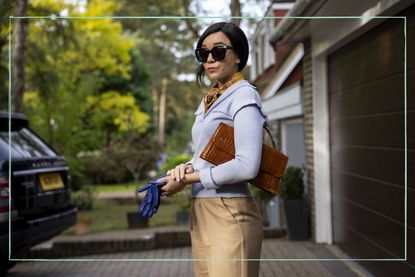 (Image credit: Chris Harris/Netflix/Future)
In the tense final moments of The Strays, Neve actions shocked viewers and left them wondering why she made that decision.
The Strays landed on Netflix on February 22, and viewers already can't stop talking about it, and the fact it's based on a true story (opens in new tab). Ashley Madekwe takes the lead as a woman named Cheryl, whom we first meet in 2003. A distraught Cheryl is unhappy with her life, and the class and racial inequalities she experiences that hold her back. After a fraught conversation with her sister, she is seen packing a bag and leaving her husband and two children behind. In the present day, Cheryl is now Neve, with a new husband and the middle class life she was desperate for. Her shiny new affluent existence and two more children are everything Neve wants - until she starts noticing two Black strangers following her. As her life spirals, Neve has some tough decisions to make, and her final choices were very shocking. Read on to find out exactly what happened in The Strays final moments, and what they meant for the film's characters.
Also on Netflix, the Four Good Days true story (opens in new tab) has been eye opening for audiences. Mila Kunis is heart breaking as a woman trying to break a decade-long drug addiction. For more psychological thrills, the You season 4 part 1 ending (opens in new tab) is full of drama and suspense, and there's not long to wait until part 2 arrives on the streamer. The season 1 Lockwood & Co ending (opens in new tab) was also a tense one, and viewers are eagerly awaiting news of a second instalment.
The Strays ending explained
The Strays ends with Neve once again running away from her life and abandoning her children - this time leaving all four of them behind.
Having been shown to abandon her original children, Carl and Dione, at the beginning of the film, Cheryl forged an upper-middle-class life without them. With new husband Ian, and young children Sebastien and Mary, she now works as the deputy head at a private school while living in a comfortable Wiltshire suburb. She is also uncomfortable with her Black heritage, wanting to conceal and attempt to move away from it.
Neve's perfect new life is interrupted by the arrival of a young Black man and woman, who spook her by turning up where ever she is. Their presence becomes even more disturbing when the pair - calling themselves Marvin and Abigail, ingratiate themselves in the lives of her children. It doesn't take long to realise these mysterious strangers are Neve's children she left behind in 2003, Carl and Dione.
Things come to a head when Carl takes a job at the school where Neve works, and she tries to get him fired. Carl and Dione then turn up at a charity gala Neve holds at her home, and a tense confrontation ensues when they openly call her "mother," and she demands to know what they want from her - as if it isn't clear they want to know why she abandoned them and is happily giving two more children the privileged upbringing they were denied.
Neve later agrees to meet with her two older children, to offer them an explanation for her behaviour. She simply tells them she was forced to leave their father 16 years previously, because he was dangerous. When Carl and Dione are unhappy with this answer, Neve responds by offering them £20,000 that she hopes will see them off for good. This plan fails, when Carl and Dione break into her home a few nights later, locking all the doors, and attempting to flood the home of their hostages.
Now Neve's new family know about her previous life, a tense situation is made even worse when Carl announces today is Dione's birthday, and they will be having a party to celebrate. Dione menacingly insists on playing scrabble altogether as a family, and ordering a takeaway. When the older children reveal to Ian that Neve had paid them to disappear, he is furious and demands a divorce.
Carl's escalating anger reaches fever pitch, when he demands that Ian joins him in the home's gym for a work out. Forcing Ian to bench press a huge weight, Carl watches as Ian struggles. In evident pain and unable to push the barbell above his chest, Ian can't finish the move and as Carl refuses to help him, he drops the weight on his chest. Although this moment is not seen on camera, the crunching noise that can be heard leads to the assumption Ian is dead.
The Chinese takeaway arrives, and Neve tells the driver she needs to find her purse for a tip. Finding the purse, she calls to the children that she will be straight back, but instead slips out the front door. As Carl notices her absence and asks where his "mum" is, the delivery motorcycle can be heard roaring from the house. All four of Neve's children stand at the door, watching as their mother escapes with the driver. Once again, she has chosen to run away from a difficult situation, leaving all of her children behind to save herself.
Where is The Strays filmed?
The Strays was reportedly filmed in London, Suffolk, Berkshire, and Wiltshire. Filming took place between September and November, 2021.
According to Radio Times (opens in new tab), director Nathaniel Martello-White shot the final scene of confrontation like a play, in one take with only dress rehearsals beforehand. Neve actress Ashley Madekwe said "It was a very long scene – it's almost 20 minutes that scene. Every take was in one long continuous take no matter what we were doing – if you were looking for my POV, or Jorden's POV, the whole take – and the camera would move, he was roaming, so you never really knew where he was going to be. So you have to be prepared."
She added "And we rehearsed it like a play, we had two days of rehearsals, not just the actors but all of the crew, so all of the components were there for our rehearsal. And it was so helpful because it meant that when it came to those shooting days, it was almost a fine-oiled machine."
Jorden Myrie, who plays Carl, also spoke about shooting the ending like a play. He said "The type of scene that we were shooting as well is everything coming to the crescendo of the film. So you're feeling that intensity. But also, from a technical aspect, the difference is that not only are you actually basically performing a mini-play, but you then are really aware of the fact that there's a camera, sound, and all that in there, too."
Maria Almeida, who plays Neve's younger daughter Mary in the film, shared some behind-the-scenes pictures from the shoot to her Instagram page. She captioned them "In celebration of The Strays being released on @netflix today I thought I'd post some stuff from those fun 3 months of filming… sorry in advance."
The Strays: Cast
Ashley Madekwe (Secret Diary of A Call Girl, County Lines) as Neve
Bukky Bakray (Rocks, You Don't Know Me) as Dione
Jorden Myrie (Dancing in the Dark, Shepherd's Delight) as Carl
Samuel Small (Game of Thrones, Bonus track) as Sebastian
Maria Almeida (Pretty Red Dress, Fifteen-Love) as Mary
Justin Salinger (Everest, Brimstone) as Ian
Ashley Madekwe spoke to Yahoo (opens in new tab) about Black actors having a film told from their perspective. She said "Unfortunately, I think leading roles are still not as prevalent [for Black actors] as perhaps I would like them to be. That's just because I think sometimes we're not telling stories from a Black perspective. There are a lot more Black characters in stories, but not always are the stories told from a Black perspective, or from any ethnicities perspective."
The actress added "There has been a push to put more people of colour in front of the camera. But really, it's going to have to start from behind, who's getting the chance to tell the stories. I definitely understand code switching and moving between worlds," she continued, "I think people of colour everywhere can relate to that. There's how you behave at home, your family, and how you speak on the telephone to someone who you think is important."
The Strays: Rotten Tomatoes
Currently, there is a big divide between critics and the audience on review aggregator Rotten Tomatoes, with critics offering the film 86% and the audience just 28%.
Ian Sandwell from Digital Spy (opens in new tab) was impressed with the film. He said "For some, The Strays might end a bit too abruptly and its supporting cast isn't fleshed out as its leading trio. However, when it delivers the thrills as it does and leaves you with plenty to chew over, you'll likely be in a place to forgive those slight flaws. You might not want them in your life, but you won't regret inviting The Strays into your Netflix list."
Anton Bitel from Little White Lies (opens in new tab) was equally enthused. He said "Hidden in Martello-White's bold, assured calling card is a provocative allegory of black experience in white Britain, as characters get caught in an evolving conflict between estrangement and assimilation, individualism and inauthenticity, pride and self-loathing. Cheryl's internalised racism, quixotic self-repudiation and yearning for what she cannot have are both a tragedy of delusion, and a horrific legacy for the next generation of uprooted strays."
An audience member however, found plenty of problems with the film. They said "The movie had really good potential but fell short, in my opinion, when it came down to the ending. Unfortunately, predictable. The moment the mother opened the door for the food I knew. It didn't make sense why they would allow her to be the one to even do that when she's the one they want revenge on most. Also, I understand them having initial resentment towards the new family but what is the reason for their hatred for the family that didn't even know they existed and did nothing but try to process and accept it once they found out?? So many questions that just aren't answered."
Another disgruntled reviewer added "There was a foundation for an interesting movie about societal issues and dysfunctional relationships. Once her other children show up we know it is a revenge movie waiting on a final home invasion scene. It is like watching paint dry getting to the final scene and although the mother gets away again it was not expected but definitely not surprising."
Related Netflix Features:
Video of the Week
Lucy is a multi-award nominated writer and blogger with six years' experience writing about entertainment, parenting and family life. Lucy has contributed content to PopSugar and moms.com. In the last three years, she has transformed her passion for streaming countless hours of television into specialising in entertainment writing. There is now nothing she loves more than watching the best shows on television and telling you why you should watch them.