Prince Harry has 'reconnected with himself' and 'has a sense of peace' since moving his family to the US
"He's been able to do what he needed to do"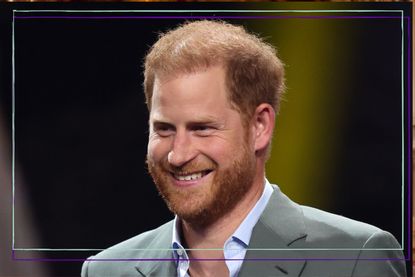 (Image credit: Getty Images)
Goodto Newsletter
Parenting advice, hot topics, best buys and family finance tips delivered straight to your inbox.
Thank you for signing up to GoodTo. You will receive a verification email shortly.
There was a problem. Please refresh the page and try again.
According to a body language expert, it is clear that Prince Harry now 'has a sense of peace' and has grown to be 'genuinely happy' after moving his family to the US.
A body language expert who has analysed Prince Harry's recent public appearances has shared how the Prince now appears more 'confident, happy and at peace' than he did when living in the UK.
The expert believes 'he has a sense of peace now' that he has had a 'chance to be more open and honest with himself' away from the Royal Family.
---
When Prince Harry and Meghan Markle stepped down as senior royals and moved their family to LA, no one could have seen it coming. Of course, we all know now that there was trouble brewing behind the scenes for years thanks to Harry's memoir Spare and the couple's Netflix docuseries, but royal fans had no idea about the troubles Prince Harry was facing.
When it came to light, the effect on the Prince was clear to see. His shoulders were slumped, his mouth was pulled into a constant nervous frown, and his entire body would appear so tense it was a wonder how he got anything done at all. But, thankfully, according to a body language expert, the Prince has now found 'peace' and has 'become a lot more relaxed since' moving his family to the US.
Speaking on behalf of Betfair Casino, body language expert Darren Stanton revealed, "Harry has become a lot more relaxed since moving to the States. He is a completely different person. When he was still in the UK, he had to adhere to a lot of the Royal protocols and we get the impression now that he couldn't really be himself.
"In terms of clothing, Harry was rarely seen in casual clothing back in the UK, unless it was a sporting event, but we now mainly see him in laid back attire. There are a lot of pictures of Harry wearing jeans and a t-shirt and that just adds to how comfortable he's feeling in the US."
This change has been visible throughout Harry's Invictus Games appearances. From experts sharing how he now appears to be a 'very different' man and fans swooning at the smooth way he handled an utterly 'adorable' meeting with young fans to his suave joke about being a 'father-of-five' and his funny reaction to Meghan Markle's impressive karaoke moment.
But the change is more than just Harry now getting to wear what he wants. Darren explained, "In terms of his body language, we've seen Harry show fewer pacifying gestures, meaning he doesn't feel the need to reassure himself as much as he did when he was a working Royal in the UK. We still see it from time to time when he's feeling nervous or less confident, but there's a clear change in that. The move has allowed him to become more of himself in public and reconnect with himself.
"There seems to be less pressure on him now and his aura presents that, he rarely seems frustrated or nervous when he's in America. This is reflected through his open body language, his genuine smiles and speaking from the heart. While Harry has still had a lot of pressure on him over the past few years, he does seem to be a much more relaxed person since moving to America."
It's not necessarily that America changed Harry, Darren shares, but that the freedom caused by his move has brought out more desirable traits in him that were likely instilled by his mother, the late Princess Diana.
"Harry has a lot of humility like his mother," Darren added. "Both Harry and William carry the positive traits we loved about Princess Diana. He's very humble and cares for people. He's a team player, and he always will be.
"Harry has also become a lot more outspoken over the past few years. A member of the Royal family would never, ever get angry, or display their personal opinion. They're always told to follow the words of, 'never explain, never complain'. But Harry has broken this mould, which has given him the chance to be more open and honest with himself.
"You can tell through Harry's body language that he is genuinely happy. It's clear he has a sense of peace now. He's been able to do what he needed to do."
Over the past week, as Harry and Meghan have been seen in public together more so than ever before this year, their interactions have also highlighted how they have 'grown' as a couple, allowing them to 'do things independently.'
Darren shared, "Most romantic couples go through the head-over-heels, giddy honeymoon stage in the beginning and once they're more established and know each other really well, we see them relax a bit and take their own pace with their independence. Meghan and Harry are no different to that.
"They started off with being in different parts of the world, and wanting to be together when they could. Their relationship will never be conventional like other couples, they're a team - who work together and live together - and have completely different personalities. They've moved on from their honeymoon period and are now in a place where they love each other, but they both have a lot more independence too. In the early days, they often were seen together at every event, and put on quite affectionate displays for the public.
"We now see Harry attending events alone, while she's the figurehead of her own charity work and organisations. This shows they're no longer in that bubble like the beginning and they've both developed in confidence, allowing them to do the things they want to do individually.
"There have been times when Harry would come across as the more dominant of the two, but Meghan will often take over from that by asserting herself and owning the room. Meghan would often place her hand on Harry's upper back in public outings together, as well as rubbing his elbow, and that is a signal to move him along. "
Parenting advice, hot topics, best buys and family finance tips delivered straight to your inbox.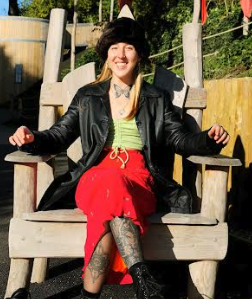 Royal News and Entertainment writer
Charlie Elizabeth Culverhouse is royal news and entertainment writer for Goodto.com. She began her freelance journalism career after graduating from Nottingham Trent University with an MA in Magazine Journalism, receiving an NCTJ diploma, and earning a First Class BA (Hons) in Journalism at the British and Irish Modern Music Institute. She has also worked with BBC Good Food and The Independent.