Prince Harry is not 'interested in developing a relationship' with step-mother Camilla, claims royal expert
Royal expert and author Ingrid Seward claimed that the Duchess of Cornwall and the Duke of Sussex do not get along well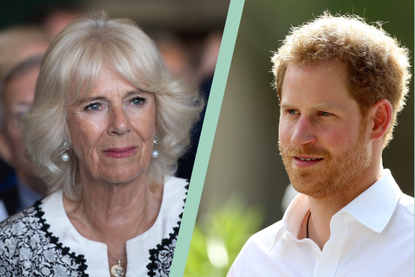 (Image credit: Future)
A royal expert and biographer appeared on the Daily Mirror's podcast 'Pod Save the Queen' to speak about the lack of a relationship between Harry and Camilla.
---
Prince Harry's relationship with various members of his family has been pulled into question on numerous occasions since his departure to the US (opens in new tab), none more so than that with his brother (opens in new tab). Now, his relationship, or lack thereof, with stepmother Camilla has been suggested by royal expert and biographer Ingrid Seward (opens in new tab).
In a teaser clip released by the Daily Mirror's podcast Pod Save the Queen (opens in new tab), the royal biographer said of Harry, "I don't think Harry has a great deal of warmth for her, he waxes and wanes with her."
According to Ingrid Seward, there has not always been this hostility between the pair. She told Pod Save the Queen that Harry and his brother, Prince William, were originally, 'very happy to embrace her,' before 'it went off the boil a bit.'
While no explanation is given as to the cause of the relationship's breaking point, the expert claimed that the Duchess had since 'kept in the background' and 'didn't interfere' in Prince William or Prince Harry's lives.
"She really really took care not to or to say 'well you can't do this or you can't do that," she told the podcast. "I don't think Harry is interested in developing a relationship with his stepmother at this stage in his life," added the expert.
Despite his brother's reservations, according to Seward, Prince William is said to have "completely appreciated Camilla and what she has done for his father," and "has got to know her well."

Related features:
Anna Bailey is the editor of GoodTo. She joined the team in June 2018 but has been a lifestyle writer and online editor for more than 14 years. Anna graduated from Bournemouth University in 2004 with a degree in Multimedia Journalism and went on to gain her NCTJ and NCE journalism qualifications. She began her career in local journalism, working as a reporter for the Basingstoke Gazette in Hampshire. As Lifestyle Editor for ITV.com she managed the websites for the broadcaster's best-loved shows including This Morning, Loose Women, Coronation Street, Emmerdale, Coleen's Real Women, and Britain's Best Dish. Before joining Goodto.com she was also a Features Editor at MSN UK and Digital Lifestyle Editor for the broadcaster UKTV. She's also contributed to The Mirror, The Sun, LoveFood, LoveExploring, and TBSeen.