The Mother is out on Netflix and Jennifer Lopez said the action movie explores "what the idea of the perfect mom is and how that really doesn't exist."
She's right - there is no perfect mother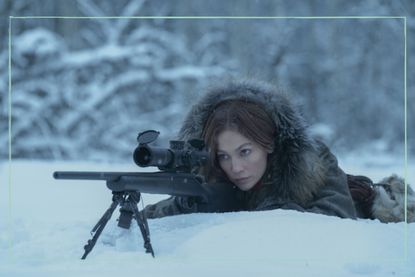 (Image credit: Eric Milner/Netflix/Future)
The Mother has arrived on Netflix, and JLO has told us to expect action, emotion, and definitely less than perfect mothers.
Never too far away from a screen near you, Jennifer Lopez is currently starring in Netflix movie The Mother. In the same way that we never find out the name of our hero in Fleabag, JLO's character is mysteriously only known as "The Mother" throughout the entire movie. The star has spoken extensively about what to expect from her latest acting outing, and now our expectations are high. Not wholly unexpectedly due to the title, prepare for an uncomfortable exploration of motherhood, thrown into what is set to be an action packed two hours. Here's what the film is about, and what JLO has to say about it.
Elsewhere on Netflix, Cleopatra's story and origins are given fresh debate in Jada Pinkett Smith's controversial Queen Cleopatra docuseries. The Bridgerton Queen Charlotte spin-off is riding high on the streamer, with viewers asking if Queen Charlotte really is based on a real Queen. Queen Charlotte: A Bridgerton Story filmed in some iconic British locations - how many have you spotted?
What is the movie The Mother about?
The Mother follows Jennifer Lopez's The Mother, as a former deadly assassin who is forced out of hiding to protect the daughter she gave up as a baby.
Having given birth to a very much wanted baby, The Mother was fresh from being embroiled in a stand-off that had left multiple FBI agents dead, and dangerous criminal out for her blood. Forced to have daughter Zoe adopted for both of their protection, The Mother is told they'd always use her daughter to get to her. Saying goodbye to her baby, she leaves to live a solitary life in the wilderness when her daughter goes to live with a new family.
Unable to hide from the danger for ever, twelve years later the criminals track Zoe down and her life is in danger. Hearing of her daughter's plight, The Mother comes out of hiding to reunite with her child and save her life. With mother and daughter on the run together, expect an action-filled thriller to follow, with car chases and fight scenes galore.
Determined to evade the revenge of her pursuers and do whatever it takes to keep herself and her daughter alive, mother and daughter must learn to work together, despite not knowing each other. She might not be the perfect Mom, but The Mother will do whatever it takes to keep her daughter safe.
What has Jennifer Lopez said about appearing in The Mother?
Jennifer Lopez has said that aside from the action, the main theme of the film is to explore the idea that the perfect mom doesn't exist.
In an interview with Reuters, Lopez said the predominant theme is how "How she [The Mother] would do anything to protect her child. I also think... there's an underlying theme of what it is to be a mother and what the idea of the perfect mom is and how that really doesn't exist."
Lopez, along with Lucy Paez who plays her daughter Zoe, continued to refer to the film as "Powerful," "emotional," and "action packed." Director Niki Caro also weighed in on the motherhood themes, adding the movie is "Badass, because she (the title character) is and mothers are."
Who else is in the cast of The Mother?
Joining Jennifer Lopez in the cast of The Mother are:
Joseph Fiennes (The Handmaid's Tale, American Horror Story) as Adrian Lovell
Omari Hardwick (Army of The Dead, Power) as William Cruise
Gael García Bernal (Mozart in The Jungle, Station Eleven) as Hector Álvarez
Paul Raci (Goliath, Perry Mason) as Jons
Lucy Paez (Silencio, The Exorcism of Carmen Farias) as Zoe
Jesse Garcia (Avengers Assemble)
Yvonne Senat Jones (The Bobby Brown Story)
Joseph Fiennes has gone straight from his villainous role as Fred Waterford in The Handmaid's Tale, to playing bad guy Adrian Lovell in The Mother. He spoke to Coming Soon about transforming into a villain for the screen, and what it takes. He said "I think that's really just down to great filmmakers and camera work and brilliant stunt coordinators and a good bit of makeup - that always helps to amplify the villain."
Speaking warmly of co-star Jennifer Lopez, Fiennes went on to say "she has an extraordinary work ethic, so she is prepared like no one else. She, in terms of the fight, was 100% in it emotionally and knew it inside out in terms of the choreographies. So that combination lent a danger to being in the scene with her, because if you didn't know your thing, you are, you know, your moves and what you're doing, you are liable to get knocked out."
The Mother: Reviews
Early reviews for The Mother so far point to mixed reactions towards the movie.
The folks at Yahoo! weren't impressed, referring to it as "decent if forgettable," expanding on this by adding "This is supposed to be a big emotional journey for Mother and Zoe and the viewing audience, but I can't say this movie ever really convinces you to care about this relationship, which is especially odd because there have been plenty of random pairings of adult assassins and non-blood relation children in movies that I've felt invested in. The Mother just expects that you're on board with some essential connection, which Paul Raci (nice to see him again on screen) tries his best to sell."
However, an entertainment journalist on Twitter enjoyed the film, writing "THE MOTHER was hugely entertaining. And Jennifer Lopez was badass to the bone. A relentless adrenaline rush action thriller. Interesting to celebrate the upcoming Mother's Day with a non-tear jerker like this, but I very much welcomed the change of scenery."
THE MOTHER was hugely entertaining. And Jennifer Lopez was badass to the bone.A relentless adrenaline rush action thriller.Interesting to celebrate the upcoming Mother's Day with a non-tear jerker like this, but I very much welcomed the change of scenery.#TheMother #Netflix pic.twitter.com/ISGnYGgtjwMay 8, 2023
See more
However, another social media critic didn't agree, saying "THE MOTHER is an instantly forgettable Netflix film about a spy mother who must protect her estranged daughter because "bad people from the past". Jennifer Lopez is good, Lucy Paez is GREAT, but none save it from its bland, generic story. Expected more from Niki Caro. #TheMother."
Related Netflix Features:
Video of the Week
Lucy is a multi-award nominated writer and blogger with six years' experience writing about entertainment, parenting and family life. Lucy has contributed content to PopSugar and moms.com. In the last three years, she has transformed her passion for streaming countless hours of television into specialising in entertainment writing. There is now nothing she loves more than watching the best shows on television and telling you why you should watch them.