Where is The Diplomat filmed? Locations featured in the Netflix political thriller
There are some very familiar locations featured in the drama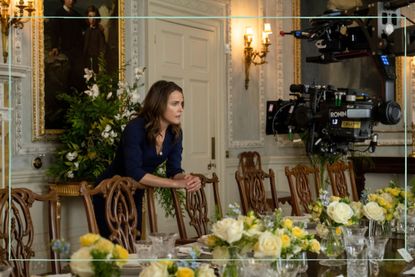 (Image credit: Alex Bailey/Netflix/Future)
The Diplomat is bringing exciting drama to Netflix, and also some familiar locations - if you like to know where your favourite shows are filmed, we've got you covered!
The fabulous Keri Russell is back on our screens in Netflix thriller The Diplomat. She portrays Katherine Wyler, a newly appointed US ambassador to the United Kingdom - a role she doesn't really want. Katherine, who was hoping to be sent to Afghanistan, instead finds herself diffusing international crises and creating strategic alliances from the UK. Married to fellow diplomat Hal Wyler (Rufus Sewell), Katherine's new position also places strain on their marriage. With the threat of war simmering away in the background, a crisis in the Persian Gulf sets off the series action. If key locations featured in the drama looks familiar, read on to find out why they're recognisable.
The Diplomat ending has certainly left viewers hungry for more Kate Wyler action. For those eagerly awaiting confirmation of a second instalment, there have been hints about the future of The Diplomat season 2.
Where is The Diplomat filmed?
The Diplomat filmed in London, The Cotswolds, and Paris.
In London, scenes were shot at the Old Royal Naval College in Greenwich. In the first episode, Keri Russell's character can be seen laying a wreath at the memorial. No stranger to appearing on television, the Old Royal Naval college has been used as a backdrop in Bridgerton, The Crown, Pirates of the Caribbean, Les Misérables, and many more.
Old Royal Naval College is a UNESCO World Heritage Site, and architectural centrepiece of Maritime Greenwich. Originally constructed as a Royal Hospital for Seamen at Greenwich, the hospital closed in 1869. It then became The Royal Naval College between 1873 and 1998, now being managed by the Greenwich Foundation for the Old Royal Naval College. The buildings have been well preserved, and act as a cultural destination. In The Crown, the building served as a substitute for the outside of Buckingham Palace.
No Cotswolds filming locations have been revealed by the production team, but in Paris, scenes were filmed at the Louvre. The Louvre is a national art museum and Parisian landmark, sitting on the Right Bank of the Seine. It houses some of the most important works of Western art, including the Mona Lisa and the Venus de Milo.
How many episodes of The Diplomat are there?
There are eight episodes of The Diplomat. Each episode is around 50 minutes in length, and as the show isn't billed as a limited series, there could be more to follow.
Keri Russell spoke to Moviefone about why her character Kate, is reluctant to take up a position in the UK. Russell said "There are generally two types of ambassadors that we have. One, tends to be a gift in some way for a large presidential donation. You get posted in Paris, London or Rome, somewhere nice for the summer. Then there are the career diplomats who are posted in Beirut or starting up a place in Afghanistan, setting up shop there, and they speak multiple languages.
Kate is one of the latter, and I think she sees these more glamorous posts like London as not the real work. She doesn't want to have tea parties with people. She wants to help people, girls go to school or girls to stay alive, you know what I mean? Or to set up voting registration places. I think Kate is struggling because she not passionate. She doesn't think it's the real work that she is passionate about."
The Diplomat: Cast
Keri Russell (The Americans, Cocaine Bear) as Ambassador Kate Wyler
Rufus Sewell (The Man in The High Castle, The Pale Horse) as Hal Wyler
Ali Ahn (Supernatural, Billions) as Eidra Graham, CIA Station Chief
David Gyasi (Cloud Atlas, Carnival Row) as Foreign Secretary Austin Dennison
Ato Essandoh (Blue Bloods, Girls) as Stuart Heyford
Rory Kinnear (Black Mirror, Bank of Dave) as Prime Minister Nicol Trowbridge
Miguel Sandoval (Grey's Anatomy, Station 19) as Secretary of State Miguel Ganon
Nana Mensah (13 Reasons Why, The Chair) as White House Chief of Staff Billie Appiah
Michael McKean (Better Call Saul, Breeders) as President William Rayburn
Pearl Mackie (Doctor Who, Friday Night Dinner) as Alysse
Joey Eden as Dan
Celia Imrie (Better Things, Keeping Faith) as Margaret Roylin
Penny Downie (Father Brown, The Crown) as Frances Munning
Bijan Daneshmand (Eastenders, House of The Dragon) as Rasoul Shahin[1]
Jess Chanliau (Brave New World) as Ronnie
Bhav Joshi (The Baby, Vigil) as Anu
Anna Francolini (Rome, Homeland) as Pippa
Adam Silver (Masters of The Air, Transparent) as Howard
Georgie Henley (The Chronicles of Narnia, The Spanish Princess) as Pensy
Reza Diako (Tehran, I Hate Suzie) as Basir
Dana Haqjoo (The Ipcress File, Tyrant) as Farid Namazi
Speaking to Moviefone about how his character Hal adjusts to his role in the show and supports his on-screen wife, actor Rufus Sewell said "Well, he encourages her because he's a few steps ahead on this. I mean, he also is a similar kind of ambassador. This is a post which is usually awarded to someone who is a big donor politically. It's normally about parties, photo shoots and glamour, et cetera, et cetera. So posts like this are not really what we are in the game for.
We are normally at the cold face of diplomacy, saving lives, stopping wars, or at least trying to. Spending time with warlords or whatever. But this is an opportunity for her to go on to something else. She's not fully apprised of what this really means, I have more of an idea. Actually, even though I have in the past been a bit of a big shot myself, I genuinely want her to do incredibly well. He's just not very good at not stepping into the light. He's a great believer in her. They are equals in mind. He is a big, big supporter of hers. He just can't help screwing up a bit."
The Diplomat: Reviews
There has been a very positive early critical response to The Diplomat, marking it out as one to watch.
Lucy Mangan from The Guardian offered an enthusiastic 4 stars. She said "After a slightly turgid opening episode, The Diplomat becomes a hugely enjoyable ride and, while Russell rules the show, everyone around her is a brilliant addition and support. Like Martin Sheen in The West Wing, you only wish she could be playing the role in real life too. Imagine how much better off we'd be."
Brian Tallerico from Roger Ebert added "If The Diplomat finds an audience, it will be because of the undeniable joy of watching the insanely talented Keri Russell and Rufus Sewell argue, flirt, and challenge each other with spectacular chemistry and believable backstories.
Daniel Fienberg from The Hollywood Reporter also had good things to say. His view was "Everything in The Diplomat gives the impression of being thoroughly researched and accurately reproduced - production designer Chris Roope's re-creation of locations like ambassadorial residence Winfield House and the American embassy in London is exceptional - without ever letting accuracy supersede entertainment."
Emily Tannenbaum from Variety, concluded the good reviews with "I can't help rooting for a second season of "The Diplomat," which ends with a satisfyingly twist and game-changing, if emotionally manipulative cliffhanger. As long as you go into your next binge looking for a series more akin to Scandal than Bodyguard, you're in for an entertaining ride."
Related Netflix Features:
Video of the Week
Lucy is a multi-award nominated writer and blogger with six years' experience writing about entertainment, parenting and family life. Lucy has contributed content to PopSugar and moms.com. In the last three years, she has transformed her passion for streaming countless hours of television into specialising in entertainment writing. There is now nothing she loves more than watching the best shows on television and telling you why you should watch them.