Will there be a season 2 of The Night Agent? Future of the Netflix thriller confirmed
Will we see more of Peter Sunderland?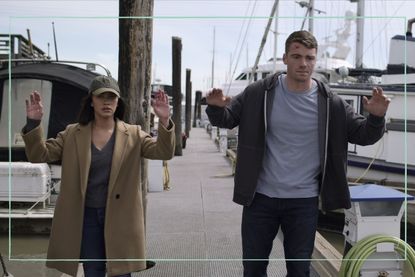 (Image credit: Netflix/Future)
Viewers who quickly binged The Night Agent are desperate for news of a return for the hit thriller - will we be seeing Peter Sutherland again on Netflix?
The Night Agent rapidly pulled in audiences when it premiered on March 23. Gabriel Basso shone in the title role as FBI agent Peter Sutherland, who begins the series on desk duty in the White House basement. Left manning a phone that never rings, prospects look bleak for Sutherland, until it does one day the elusive phone does ring, and everything changes. When Sutherland finds himself in the middle of a conspiracy involving a possible mole planted high up in the the US government, a thrilling journey ensued, involving him fighting to save the nation. Within four days of landing on Netflix, the series became the third most viewed debuting series on the streamer, cementing its popularity and classing it unmissable. The Night Agent ending appeared to tie up all loose ends, leaving no cliff hangers that would lead nicely into a further season. This has left many asking if there will be a second outing for the thriller, and we have everything you need to know.
Elsewhere on Netflix, the Murder Mystery 2 ending was not so cut and dried, with fans needing an explanation relating to the exact meaning of that finale. Mystery thriller fans have also been asking if The Clovehitch Killer is based on a true story - there is a chilling answer to that question. Luther fanatics were demanding to know what did Luther go to prison for, when the fan favourite detective was incarcerated at the start of The Fallen Sun.
Will there be a season 2 of The Night Agent?
Yes, The Night Agent has been officially confirmed for a season 2. The show proved to be such a hit, it was renewed within a week of the season 1 debut.
In an interview with TV Line, The Night Agent showrunner Shawn Ryan spoke about the very fast renewal. He said "It was so fast. I mean, I had been told that that we shouldn't expect any news about a pick-up until at least a month after the show started. And then last Tuesday morning [four days after the series landed] the numbers get released and you're like, 'Oh my God.' Even so, I still thought that they were going to make us wait a little while." He concluded "We literally got the [renewal] call the next morning. It's all kind of shocking."
The Night Agent has been renewed for a second season! And showrunner @ShawnRyanTV already has some ideas for Peter's next adventure...https://t.co/IeiftfT30L pic.twitter.com/9tP99poFHJMarch 29, 2023
See more
In an official statement about the renewal, Ryan said "The last week has been a whirlwind as we've finally been able to share The Night Agent with the world. To see the tremendous reaction to the show has been a great joy and is a credit to our cast, our writers, our directors, our crew and our partners at Sony Pictures Television and Netflix. We couldn't be any prouder or more excited to get cracking on Season 2 to share the further adventures of Night Action with our newfound fans."
In celebration, Peter Sutherland actor Gabriel Basso shared a montage of The Night Agent highlights to his Instagram page, with the caption "Mission Accepted: The Night Agent Season 2. Coming 2024." Fans were quick to share their excitement, with one commenting "Omg omg omg omg YES... this just made my day. Y'all can go ahead and renew it for Season 3." With thousands of other echoing similar sentiments, another fan added "Can't wait for Season 2! All the actors did a great job! What a show!"
What will The Night Agent season 2 be about?
Although no official plot has been released for The Night Agent season 2, the showrunners and cast have revealed they have plans for the second outing.
Speaking to Netflix Tudum, showrunner Shawn Ryan hinted that season 2 would consider the relationship between Rose and Peter, after Peter flew off into the distance to begin his new job. Ryan said "That's one of the big questions we'd love to answer in Season 2. What does Peter getting on this plane and going somewhere (presumably overseas to enter into some new wild adventure) mean, with Rose going back to California to try to pursue her Silicon Valley dreams again? We certainly have some initial ideas."
After disgraced presidential chief of staff Diane Farr survived being shot in the finale, and Gordon Wick escaped, Ryan also suggested their stories could be expanded. Of Wick getting away, he said "We liked the idea that this wasn't so clean. That there is one person who, because of his resources and everything, is able to slink away. Maybe we'll deal with him again in some way."
Gabriel Basso also weighed in on concluding this storyline, adding "Due to his belief in due process, he's not going to be bummed she's [Farr] alive. But if Farr eludes justice, he'll be a little more wary of Travers. To be a traitor and not receive justice is not okay with Peter."
Luciane Buchanan also spoke about what season 2 could mean for her character, Rose. She added " I really hope that she continues on her journey. [The ending] leaves it really open-ended… I also want closure for her, I'm like, 'This girl needs a lot of therapy after everything she's been through.'"
The Night Agent season 2: Cast
The cast of The Night Agent season will once again see Gabriel Basso reprise the role of Peter Sutherland, and Luciane Buchanan is set to return as Rose Larkin.
Although not yet confirmed, other cast members expected to return include:
Hong Chau as Diane Farr
Kari Matchett as President Travers
Fola Evans-Akingbola as Chelsea Arrington
Ben Cotton as Wick
In an interview with Collider, Gabriel Basso spoke about preparing for such a physical role in the series. He said "Yeah, I fight a lot in real life and I train a lot, almost on a daily basis, so nothing physical required that much preparation for me. It was more the differences in style of martial arts.
Stunt fighting is almost its own thing. In real martial arts and real fighting, you wanna do the least amount of telegraphing. You wanna get from point A to point B as quick as possible, and that doesn't read on camera. I almost had to re-learn how to fight, which is crazy to think about, since I've been doing it my whole life. The toughest thing for me was breaking my muscle memory of how to fight in real life."
The Night Agent: Reviews
Reviews for season 1 of The Night Agent have been largely positive, certainly leaving season 2 a tough act to follow.
Lucy Mangan from The Guardian offered 4 stars. She said "Great acting, kills galore and a pacy plot about an FBI agent who spends his days waiting for a hotline to ring. You couldn't ask for more from a spy show."
Daniel D'Addario from Variety was also impressed, adding "It's a pleasure to see a show better than it might have been, when so often the opposite is true: The Night Agent sparks with curiosity and intrigue, a richly detailed show that propels viewers forward with a relentless pace."
An impressed Rotten Tomatoes audience member wrote "This is definitely a show that'll keep you thinking and at the edge of your seat. Be prepared for a plethora of suspense, action, and shocking moments. The actors and actresses did a phenomenal job at playing their characters. They definitely have you questioning your predictions. I have this sitting in my top 10 shows of all time! Highly recommend."
Related Netflix Features:
Video of the Week
Lucy is a multi-award nominated writer and blogger with six years' experience writing about entertainment, parenting and family life. Lucy has contributed content to PopSugar and moms.com. In the last three years, she has transformed her passion for streaming countless hours of television into specialising in entertainment writing. There is now nothing she loves more than watching the best shows on television and telling you why you should watch them.