Will there be a season 2 of The Diplomat?
The show shot straight to number 1 on the Netflix chart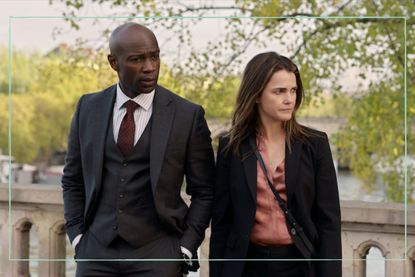 (Image credit: Netflix/Future)
We are pretty sure there will be riots if fans of The Diplomat don't get the second season they deserve - what does the future hold for the political thriller?
The Diplomat premiered on Netflix on April 20, and it wasn't long before most viewers had devoured the entire series - and now they want more. Acclaimed actress Keri Russell leads the political thriller with confidence and immense watchability, also finding herself perfectly paired with on-screen husband Rufus Sewell. As political power couple Kate and Hal, their chemistry and navigation of their difficult marriage made up many of the best scenes. As US Ambassador to the UK Kate Wyler, our main protagonist is tasked with finding the perpetrators of a British aircraft carrier bombing, and the subsequent need to dispel tensions between the UK, America, and Iran. She also needs to keep her underhand husband in check, and figure out if she has enough left to invest in trying to save their marriage - it's a lot. But will she be back for a second outing? Here's everything we know so far.
If you're in need of a recap, The Diplomat ending left a fair few lives hanging in the balance, and a whole lot more issues for Kate to negotiate. Viewers in the UK have spotted that The Diplomat filmed in some key locations in the country. Fans of the show have also been enjoying fellow political thriller The Night Agent, which has also had the fate of its season 2 confirmed.
Will there be a season 2 of The Diplomat?
There has been no official announcement about a season 2 of The Diplomat. However, showrunner Debora Cahn has hinted at hopes for the show to continue.
Speaking to Elle, Cahn said "I have been fortunate in my life to work on a lot of long-running series, so I think that's how I think. I look for stories that can go on for a long time because, for me, the excitement of being able to go in really deep with characters you already know and you have a relationship with is fantastic. I still don't know if this is going to be that series or if it's this eight-hour story. You plan for the best version and hope for the best version and we'll see what happens."
Even more good news, is that Cahn has signed a deal with Netflix, further fuelling hope The Diplomat will return. In a statement released by Deadline, head of Drama Development at Netflix, Jinny Howe, said "I've seen first hand Deb's incredible work on shows including The West Wing. She knows how to tell an amazing story, with character depth, stakes and surprises, all of which she'll bring to The Diplomat. We're thrilled to welcome Deb to Netflix."
Is The Diplomat based on a book?
The Diplomat isn't based on a book, but on the experiences of series creator Debora Cahn, while she was writing Homeland.
According to Netflix Tudum, Cahn was drawn to the subject of diplomacy after meeting with ambassadors while working on Homeland. She said "The Foreign Service is the first in and the last out of every disaster in the world, and nobody knows who they are or what they do."
Discussing the topic with Vanity Fair, Cahn also said of Diplomats "They're quiet and unassuming. Like, this woman who looks like my Aunt Ruthie - she was in the middle of a crisis involving nuclear waste and a truck driving off an icy Siberian road and bombs dropping. Nobody knows what these people do. It's such front-lines-y kind of activity, and nobody ever knows about it."
She also liked the idea of couples who work together, especially those in the Foreign Service, acting as an inspiration for Kate and Hal. Cahn added "But 10, 15 years later, you're in a situation where the person you love most is also somebody you're competing with all the time," alluding to the complicated and floundering marriage Kate and Hal find themselves in.
Shows like The Diplomat
If you're missing The Diplomat already, here's a few similar shows to sink your teeth into:
The West Wing (1999)
American serial political drama The West Wing, originally broadcast between 1999 - 2006. Set primarily in the West Wing of the White House during the fictitious Democratic administration of President Josiah Bartlet, the show often appears on lists of the best series of all time.
The Diplomat immediately drew comparisons with the award-winning The West Wing, and writer Debora Cahn has worked on both shows - many are hailing The Diplomat as a modern day West Wing.
House of Cards (2013)
House of Cards is a fellow political thriller based on the 1989 novel of the same name by Michael Dobbs, adapted from 1990 BBC series of the same name by Andrew Davies. Set in Washington, D.C., the series tells the story of Frank Underwood (Kevin Spacey), an amoral politician and Democrat, and his equally ambitious wife Claire Underwood.
The Netflix series garnered much critical acclaim, accruing including 33 Primetime Emmy Award nominations, becoming the first original online-only streaming series to receive major Emmy nominations. The show also received eight Golden Globe Award nominations, winning two of them.
Bodyguard (2018)
Limited series Bodyguard, is a British political thriller written by Jed Mercurio. Airing on the BBC, the six-part series followed fictional Police Sergeant David Budd (Richard Madden), a British Army war veteran suffering from PTSD. Now working for the Royalty and Specialist Protection Branch of London's Metropolitan Police Service, he is tasked with protecting ambitious Home Secretary Julia Montague (Keeley Hawes), whose politics he happens to loathe.
The Night Agent (2023)
The Night Agent rapidly only recently premiered on Netflix, on March 23. Gabriel Basso takes the title role as FBI agent Peter Sutherland, who begins the series on desk duty in the White House basement. The protagonist is left manning a phone that never rings and prospects look bleak for Sutherland, until the elusive phone does ring, and everything changes.
Sutherland finds himself embroiled in a conspiracy involving a possible mole planted high up in the the US government, taking him on a thrilling journey to save the nation. Four days after landing on Netflix, the series became the third most viewed debuting series on the streamer, and classing it unmissable.
Other similar shows include:
The Good Wife (2009)
Scandal (2012)
Veep (2012)
Madam Secretary (2014)
The Honorable Woman (2014)
Designated Survivor (2016)
Anatomy of a Scandal (2022)
Black Earth Rising (2018)
Related Netflix Features:
Video of the Week
Lucy is a multi-award nominated writer and blogger with six years' experience writing about entertainment, parenting and family life. Lucy has contributed content to PopSugar and moms.com. In the last three years, she has transformed her passion for streaming countless hours of television into specialising in entertainment writing. There is now nothing she loves more than watching the best shows on television and telling you why you should watch them.