Where is Fair Play filmed? Filming locations of Netflix's new erotic thriller
The location might come as a surprise...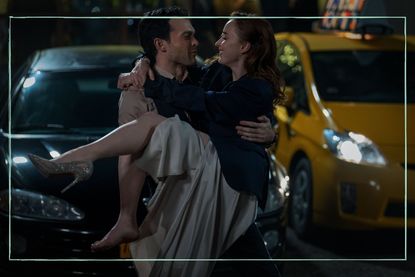 (Image credit: Sergej Radovic/Netflix/Future)
Where is Fair Play filmed? Phoebe Dynevor and Alden Ehrenreich are bringing the steaminess to Netflix's new erotic thriller, but viewers might be surprised by the filming location...
Another steamy drama has made its way to Netflix, to warm up the increasingly darker evenings. In Fair Play, hedge fund analysts Emily and Luke are in a secret relationship, keeping their romance separate from work and their colleagues. When a promotion at their cutthroat financial firm arises that they both covet, their relationship slowly devolves into uncomfortable and misogynistic power play. Behind the slow-burn action and powerful performances lies a backdrop viewers might think they recognise - but it might not be all it seems, as we look at where Fair Play was really filmed. For those who have watched the film in its entirety, we also have an in-depth look at the Fair Play ending for you.
Elsewhere on Netflix, romantic drama Love Is in The Air was filmed in some beautiful locations, and we reveal where. For hilarious romantic shenanigans on the streamer, Sex Education was filmed in some different locations for the fourth and final season. Viewers tuning into sci-fi police procedural Bodies, are also asking for the filming locations.
Where is Fair Play filmed?
Despite being set in New York, Fair Play was filmed in Belgrade, Serbia.
According to Netflix Tudum, Belgrade was chosen a stand-in for the well-known city, due to their convincingly matching skylines. Director Chloe Domont described the city's landscape as adding to the film's sense of wrongness and uncertainty, with the world outside Emily and Luke's small apartment meant to look threatening "like a row of daggers."
Interior scenes were shot in carefully constructed sets in the city. "We built all the interiors on a stage," Domont said. She added "Our production designer, Steve Summersgill, is an absolute ninja when it comes to building sets. And the two of us were equally meticulous in making sure these spaces feel authentic and lived-in and that the details reflected reality as much as possible - from the way the paint chipped around the radiator to the way the backdrops looked outside the window - everything within the frame was important in selling it."
With the surprising inclusion of Serbia as a filming location, Variety reports production companies are flocking to the area to carry out filming, with D.W. Moffett and Matt Dillon said to be building a state-of-the-art film, music and media production facility in North Macedonia. This is set to make shooting in the region even more of a draw, as international productions flock to film there - this will also boost local economies by creating a plethora of jobs.
Is Fair play based on a book?
Fair Play isn't based on a book, but is an original screenplay written by director Chloe Domont, based on her experiences of gender roles.
In the film, Emily and Luke are blissfully happy in their secret relationship - romances are banned between colleagues at their place of work, and they're happy to bask in the pretence. When Emily gets the promotion both were sure was heading Luke's way, her first reaction is to apologise. "That was the first scene that came to me when writing this," Domont told Esquire. "She gets the promotion and her first reaction isn't excitement. It's fear."
Domont went on to explain that fear can infiltrate the happiest of relationships - in Luke and Emily's case, it leads to psychological warfare. Speaking of her personal experiences, Dumont expanded "I got to a place where I was just normalizing these dynamics within the relationships that I was having," she explained. She added "I was undermining my success and undermining my excitement for my professional career while dating different men.
Some experiences were more subtle and some experiences were more explicit, but the normalization of what was happening became upsetting and untenable. Part of why I wrote the first draft was to sound the alarm - to say this is something that we need to be talking about because this is something we all deal with. If we want to work through it, we have to be able to acknowledge it."
The writer and director concluded gravely "Ultimately, this is a societal and systemic thing that needs to change. So many of us want to adhere to a modern, feminist, society, but we're still raised with traditional ideals of masculinity. For the most part, we raise boys to believe that masculinity is an identity when it's not. It's an energy. If we can move away from that, if we can break free from these ingrained gender dynamics, then we'll get past it."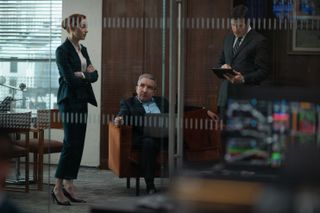 Why is Fair Play rated R?
Fair Play has been given an R rating by the Motion Picture Association of America for the use of pervasive language, sexual content, nudity, and sexual violence.
The term is a US term that, in the UK, is roughly the equivalent of a 15 rating. In the US however, the rating means nobody under the age of 17 should be viewing the content. Common Sense Media says "Fair Play is a graphic, violent erotic thriller/drama about a couple whose jobs at a toxic hedge fund begin to violently rip apart their relationship. It's brutal and hard to watch, but it's also very smart, with well-drawn, organic characters."
They continue to warn against scenes of sexual violence, explicit language and drinking to excess, explaining "Characters are also stabbed and sliced, hit in the head with a beer bottle, shoved against the wall. A woman has bruises all over her body, and there's dribbling blood, raging, arguing, and more."
Fair Play: Cast
Phoebe Dynevor (Bridgerton, Waterloo Road) as Emily
Alden Ehrenreich (Cocaine Bear, Oppenheimer) as Luke
Eddie Marsan (Ridley Road, The Winter King) as Campbell
Rich Sommer (Mad Men, In The Dark) as Paul
Sebastian de Souza (Skins, The Great) as Rory
Geraldine Somerville (My Week With Marilyn, The Gentlemen) as Emily's mother
Phoebe Dynevor told Deadline the topic of the film resonated for her, and she very much related to her character. "I know a lot of women that have been through similar experiences, she said."
She added "I just knew that it was a character that a lot of women would see themselves in, in some way. Emily's in a very male-dominated workplace. I myself have been in male-dominated places and there were just so many things that I could relate to."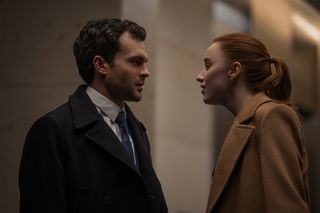 Fair Play: Reviews
The film enjoyed a small theatrical release prior to its Netflix debut, and currently has strong critical and audience reviews.
Stephanie Zacharek from TIME Magazine said "Writer-director Chloe Domont's skillfully constructed debut feature Fair Play is neither a horror movie nor a corporate thriller, though it bears earmarks of both, with some dashes of erotic-thriller intrigue tossed in. Mostly, though, this workplace psycho-romance traces the resentments that can asphyxiate a couple when one partner's career escalates as the other's falters, and it does so in the service of a bigger picture."
Tom Shone from the Sunday Times was also impressed, adding "Chloe Domont's Fair Play is for the most part a smart, modern update to those wince-inducing erotic office thrillers from the Nineties starring Demi Moore, There's immense fun to be had watching their affair turn rivalrous, then antagonistic, but less fun in watching the flame-throwing psycho-drama of the final act. Domont sets up a chess match, then overturns the board."
One audience member said "Now this satisfied my fix for an original thriller. Loved every minute of it. Thrilling and entertaining - Phoebe Dynevor is an actress to look out for."
Another added "Fair Play is a sizzling psychosexual thriller that sheds light on the darker side of the financial world and the twisted complexities of gender dynamics at work. Writer/director Chloe Domont skillfully crafts a thought-provoking movie. The portrayal of toxic masculinity and the darker aspects of finance depicted in this movie are both disturbing yet captivating. If you enjoy thrillers that entertain and challenge your thinking, this film is a must-watch for you. Highly recommended!"
We also have intel on where ITV drama Payback, and BBC's Boiling Point filmed. If you wondered where psychological drama The Woman in the Wall filmed - yes, we have you covered.