Who is Keri Russell's husband, and does she have children?
Everything you need to know about the incredible actress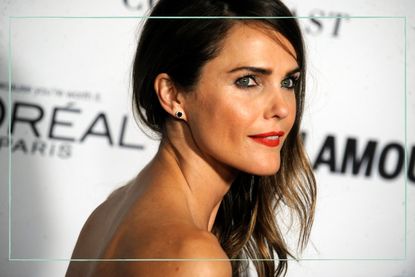 (Image credit: DPA Picture Alliance/Alamy)
Keri Russell has appeared in a number of iconic roles, and is back with a bang on Netflix. Viewers are now asking questions about the actress's private life.
Keri Russell is once again adorning our screens, in Netflix's The Diplomat. The political thriller looks set to jump straight into the streamer's top 10, with the early critical response carving it out out as one to watch. The Diplomat filmed largely in the UK, with some iconic landmarks featuring as backdrops to the action. With award-winning actress Keri Russell at the helm, her on-screen marriage chemistry with co-star Rufus Sewell, has been a big talking point for those who have seen The Diplomat. This has caused attention to turn to the actress's real life relationship status - read on to find out if Keri Russell is married, and if she has any children.
The Diplomat ending left viewers hoping they'd be seeing Keri Russell reprise her role sooner rather than later. For those desperate for season 2 of The Diplomat, there have been some hints dropped about its future.
Who is Keri Russell's husband?
Keri Russell is married to Welsh actor Matthew Rhys. Although the pair have never publicly confirmed when and where they married, they refer to one another as husband and wife.
The couple actually met for the first time in 2002. After both attending a kickball game, an inebriated Rhys asked Russell for her number in the car park afterwards. Rhys left her a voicemail after a few more drinks, but didn't hear from the actress and decided to move on. He'd forgotten about the incident, until their paths crossed a decade later.
The couple's paths crossed again in 2013, when they starred alongside each other as a husband and wife who also happen to be Russian spies. They portrayed Elizabeth and Philip Jennings on FX drama The Americans, between 2013 to 2018 - Russell was already married when the show began shooting. Relationship rumours began as soon as she and Rhys began working together, but they didn't confirm their relationship until 2014, by which time she was divorced from her first husband.
Who was Keri Russell's first husband?
Keri Russell's first husband was carpenter and contractor, Shane Deary. The pair had married on Valentines Day, 2007.
Deary runs Deary Construction, which began as a family-owned renovation and millwork company and is now a General Contracting business. The company specialises in renovating townhouses in downtown Brooklyn, and also runs a similar business in San Antonio, Texas.
Russell and Deary announced their separation in 2013, with a divorce finalised in 2014.
Does Keri Russell have children?
Keri Russell has three children, River, Willa, and Sam.
Between 1998 and 2002, Russell starred as Felicity in a show of the same name, charting the life of a sheltered high school graduate, as she makes her own life at college. The series often makes it to lists of the best teen shows of all time, and Russell recently decided to show it to her daughter - and it didn't go well.
Speaking on Jimmy Kimmel Live, the actress said "My daughter about a year ago - she's kind of mature for her age, and she was bored one day - I said, 'Hey, Willa, I did this show about this college girl, and you might think it's cool. It's really sweet.'"
She continued "And so I showed it to her. I put it on, and I downloaded an episode from Amazon or wherever you get it these days. After about 15 minutes, she turned it off and she went, 'Ugh, mom, it's so cringy. Like, why would you think I'd want to watch your college experience making out with weird boys and stuff?'"
Keri Russell cozies up to partner Matthew Rhys in a daring dress at the premiere of her new Netflix series, #TheDiplomat. #KeriRussell #MatthewRhys pic.twitter.com/Kp9bAVk6CtApril 20, 2023
See more
Do Matthew Rhys and Keri Russell have a child together?
Yes, Keri Russell's third child Sam, is shared with Matthew Rhys. River (15) and Willa (11) are Russell's children with first husband, Shane Deary. Third child Sam, is 6-years-old.
Rhys had no previous children, making Sam his first. At the time of Sam's birth, Russell simply stated "We had a boy. Sam. He's so good. He's big and fat and nice." The couple keep a low profile, with barely any social media presence. They didn't officially announce Russell's pregnancy, it was only speculated when she was pictured wearing large coats. Apart from the occasional press picture surfacing of Russell with her children, no official pictures of any of them have been shared.
Related Features:
Video of the Week
Lucy is a multi-award nominated writer and blogger with six years' experience writing about entertainment, parenting and family life. Lucy has contributed content to PopSugar and moms.com. In the last three years, she has transformed her passion for streaming countless hours of television into specialising in entertainment writing. There is now nothing she loves more than watching the best shows on television and telling you why you should watch them.