15 creepy (but still cute) Halloween traditions to start with your kids
If you've never 'boo'ed' your neighbours, or played pop goes the pumpkin, now is the time to start.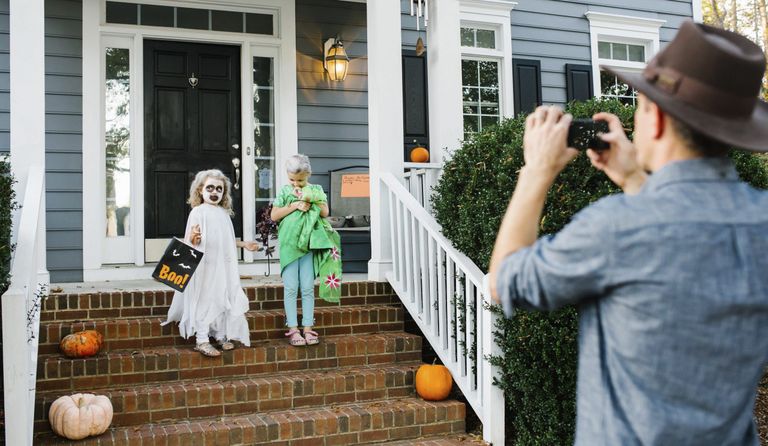 Halloween traditions to start with your kids to make this October the most spook-tacular yet.
Ah, Halloween! The most wonderfully spooky time of year, when we love to indulge in trick-or-treating, fancy dress, and apple bobbing galore.
The black and orange streamers and mini Mars bars of yesteryear are all well and good, but what if, once the costumes are sorted, the Hocus Pocus DVD is dug out of storage and the sweet-gathering route is set, your kids just haven't had enough of the Halloween magic? After all, the 31st October is just one day of the year, but there's enough awesome ideas out there to have freaky fun for the whole month long.
From frolics with food to the cutest crafts and a few hilarious horrors in between, here are 15 more Halloween traditions to start with your kids that you can use year after year.
Fair warning: you WILL want to try all of them!
1. Boo! your neighbours
This activity involves secretly leaving a bag of Halloween goodies like sweets, toys and decorations on your neighbour's doorstep, with a poem explaining how to pass on the mysterious magic. Kind of like a reverse trick or treat!
Get the full instructions: Chica Circle (opens in new tab)
2. Transform plain old balloons with a marker pen
Image: World Real Estate (opens in new tab) A white and orange colour theme makes for great pumpkins, skeletons and ghosts. All you need is a Sharpie or similar, and kids that are old enough not to pop the balloons straight away! Why not have a competition for the spookiest one?
3. Use cookie cutters for a fun print craft
Who knew that cookie cutters make great stamps and stencils? This fun family craft is really easy to set up - stock up on paper or card, non-toxic paint, and glitter if you're feeling really brave (or you just love vacuuming). Probably best to do this one after you've made the actual cookies, mind...
Get the full instructions: All For The Boys (opens in new tab)
4. Make cheesecloth ghosts to hang from the ceiling
Image: Over The Big Moon (opens in new tab) It's crazy how simple these are - a strip of cheescloth hung over a balloon with a bit of fabric stiffener is quickly transformed into FAR more impressive decorations than you can buy in the shops. Also, bonus fun for Harry Potter fans: if you make a black version, they look like Dementors!
Get the full instructions: Over The Big Moon (opens in new tab)
5. Cause a few horrified shrieks with this blink-and-you'll-miss-it-prank
A piece of paper + a plain old jar = the grossest thing in your fridge (even with those sludgy old cucumbers in the salad drawer). Team up with your other half to do pictures of each other, and once the kids have seen and been suitably spooked by them, they can make their own too.
Get the full instructions: Instructables (opens in new tab)
6. Craft some quirky paper crowns
Image: Polkadot Chair (opens in new tab) These have a similar principle to the snowflakes we make every Christmas, but with an October 31st twist. Little kids can help draw, big kids can help cut out, everyone can look Halloween ready in minutes. The tutorial below uses a fancy template machine, but we're sure you could achieve a similarly scary result with scissors.
Get the full instructions: Polkadot Chair (opens in new tab)
7. Tuck a Halloween joke into the kids' lunchboxes
We don't know about you, but heartfelt notes don't tend to go down well in our kids' packed lunches ('MUM, YOU'RE SO EMBARASSING!'). Jokes, on the other hand, might just score you some cool-mum points. These designs are free-to-download printables, so all of the hard work is already done for you.
Get the full instructions: Kristen Duke (opens in new tab)
8. And add fancy dress to the food inside whilst you're at it!
Image: East Coast Mommy Blog (opens in new tab)
How brilliant is this! You can even get edible googly eyes (opens in new tab) to stick in items that you don't pack in wrappers. Is it wrong that we're tempted to eye-up our own sandwiches and fruit as well?
Get the full instructions: East Coast Mommy Blog (opens in new tab)
9. Let trick-or-treaters know you're Halloween-friendly with a monster door
This tradition is big in America, but it's starting to become big news here too, so you might spot a few more of them in your neighbourhood this year! Check out our gallery of monster door ideas (opens in new tab) for inspiration.
10. Eschew pumpkin carving for pumpkin painting
You know what's more terrifying than any other Halloween trick or prank? Children branding knives, with the hope of creating something that vaguely resembles a face in a hard, unwieldy vegetable. Pumpkin painting (opens in new tab) is much safer than the traditional method, and they look super cute too! Get the instructions for Halloween painted pumpkins (opens in new tab) here (opens in new tab).
11. Play 'pop goes the pumpkin'
This fun party game is a bit like 'pin the tail on the donkey' with a Halloween twist. It looks impressive, but the set-up is easier than you think, we promise!
Get the full instructions: Martha Stewart. (opens in new tab)
12. Pumpkin bowling? If you insist!
Image: Be Different Act Normal (opens in new tab) Another innovative use for those trusty loo rolls (opens in new tab), pumpkin bowling is great for those days in the build up to Halloween, where the Hocus Pocus DVD has run its course but you still want to do something themed. Oh, and did we mention it's practically free?
Get the full instructions: Different Act Normal (opens in new tab)
13. Reinvent the usual Christmas gingerbread house into something a little more seasonal
Well, who needs another excuse to gorge on gingerbread, right? You can use any basic Christmas gingerbread recipe and adapt it. The yellow and orange triangles are American Halloween sweet candy corn, which is becoming more popular in the UK, but if you can't find it, festive Haribo or a generous handful of sprinkles will also look suitable scary.
Get a gingerbread recipe: GoodtoKnow (opens in new tab)
14. Stamp a candy corn footprint
Image: Juggling with Kids (opens in new tab) Candy corn again, but this time it's not so bad for your teeth! This sweet craft would be a good one to do for every child and compare them at each age - the hardest part is catching them before your carpet is covered in a multicoloured footpath!
Get the full instructions: Juggling with Kids (opens in new tab)
15. Thread glowsticks into toilet roll tubes for a spooky surprise!
So simple, we can't believe nobody thought of it sooner! These glowsticks are safely tucked away in cardboard tubes, and make quite the surprise when you glance at the neighbours hedges and see a set of eyes glowing back at you. Hide them in a different place every year - it'll make them jump every time!
Get the full instructions: Eclectically Vintage (opens in new tab)
Got a Halloween tradition of your own? Leave us a comment and let us know, and we might just add it to our list!
Anna Bailey is the editor of GoodTo. She joined the team in June 2018 but has been a lifestyle writer and online editor for more than 14 years. Career highlights include Lifestyle Editor at ITV.com, Features Editor at MSN UK and Digital Lifestyle Editor for UKTV. Anna has always loved attending weddings and big family occasions. She combined this interest with her passion for interviewing people about the subjects that matter to them most to become a wedding and baby naming celebrant, fully accredited by Humanists UK.