10 fun Halloween traditions to start with your kids
Halloween traditions to start with your kids to make this October the most spook-tacular yet.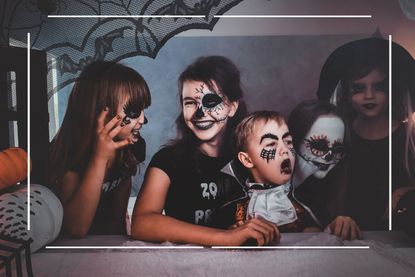 (Image credit: Getty / Future)
Goodto Newsletter
Parenting advice, hot topics, best buys and family finance tips delivered straight to your inbox.
Thank you for signing up to GoodTo. You will receive a verification email shortly.
There was a problem. Please refresh the page and try again.
Halloween traditions make a wonderfully spooky time of year even better - indulge in trick-or-treating, fancy dress, door decorating and more.
You can make Halloween traditions your own, whether it's winning with Halloween party food, wowing with best couples Halloween costumes or just settling down to binge-watch 25 of the best Halloween movies for kids and adults, the 31st October may be just one day of the year, but there's enough awesome ideas to have freaky fun for the whole month long.... if you wanted to.
Designer at UK's online retailer Party Delights, Sarah Allsopp tell us how family traditions can shine through costumes; "Nothing says 'we love Halloween' more than a full family dress up theme! There are some great freaky families to choose from such as the inimitable Addams Family, the characters from Beetlejuice, or the sinister sisters from The Shining. And, when it comes to sisters, there's none more iconic than the Sanderson sisters who make their big screen return this year with Hocus Pocus 2. What better way to celebrate than dress up as these three wayward witches."
Halloween traditions to start with your kids
1. Boo! your neighbours
A feel-good pass it on. This activity involves secretly leaving a bag of Halloween treats, like sweets, toys and decorations on your neighbour's doorstep, with a poem explaining how to pass on the mysterious magic. Kind of like a reverse trick or treat.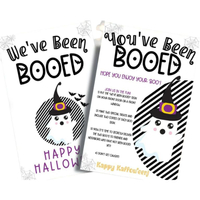 You've Been Booed Printable: View at Etsy
RRP: from £3.92 | Delivery: n/a | Refundable? not accepted
'Booing' is an act of surprising neighbours with treats or Halloween gifts throughout October on the run un to Halloween. Families leave these Halloween gifts with a note saying "You've Been Booed!" Once purchased this is an instant download, print off and leave two copies (to they can pass it on) in the boo bucket.
---
2. Transform plain old balloons with a marker pen
A white and orange colour theme makes for great pumpkins, skeletons and ghosts. All you need is a Sharpie or similar and creative licence on some generic balloons. Why not have a competition for the spookiest one?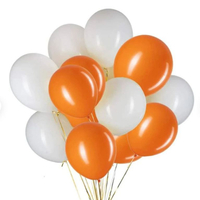 ---
3. Paint a pumpkin (don't carve)
Carving a pumpkin isn't always the best or easiest option - for many reasons. You might be on a tight timeline and carving takes too much direction, time and cleaning. Or your kids might be young and carving is too stressful. Either way, painting them is just as effective. We recommend acrylic paint when painting pumpkins as it's quick-drying, easy to use, easy to clean and if you mess up, you can wipe it off with a cloth and start over. Pumpkin painting look supers cute too, get the instructions for Halloween painted pumpkins here.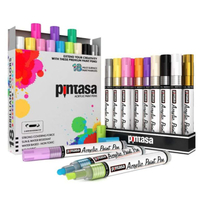 ---
4. Make mini ghost bunting to hang
It's crazy how simple these are. Also, bonus fun for Harry Potter fans: if you spray them black, they look like Dementors.
You will need:
String
Cotton wool balls
Black pen
White 3 ply tissue or cloth
How to do it:
1. Take a length of string - however long you want it. Place a cotton wall ball in the top of the tissue/cloth and twist so there is definition between head and body.
2. Take the string and wrap around the twist and make a tiny knot. before moving on to the next one.
3. Finally take your pen and draw on little face.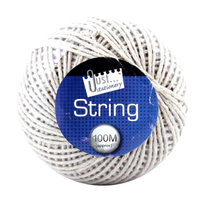 ---
5. Tuck a Halloween joke into the kids' lunchboxes
We don't know about you, but heartfelt notes don't tend to go down well in our kids' packed lunches ('Mum you're so embarrassing!'). Jokes, on the other hand, might just score you some cool-mum points. These designs are free-to-download printables, so all of the hard work is already done for you.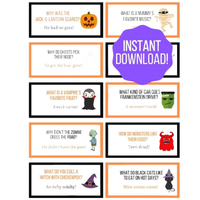 ---
6. Add fancy dress to the food inside whilst you're at it!
How brilliant is this! You can even get edible googly eyes to stick in items that you don't pack in wrappers. Is it wrong that we're tempted to eye-up our own sandwiches and fruit as well?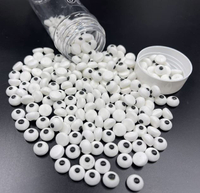 ---
7. Decorate your door
It's an unwritten rule that if your house isn't decorated then no one will knock. How about, instead of an apologetic little skeleton inviting the trick or treaters, you jump on this tradition. It's big in America, but it's starting to become big news here too, so you might spot a few more of them in your area this year. Check out our gallery of monster door ideas for inspiration.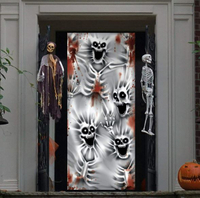 8. Pumpkin bowling
Another innovative use for trusty loo rolls, pumpkin bowling is great for those days in the build up to Halloween, where the Hocus Pocus DVD has run its course but you still want to do something themed. All you need is five loo rolls to stack up in a pyramid black crepe paper cut out into eyes and a mouth, glued on to look like ghosts, and a spare pumpkin to roll into them.
9. Halloween gingerbread house
The humble gingerbread house is working hard for your attention, now you can make Halloween versions. Using any basic Christmas gingerbread recipe you can adapt it. The yellow and orange triangles are American Halloween sweet candy corn, which is becoming more popular in the UK, but if you can't find it, festive Haribo or a generous handful of sprinkles will also look suitable scary.
Get a gingerbread recipe: GoodtoKnow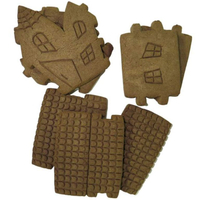 Halloween Bee Gingerbread Haunted Cookie House Kit: View at Amazon
RRP: £16.57 | Delivery: free | Refundable? Yes
Just like Christmas... except spookier. So easy to make, this comes with one 28 ounce gingerbread house, candies and icing for decorating. Plus pre-baked chocolate cookie panels, premixed icing, and mini candy beads.
---
10. Halloween bedding
Usually glow-in-the-dark and a bit different to Christmas bedding buying your kids Halloween duvet covers will likely go down a storm each year. This one is available at high street favourite, Matalan and is fully reversible, easy care fabric and ethically sourced overseas and made to quality and human-ecological safety standards, in accordance with STANDARD 100 by OEKO-TEX® .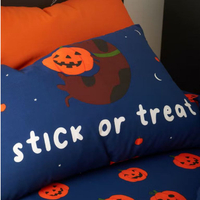 ---
Related features:
Video of the Week:
Parenting advice, hot topics, best buys and family finance tips delivered straight to your inbox.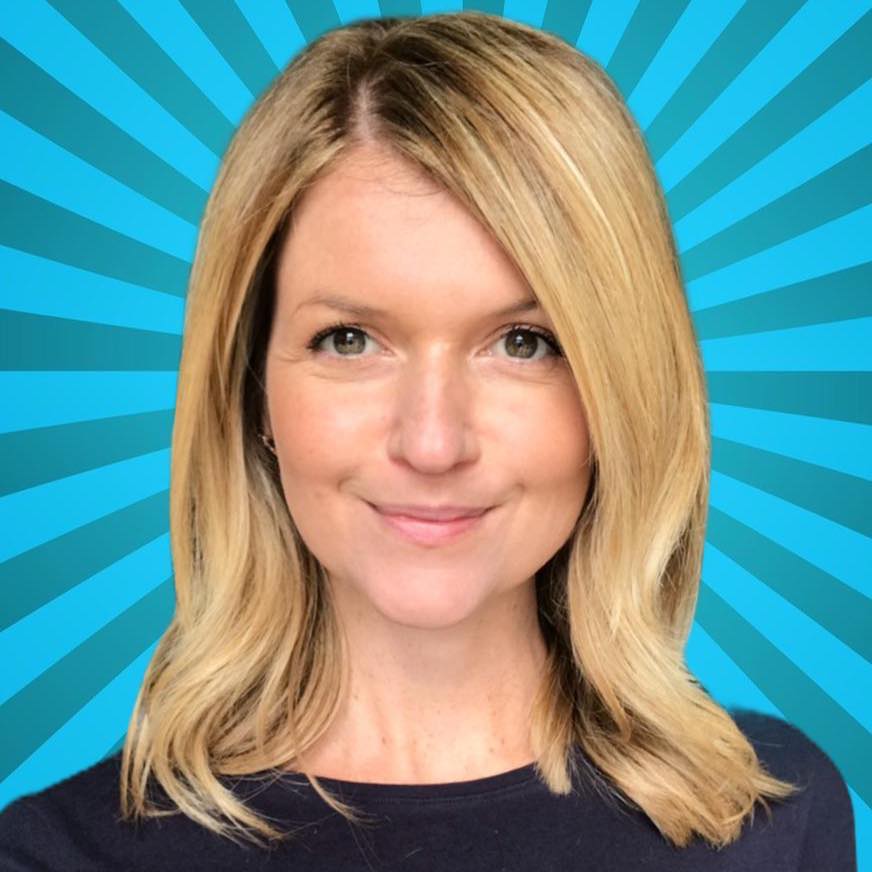 Anna Bailey is the editor of GoodTo. She joined the team in June 2018 but has been a lifestyle writer and online editor for more than 14 years. Anna graduated from Bournemouth University in 2004 with a degree in Multimedia Journalism and went on to gain her NCTJ and NCE journalism qualifications. She began her career in local journalism, working as a reporter for the Basingstoke Gazette in Hampshire. As Lifestyle Editor for ITV.com she managed the websites for the broadcaster's best-loved shows including This Morning, Loose Women, Coronation Street, Emmerdale, Coleen's Real Women, and Britain's Best Dish. Before joining Goodto.com she was also a Features Editor at MSN UK and Digital Lifestyle Editor for the broadcaster UKTV. She's also contributed to The Mirror, The Sun, LoveFood, LoveExploring, and TBSeen.