Cyber Monday Nutribullet deals 2021: Where to buy the cheapest Nutribullet in the UK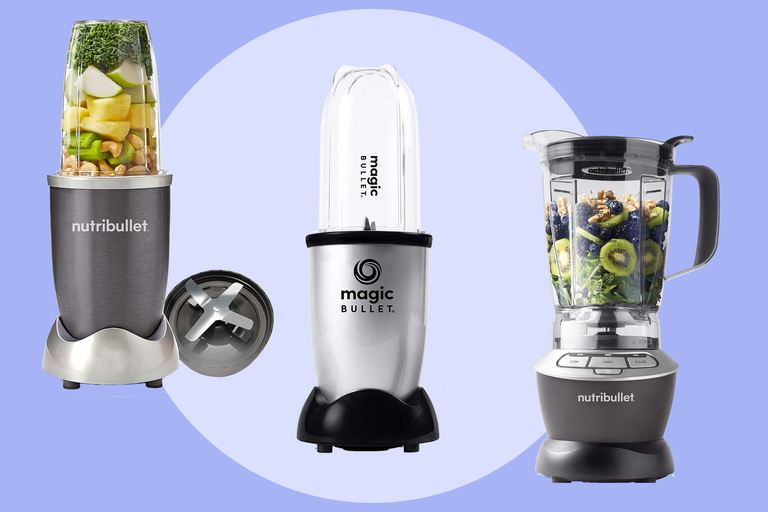 Cyber MondayNutribullet deals for 2021 are an absolute must-have if you're looking to level up your blending abilities and make smoothies, protein shakes and juices at home.
Much like Cyber Monday blender deals (opens in new tab), the deals on Nutribullets on Cyber Monday are so sort-after because these blenders really are the best of the best. But coming in at well over £50 full-price, they're hardly something most people would buy on a whim. Instead they're put on Amazon wish-lists and Christmas lists, ready for the next time there's a big sale.
And with the festive season approaching, the biggest shopping weekend of the year is almost here. This is where you can find the best Cyber Monday Nutribullet deals 2021.
Best Cyber Monday Nutribullet deals 2021
Excited to shop the Cyber Monday sale? Pick up a Nutribullet for less with these discounts and deals.
Nutrient Extractor High Speed Blender, 600 W - £59.99 £39.99 (SAVE 20) | Amazon (opens in new tab)
This is the classic high-speed Nutribullet Blender. It grinds down everything from fruits to nuts and seeds using the extractor blade and high torque power base.
NutriBullet Magic Kitchen Express, 250 W - £69.99 £59.99 (SAVE £10) | Amazon (opens in new tab)
Those looking for an all-in-one machine, look no further! Blend, chop, mix, slice, cut with this multi-purpose 250-watt blender. It comes with two attachments and two cup sizes.
NutriBullet Magic Bullet Deluxe, 200 W - £49.99 £39.99 (SAVE £10) | VERY.CO.UK (opens in new tab)
Similar to the Express but with less emphasis on food processing, this blender is great for smoothies and shakes. It has three different sized cups, multiple lids and two different style blades.
Who has the cheapest Cyber Monday Nutribullet deal 2021?
Overall, Amazon has the best Cyber Monday deal on NutriBullet.
They are currently offering the biggest saving on four different models, including the original and best-selling 600W NutriBullet Blender (opens in new tab) in Graphite. It's the basic-level blender that's ideal for making your morning banana smoothie or protein shake, but won't grind down seeds into powder. For that you'll need the 900W NutriBullet (opens in new tab), also on sale from Amazon now.
Very.co.uk (opens in new tab) also has some tempting offers on the NutriBullet Magic Bullet Starter Kit, both the Deluxe and Kitchen Express versions.
But the shopping season has only just begun and if last year's deals are anything to go by, we can expect a whole lot more from the likes of Amazon and Very.co.uk, alongside other popular retailers.
What is the difference between the Nutribullet 600 and 900?
The primary difference between these two blenders is the motor, as one is significantly more powerful than the other and will be able to grind up fruits and vegetables more effectively.
But what else is different?
The NutriBullet 900W comes with more kit than the 600W
The 900W NutriBullet Blender comes with a flip top lid, the kind that makes drinking on the move easy, as well as the "stay fresh" solid, reusable one. Whereas the 600W NutriBullet Blender either comes with just the blending cup alone (Starter Kit version) or the solid lid alone.
The NutriBullet 900W has larger cups
If you like BIG smoothies or a hefty protein shake, then it's got to be the 900W blender.
So with the 600 you get a "tall cup" and a "short cup". But with the 900 you get the "tall cup" and a "oversized cup" too, which means you can blend up more fruit and veg in one go.
The NutriBullet 600W is quieter
The downside of a powerful blender is the noise and that's certainly the case for the 900W NutriBullet Blender.
However, it's only really a problem if you're blending at unsociable hours since you only need to turn the machine on for about a minute maximum to get your smoothie, shake or juice to optimum consistency.
The NutriBullet 600W comes in more colours
If you're going to invest in a NutriBullet, you want it to look good in your kitchen. The 600W blender comes in more colours, including graphite, silver, cherry red, piano black and many more.
The 900Q blender is limited to the champagne colour you can see in the above photo. While it may work for some kitchens, it won't be for everyone.
The NutriBullet 600W is lighter
But maybe you're not keeping your NutriBullet on the side for everyone to see. If you're moving it around, whether that's in and out of a cupboard or between homes, it's worth considering which one is the lighter version.
That's the 600W, coming in at 2.84 kg compared to the 900W which is 3.75 kg.
Not too much difference, but enough.
Grace Walsh is a Features Writer for Goodto.com, covering breaking news health stories during the Covid-19 pandemic as well as lifestyle and entertainment topics. She has worked in media since graduating from the University of Warwick in 2019 with a degree in Classical Civilisation and a year spent abroad in Italy. It was here that Grace caught the bug for journalism, after becoming involved in the university's student newspaper and radio station.