Best Christmas food 2022: Tried and tested Christmas award winners
From Christmas pudding to dessert, from turkey to mince pies, here is the best Christmas food for 2022...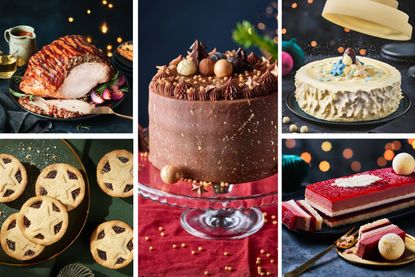 (Image credit: Future / various brands)
Tried and tested, here are the best Christmas foods to buy for 2022 including the top Christmas pudding, Christmas cake, turkey, mince pies, and more.
With Christmas just around the corner, it's time to start thinking about that all-important shopping list and what you'd like to buy this year. To make sure you choose the highest-quality products - be it the tastiest mince pie or the most eye-catching Christmas dessert - we've tried and tested a range of different supermarkets and brands to find the top buys for this year.
Our panel of expert judges blind-tasted all of the Christmas foods in this year's annual taste test. Our experts include Group Food Director Jen Bedloe, Food Editor Jess Meyer, Deputy Food Editor Rose Fooks, Senior Food Writer Jessica Ransom, and Junior Food Writer Georgia Sparks. With years of experience trying and testing new food and drink products, the team is well-equipped when it comes to assessing the best Christmas food to buy in 2022.
Supermarkets including Waitrose & Partners, Sainsbury's, Tesco, and many others were put to the test in this year's taste test. In this roundup, we've highlighted the winners of each category. The categories include:
Where to buy Christmas food 2022
Christmas food taste test winners 2022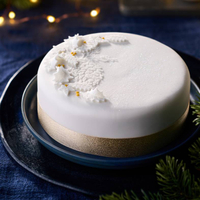 1. Waitrose & Partners No.1 Rich Fruit Cake, 1.5kg - View at Waitrose
Best Christmas cake
RRP: £18.50 | Delivery: Book a slot or buy in-store | Available: Order now from Waitrose
The chic, simple design of this cake won over our judges but the flavours impressed too. From the subtle shimmer to the dainty iced pine cone decorations, this cake looks festive without overdoing it with the usual stars and snowflakes. Flavour-wise, expect flavours of orange, treacle and ginger and a moist, fruit-filled texture.
Deputy Food Editor Rose Fooks says: "It's everything you want from a Christmas cake. There's a nice even ratio of icing to marzipan. The generous fruit helps give the cake crumb good structure for a satisfying mouthfeel."
---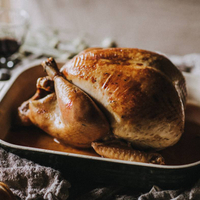 2. Piper's Farm Free Range Bronze Whole Turkey, 4.3-4.8kg - View at Piper's Farm
Best whole turkey
RRP: £92 | Delivery: Specific delivery day given | Available: Pre-order now
Winner of the best whole turkey, this was a spectacular entry. Bronze turkeys are a slow-growing breed and a traditional choice at Christmas. Piper's Farm birds are reared on five small family farms in Devon and Somerset on a natural diet free from artificial additives and chemicals.
Food Editor Jess Meyer says: "This bird has a lovely plump shape and rich golden colour. The meat is tender and juicy with a rich flavour that's distinctively turkey. This golden bird was deliciously succulent and would look impressive as the centerpiece of any Christmas feast."
---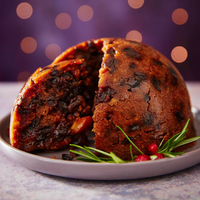 3. Sherry & Cognac Infused Christmas Pudding, 800g - View at Booths
Best Christmas pudding
RRP: £12.95 | Delivery: Collection only | Available: Pre-order now
The traditional flavour was complimented by large pieces of vine fruits, glace cherries, almonds, and pecans. Suitable for microwaving or traditional steaming on the hob, this pudding is suitable for vegetarians as it uses vegetable suet. Plus, if you're a Booths Cardholder you can save £1 on the price of the pud so it will only cost £11.95.
Deputy Food Editor Rose Fooks says: "I just love the satisfyingly round shape of this pud. If you're not daring enough to set it alight we recommend sticking a sparkler in the top for some tabletop theatre.
---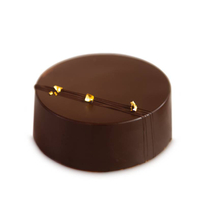 4. Gianduja Cake, 700g - View at Melt Chocolates
Best Christmas dessert
RRP: £65 | Delivery: Next day delivery available | Available: Order now
Incredibly rich and luxurious tasting, this is one for the chocolate-obsessed. It has a modern, minimalist design that looks chic and understated and would make the perfect pairing to an after-dinner espresso. Judges loved the crunchy whole roasted hazelnuts scattered throughout the cake.
Senior Food Writer Jessica Ransom says: "If you wanted to make this feel more like a dessert you could scatter with some more nuts and serve in slices with a scoop of ice cream. The different textures would work brilliantly together but it's also delicious on its own."
---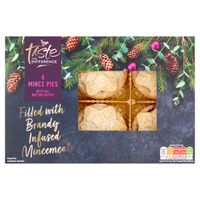 5. Taste the Difference Mince Pies, 325g - View at Sainsbury's
Best mince pie
RRP: £2.25 | Delivery: Book a slot and choose your delivery date | Available: Online and in-store now
The winner in the mince pie best Christmas food category this year was Sainsbury's Taste Difference Mince Pies. These melt-in-the-mouth mince pies have an all-butter pastry and are packed with a wonderful blend of juicy fruit, and warming spices and infused with a generous amount of brandy. Topped with a simple yet attractive star-shaped pastry with a snowflake on it and dusted with icing sugar.
Deputy Food Editor, Rose Fooks says: "This is an excellent quality traditional mince pie. The filling is not too sweet and the pastry is lovely and buttery. The brandy flavour is subtle but strong enough to allow for a pleasant taste"
---
How did we test the best Christmas food?
All of the Christmas food in this year's taste test was blind tasted meaning the packaging and labeling were removed from the product.
The judges marked food on its look, taste, texture, and flavour. Marks were given for festive presentation but most importantly the quality of the produce.
Christmas puddings were assessed on how moist the puddings were, the texture of the sponge as well as how boozy or non-boozy they were without being lit. Mince pies were judged on how crumbly or buttery the pastry was alongside how rich and generous the mince pie filling was.
All of this year's Christmas foods you can buy were tested fairly and evenly among the team.
These products all scored highly during our blind taste tests for the woman&home Festive Food Awards.
Meet the experts: Tried and tasted by...
Rose Fooks is Deputy Food Editor at Future Publishing, creating recipes, reviewing products and writing food features for a range of lifestyle and home titles including GoodTo and Woman&Home. She has a Diplome de Patisserie and Culinary Management at London's Le Cordon Bleu. Career highlights have included interviewing the wonderful Mary Berry and working on Truth, Love and Clean Cutlery; a guidebook of sustainable restaurants in the UK.
An enthusiastic, self-taught cook Jess adores eating out and sharing great food and drink with friends and family. She has completed the Level 1 Associate course at the Academy of Cheese and is continually building on her knowledge of beers, wines, and spirits. Career highlights for Jessica include chatting to one of her favourite food writers and chefs Sabrina Ghayour for an interview in Country Homes and Interiors and having the opportunity to meet the legendary Michel Roux Jr. and Raymond Blanc
An experienced recipe writer, editor, and food stylist, Jen is Group Food Director at Future plc where she oversees the food content across the women's lifestyle group, including Woman and Home, Women's Weekly, Woman, Woman's Own, Chat, Goodto.com, and womanandhome.com. Jen studied Communications at Goldsmiths, then landed her first job in media working for Delia Smith's publishing company on Sainsbury's magazine. Jen honed her practical skills by combining courses at Leith's cookery school with time spent in the test kitchen testing recipes and assisting food stylists on photoshoots.
Jess is the Group Food Editor at Future PLC, working across brands in the woman's lifestyle group, including Woman and Home, Woman's Weekly, Woman, Woman's Own, Chat, womanandhome.com and Goodto.com. An experienced recipe writer, food stylist and home economist, Jess honed her skills in print and digital food media, working with well known brands such as Great British Bake Off, Tastemade US and UK, and Slimming World to name a few.
Georgia Sparks is Junior Food Writer, working across Woman & Home, Woman's Weekly, Chat and goodto.com. She's passionate about food and is most content knife and fork in hand around the table with family and friends. Georgia works within the Food Team at Future Plc where she can usually be found in the kitchen developing and testing recipes as well as assisting on shoots and writing food features.
Video of the Week
Jessica Dady is Food Editor at Goodto.com and has over 10 years of experience as a digital editor, specialising in all things food, recipes, and SEO. From the best food hampers to cookbooks, from the best cake stands to kitchen appliances, Jessica has a wealth of knowledge when it comes to must-have food products. A passionate baker, she spends some of her time creating celebration cakes for friends and family including her two lucky children.