Dinner ideas for two: delicious recipes for when you're cooking for two
If you're cooking for you and a plus one, these dinner ideas for two will make cooking for a small party super easy!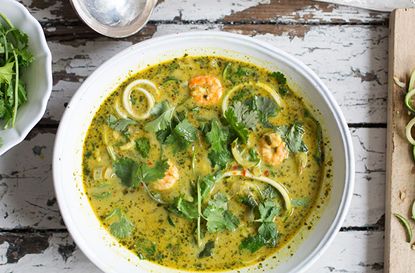 If you're cooking for you and a plus one, these dinner ideas for two will make cooking for a small party super easy!
Dinner ideas for two can come in handy whenever you only have yourself and a plus one to feed. Rather than wheeling out the same recipes you use when cooking for a bigger group, why not try one of our easy meals for two?
These meals for two are easy to whip up so you can spend more time with your guest or partner, but they're also super tasty, so you can make a good impression! Whether it's a romantic date or just making dinner for a friend, everyone can benefit from these dinner for two recipes.
Cooking for two can be great excuse to be more adventurous with your recipes, especially if you're used to preparing meals for a big family. As you're cooking for less people, perhaps you can spend a bit more on the ingredients and whip something you usually wouldn't make for your family or on a normal day.
Our dinner ideas for two include recipes that are perfect for a special occasion, like a lovely steak recipe and a gorgeous duck and rhubarb dish, but we've also included some quick recipes for two that can are fuss free and ideal for an easy midweek meal for two.
We've also included some healthy meals for two, as dinning as a twosome can be an incentive to be healthier and pack in more vegetables, for instance - enjoy it while the fussy eaters are away!
Click through our gallery of dinner ideas for two to explore the rest of our delicious, quick and healthy recipes for two…
First up is Joe Wicks' fish finger sandwich. Even though it might sounds like a kids' dinner, this brilliant recipe is made deliciously adult-appropriate with an incredible yoghurt sauce made with lemon juice, parsley and shallot - yum!
And the best part? It takes less than 30 mins to make from scratch, so you know you'll have an easy and healthy meal for two ready in no time!
Get the recipe: Joe Wicks' fish finger sandwich
Thai Coconut Prawn Soup with Courgetti
This healthy Thai coconut prawn soup is a healthier version of the Asian favourite because it uses with courgetti instead of noodles. But that doesn't mean this dinner for two is skimping on flavour - packed with spices, this soup is a perfect example of how easy recipes for two can be.
Huevos Rancheros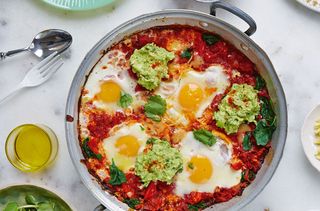 Even though this traditional Mexican recipe is a brunch recipe, why not join the brinner (breakfast for dinner) movement and make it as a nice dinner for two? It takes only 30 mins to make, and it's the ideal portion size for a pair.
Joe Wicks' fish curry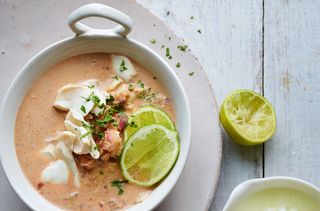 Curries are always a favourite when it comes to feeding a lot of people, but it can also be your go-to if you're dining as a duo. Ready in 15 mins, this meal for two couldn't be easier to make - plus it has no carbs, which is ideal if you're trying to shed pounds but still want to enjoy a delicious dinner with your better half or with a friend!
Prawns pil pil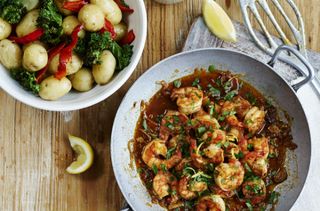 Prawns aren't usually an everyday meal, but why not make these prawns pil pil when you're making dinner for two? Full of flavour, this seafood dish works really well as a main option when served up with new potatoes and kale.
Leftover chicken bake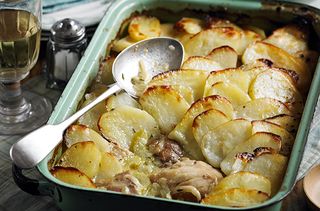 If you've got any leftover poultry, then this leftover roast chicken or turkey is a great option for a meal for two. All you need to do to make this tasty bake is mix the leftover meal in with bacon, herbs and potatoes and you've got dinner for two ready!
Chicken quesadilla recipe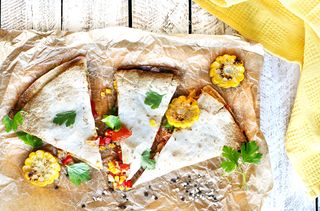 If you want a fun dinner for two, then make sure you put these chicken quesadillas on the menu - especially if get Mexican dips like guacamole, salsa and sour cream and chive on the side. And even though they look impressive, they only take 15 mins to make from start to finish!
Chicken miso soup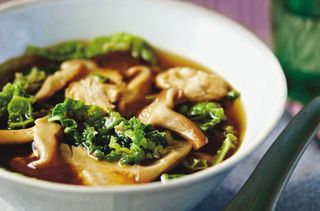 If you and your dinner date are in the mood for a healthy and light meal for two, this chicken miso soup is a delicious and flavoursome option. At 132 calories per portion, this miso quick meal for two even allows you to save room for a cheeky dessert, but you can also add noodles to make it more filling.
Skinny satay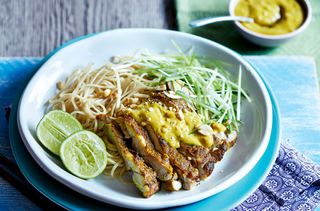 This skinny satay is a healthier take on the Asian classic that you can have on the table in 30 minutes, which makes it the perfect fuss free dinner for two solution. Plus it's made with wholewheat noodles for an extra dose of healthy fibre.
Miso glazed salmon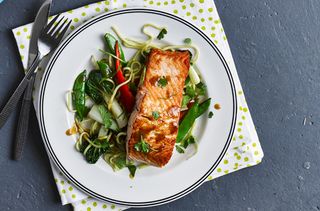 Salmon fillets are very handy when it comes to dinner ideas for two, as you can manage portions more easily and make sure you don't waste any food. This miso glazed salmon is served with noodles and stir-fried greens, for a filling and nutrition meal for you both.
Sweet potato falafel with herby couscous and pepper sauce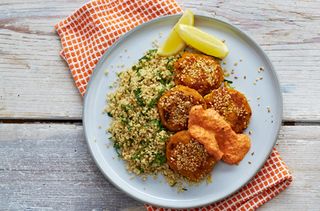 For a vegetarian dinner idea for two, falafel is always a favourite and this one made with sweet potato tastes even better than the classic version. The zingy sauce and herby coucous makes eating this filling sweet potato falafel even more exciting.
Vietnamese prawn curry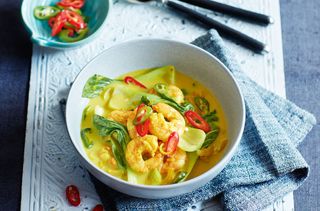 Got 15 mins? Because that's all you'll need to make this Vietnamese prawn curry! This lovely and simple curry recipe makes a no-fuss weeknight dinner in no time, so you have more time to catch with a friend or your significant other.
Turkey and courgette pasta in tomato sauce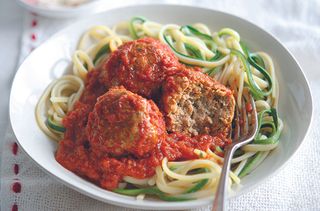 If it's healthy meals for two you're after, and you're bored of the usual version of classic spag bol, then try this turkey and courgette pasta in tomato sauce. Turkey meatballs are a lot better for you than their beef counterparts because turkey meat is leaner, and the courgetti is a delicious way to get more veg into your diet!
Leek and pepper Tagliatelle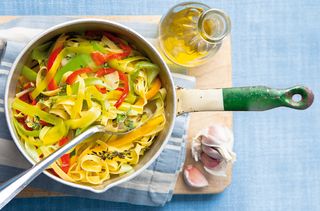 This veggie pasta dish is ideal if you only have a few minutes to spare. All you have to do is cook the pasta and fry the leek and pepper strips in olive oil, garlic and thyme and then mix everything together, for a filling veggie meal for two.
Minute steak with chimichurri salsa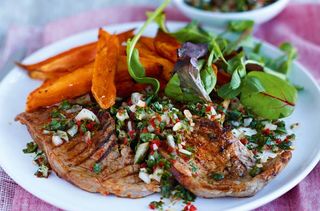 Delicious but speedy, this simple steak recipe is perfect for a special dinner for two when paired with the chimichurri sauce you can easily make from scratch using chilli, garlic, fresh herbs and lemon juice. Serve with homemade sweet potato chips and freshly prepared salad.
Char-grilled seafood risotto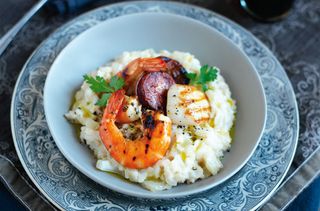 Topped with juicy prawns, tasty scallops and smoky chorizo, this luxurious dinner idea for two is definitely the one to go with if you're out to impress. And even though it will look exotic to your dinner date, this creamy seafood risotto only takes 15 mins to prepare!
Spicy duck with rhubarb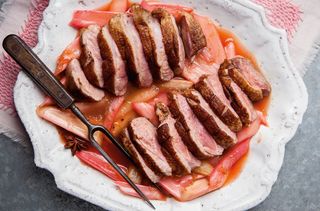 Fancy something classy for dinner? Pairing duck with rhubarb will be one of the tastiest dishes you've ever whipped up in the kitchen - the deliciously crispy skin, soft pink meat and the sweet spicy rhubarb are a match made the heaven and perfect for a lovely dinner for two.
Sweet potato and aubergine salad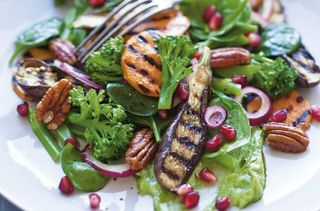 If you and your dinner date are in the mood for something fresh and colourful, then this hearty salad is the perfect dinner for two. With soft chunks of sweet potato and aubergine to fill you up and pecans and pomegranate seeds to provide plenty of flavour, this will soon become one of your favourite healthy meals for two.
Bacon and broccoli pasta salad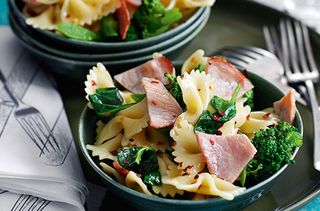 This is Slimming World favourite, so you know it's going to be a guilt free - but still delicious - dinner for two. With mouthwatering bacon and nutritious broccoli, this super simple pasta dish is one of our top easy meals for two!
Nasi goreng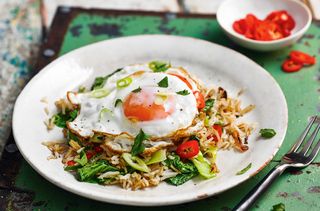 This fried rice dish is meat-free and and bursting with flavour from a mix of garlic and ginger, soy sauce, fish sauce and red chillies - it's up to you how much heat you add! It's also super speedy to make, so you can use this recipe to replace your Friday night takeaway meal for two.
Parenting advice, hot topics, best buys and family finance tips delivered straight to your inbox.