10 ways with chocolate
We know you're going to love our chocolate recipes. From chocolate fondue to chocolate pasta, there's a recipe for everyone. Try one of our ultimate 10 chocolate ideas for the chocaholic in you!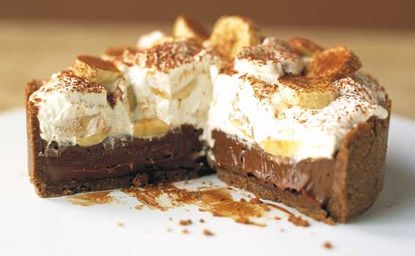 (Image credit: Carnation)
We know you're going to love our chocolate recipes. From chocolate fondue to chocolate pasta, there's a recipe for everyone. Try one of our ultimate 10 chocolate ideas for the chocaholic in you!
Everyone loves chocolate, don't they? We certainly do and never seem to get tired of finding new ways to use this gooey, creamy and delicious treat.
Melted, grated, curled or sprinkled - we can't get enough of the stuff and love it any way it comes. Thanks to its rich flavour and silky texture it makes the perfect sweet treat and is delicious in recipes from dips and spreads to pizza and pasta - yes really!
So, next time you've got a bar of chocolate in the cupboard why not put it to good use in one of these ten ways.
Click through to see them all…
1. Spread
Spreadable chocolate is one of the best inventions we can think of. Thanks to its smooth consistency and silky texture, it spreads onto pancakes, toast or crumpets with ease and melts deliciously into whatever its topping. To make your own simply melt chocolate and add cream or butter to make it soft and spreadable. Try ground hazelnuts, orange rind or even popping candy.
Try chocolate in this spread recipe:
2. Fondue
Chocolate is made for melting and when combined with cream or milk it becomes soft and smooth - which is perfect for dipping. Simply melt slowly to ensure there are no grainy bits or lumps and go wild with the flavourings. For an adult version you could try fruit liqueurs and for the kids why not throw in something delicious like dried coconut. You can dip whatever you like into a chocolate fondue - the only limit is your imagination.
Try chocolate in these fondue recipes:
3. Pasta
This might sound a little bit crazy but we promise we haven't completely lost it! Pasta is too good to keep just for main courses - try it as a dessert next time you feel like an Italian meal and you won't be disappointed. Using cocoa to get the chocolate hit you can easily transform a basic pasta dough into a dessert. Serve with mascarpone cream or toasted coconut to look like Parmesan cheese - the kids will love it!
Try chocolate in this chocolate pasta recipe:
4. Pizza
Another Italian classic has been given a cocoa makeover in this delicious chocolate pizza recipe. Using a ready made pizza base you can have a dessert on the table in just 10 minutes. The quickest way to get your chocolate fix is to use chocolate spread as your pizza's 'tomato sauce'. Popped back into the oven for just a couple of minutes it becomes shiny, warm and gooey - the perfect base for any sweet toppings you fancy.
Try chocolate in this pizza recipe:
5. Pudding
We like to think that adding chocolate in any form enhances a pudding. Try substituting a little of the flour in your chosen recipe for cocoa or add chocolate chips for an extra flavour hit. Give that classic recipe and chocolaty twist just like the recipes below.
Try chocolate in these pudding recipes:
6. Meringue
Crunchy meringue works perfectly with soft and sweet chocolate. For the meringue mixture itself, simply add cocoa to add colour and flavour and try swirling meringues with melted chocolate or grating over meringue-based desserts like Eton mess.
Try chocolate in these meringue recipes:
7. Sweets
Chocolate makes the best kind of after-dinner treat or afternoon snack thanks to its naughty sugar content and moreish flavour. Making your own sweets is also a lot more fun than reaching for the nearest Mars Bar. Chocolate melts easily and can be moulded into any shape you like very easily, meaning that even if you're a novice, you'll get a great result from making your own choccies.
Try chocolate in these sweets recipes:
8. Brownies
Don't settle for just a standard brownie, there are so many other ways you can take this classic recipe. Chocolate is an ingredient which works incredibly well with a million and one other flavours. We especially like it, in brownies, with marshmallows, berries, ice cream or orange. Adding melted chocolate to a brownie mixture gives that signature rich flavour and squidgy, barely-baked texture. You can also use cocoa instead of flour for an extra intense bake.
Try chocolate in these brownie recipes:
9. Hot chocolate
There's something so comforting about hot chocolate, it's the perfect drink on a cold day. Don't save it just for the kids, a hot chocolate can be a really special grown-up treat too. Ditch the ready made stuff and make your own for a luxurious afternoon drink. Grating chocolate and adding it to hot milk is the fastest way to get yourself a lovely cup of the stuff.
Try chocolate in this spread recipe:
10. Ice cream
One of the best things about chocolate is it's melting temperature - did you know that it's the same as your body temperature which makes it deliciously warm and comforting. Combining this tasty treat with ice cream only intensifies the silky melting sensation and makes it creamier, smoother and extra tasty. You can add it melted to create a rich mixture or scatter chocolate chips through another flavour to give just a little hint of it - whatever you do with it, it'll be delicious.
Try chocolate in these chocolate ice cream recipes:
Where to next?
Rosie is an experienced food and drinks journalist who has spent over a decade writing about restaurants, cookery, and foodie products. Previously Content Editor at Goodto.com and Digital Food Editor on Woman&Home, Rosie is well used to covering everything from food news through to taste tests. Now, as well as heading up the team at SquareMeal - the UK's leading guide to restaurants and bars - she also runs a wedding floristry business in Scotland called Lavender and Rose.