Weird food combinations: it shouldn't work, but it does...
Beetroot and chocolate, bacon and maple syrup - we look at the food combinations that shouldn't work but do!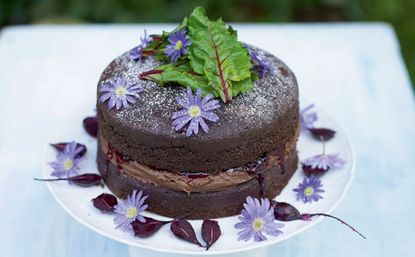 Beetroot and chocolate, bacon and maple syrup - we look at the food combinations that shouldn't work but do!
Think you've tried it all? Think again! These weird and usual food combinations will surprise you!
Beetroot and chocolate, strawberries and cheese... these food combinations really shouldn't work but they really do!
So be a little adventurous and start pairing some of these ingredients together - you never know, you might find a new favourite dish!
Click though our gallery of weird food combinations and give them a go! You'll won't believe them until you try them...
Beetroot and chocolate
One is a sharp-tasting vegetable, the other a rich sweet treat - so why does beetroot and chocolate make such a good combination?
Adding beetroot to your chocolate bakes, such as cakes, cupcakes and biscuits, doesn't actually make them taste of beetroot, it simply brings a lovely rich depth of flavour and makes sponge cakes extra moist.
Don't believe us? Try our beetroot and chocolate cake recipe
Bacon and maple syrup
You may have seen a stack of pancakes with some strips of crispy bacon but what's that sticky sauce on top? Maple syrup?! Trust us, it works.
The super-sweet sauce is usually reserved for desserts but breakfasts - especially those that include bacon - are the perfect way to use it in an unusual way.
Don't believe us? Try our French toast with bacon and maple syrup recipe
Strawberries and cheese
Strawberries are just delicious in sweet cakes, desserts and fruit salads - but why only have them for one course? Strawberries are also just as tasty in a savoury salad with some cheese.
It may not sound like the most obvious combination but strawberries with rich cheese such as goat's cheese, Feta cheese or blue cheese is a match made in heaven.
Don't believe us? Try our Valentine strawberry salad recipe
Chocolate and chilli
Add a little fire to your chocolate by teaming it up with some chilli. One for spice lovers, chilli can be added to bakes such as cakes, cupcakes or biscuits or into desserts such as a chocolate fondant - just make sure you don't add more spice than you can handle!
Don't believe us? Try our chilli chocolate cupcakes recipe
Ice cream and olive oil
You read that right - olive oil and ice cream! A traditional Italian dessert is to make ice cream with olive oil but you can have the same flavour in just a few simple steps.
The most important thing is that you choose a good extra virgin olive oil (not just any old oil). Some people even add sea salt to the combination - but you can take it one step at a time!
Don't believe us? Add a small amount of olive oil to some good quality vanilla ice cream (you can make your own with our no-churn ice cream recipe).
Courgette and lime
Courgettes aren't as boring as you might think. Sure, you can use them to make lots of tasty savoury treats but there not nearly as fun as cakes (well, what is?!).
Like its veggie friend the carrot, courgette can be baked into a cake to produce a super-soft sponge. A twist of tangy lime and this vegetable is given a brand new look.
Don't believe us? Try our courgette and lime muffins recipe
Strawberries and balsamic vinegar
Vinegar on fruit? It's not as weird as it sounds! Balsamic vinegar has a sweet undertone and brings a sharp tangy flavour to your fruit. You can even combine it with rhubarb, passion fruit and many other fruits - just give it a go!
Don't believe us? Try our rhubarb and strawberries with balsamic vinegar recipe
Banana and bacon
Bacon again! Now that you've got used to the idea of bacon and maple syrup - how about going a step further?
Bacon and bananas not only both start with the same letter, they're also a killer flavour combination. The saltiness of the bacon is absorbed into the moist banana for a sweet but salty taste - you've got to try it to believe it.
Don't believe us? Try our bacon and banana muffins recipe
Coca Cola and chicken
Coca Cola is a secret weapon in the kitchen. We all know it goes with sweet treats (a coke float is a childhood must-have) but have you ever thought of teaming it with your meat?
The drink gives chicken a sticky, sweet glaze that is surprisingly moreish. You can even add coke to casserole stocks for a rich flavour twist.
Don't believe us? Try our Coca Cola chicken wings recipe
Carrots and sugar
We know what you're thinking, but carrots are actually lovely with a light sprinkling of sugar and baked in the oven for a slightly caramelised finish.
Carrots with honey is a classic combination and carrots are delicious in cakes so it makes perfect sense - even if it does feel a bit weird doing it for the first time.
Don't believe us? Try our honey-roasted carrots recipe and replace the honey with the same amount of sugar.
Fruit cake and cheese
This one is a oldie so you may have heard of it - but have you ever tried a slice of cheese with your fruit cake?
Dads and Grandads swear by it at Christmas time and you will too once you've tried it. Go for a strong-flavoured cheese such as Stilton or Wensleydale. Once you've tried it with fruit cake, you'll be itching to try it with other cakes!
Don't believe us? Make our classic fruit cake recipe and team it with a slice of cheese.
Guinness and chocolate
Adding beers, ales and stouts to food isn't a rare thing - but you'd normally expect to find them in a savoury dish such as a pie or casserole. But that bottle of Guinness is wasted if you don't try baking a cake with it - yes, really!
The richness of the Guinness gives a chocolate sponge a rich, moist texture, just team it with a cream cheese frosting and tuck in. Guinness is a good source of iron - so it's almost like this cake is good for you, yes?
Don't believe us? Try our Guinness and chocolate cupcake recipe
Peanut butter and jam
An American classic, peanut butter and jam (or jelly as they call it) is a foodie tradition that doesn't seem to stick in the UK - but you really should give it a go.
The classic way to serve it is in a sandwich but if you can't get your head around the textures you could start by baking peanut butter cookies with a jam centre.
Don't believe us? Add some jam to our peanut butter cookies recipe.
Chocolate and olives
Yes really! Everyone knows that salt brings out the flavours of chocolate so teaming them up with olives isn't actually as weird as it sounds.
Slice the olives very finely and add to chocolate truffles, cakes or desserts. The subtle flavour will have you hooked - just make sure you opt for olives that don't have any extra flavourings.
Don't believe us? Start by adding chopped olives to our chocolate truffles recipe.
Cheese and honey
Cheese and honey is a classic combination that you probably haven't thought to try. It's particularly delicious with some tangy Stilton or goat's cheese.
You may have tried cheese in a salad with a honey and mustard dressing but it's much tastier if you try it with pure honey. A drizzle of honey will also turn ricotta into simple dessert option too.
Don't believe us? Try our Stilton, apple and walnut salad - it comes with a homemade honey dressing.
Where to next?
Vegetable cake recipes
Trusted, informative, and empathetic – GoodTo is the ultimate online destination for mums. Established in 2007, our 15-year-strong archive of content includes more than 18,000 articles, 1,500 how-to videos, and 7,000 recipes.