Are Ros and Thomas still together? MAFS UK 2023 update
It's the question all MAFS fans are asking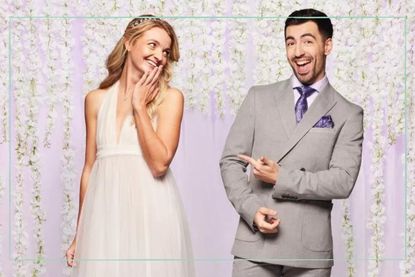 (Image credit: E4/Future)
Are Ros and Thomas still together? MAFS UK season eight is yet to reach a conclusion, but fans already have one big question.
With the MAFS UK end in sight, viewer attention has already turned to which couples might still be together ahead of the final commitment episode. The 2023 contestants have certainly been one of the wildest bunches yet, bringing viewers back for more and certainly giving them something to talk about - the epic conclusion to the series will definitely be top of this month's what to watch list for many.
After wanting to know what happened to Ella and JJ after the bomb their antics on the show set off, many viewers turned their attention to Ros and Thomas. Have the florist from Crewe and Investment Communications worker from Wiltshire gone the distance? Here's everything we know as we take a look at who is still together from Married At First Sight UK 2023, starting with one of the fan-favourite couples.
Are Ros and Thomas still together?
From recent social media posts, it would appear Ros and Thomas are not together. It is unusual for couples to reveal this information, as they're usually contractually obliged not to confirm their relationship status until the final commitment ceremony show airs.
However, on November 6, Ros shared a reel to her Instagram account stating that on spending some time alone at home, she'd felt "haunted" by her past and apparently unable to continue the relationship with Tom. "I was so fragile I felt broken, I was exhausted and truly wanted to go and hide under a rock," she wrote. She added "I thought being home would give me some comfort, when really all I was faced with was betrayal, abandonment, and lack of trust from my previous relationship and no matter what, I couldn't shake it off."
After detailing how she needed to reprioritise her life, Ros revealed she'd come to the conclusion that she needed to be single. "You may ask yourself why do it if you weren't ready?," she continued, adding "Well I was, I wanted marriage I really did! Tom was the bet husband but maybe when you give so much positivity to others, you forget to care for yourself."
Ros concluded the post to confirm she'd already told Tom about her feelings, and it wasn't long before he quickly released a video update in response. He spoke about feeling sad about the situation, but ultimately had nothing but praise for his "bride". His Instagram caption read "During my time with @rozzdarlington, I struggled massively to open myself up. It's something I've always struggled to do. My mum says hugging my is like hugging an ironing board sometimes hahaha."
He added "But with @rozzdarlington, she made me feel safe to do so. She taught me to be open and honest, something I've really struggled to do, especially in relationships. She gave me my confidence back. Something I will forever be thankful for. She showed me I could really give my heart to someone completely and fully. I am sure I did that with her. I'm sad but @rozzdarlington you've given me so much and you've nothing to be sorry for."
Wishing Ros luck in the sweetest way, Tom said "I always say I'm the third luckiest man because I got matched with you on MAFS. The second was your ex who was an idiot not to cherish you forever. The luckiest man is the man who you will eventually give your heart to and I hope they give you the world and more."
Is anyone from MAFS UK 2023 still together?
Due to the rules surrounding couples not revealing their relationship status, nothing has yet been confirmed about which couples are still together - apart from Ros and Thomas divulging their breakup news.
However, according to The Tab, it's been leaked that three couples will be together at the final commitment episode, with the rest having gone their separate ways. The publication reported Brad and Shona , Ella and Nathanial, and Porscha and Terence are no more, but had no further details regarding who to expect to see together.
A source close to the show reportedly said "Only three couples are still together after filming for the series ended in May. Considering they committed to each other for the rest of their lives, it's not great and what's more is a few of the show's stars have even moved on in new relationships.
"Some of the contestants that are still working on their marriages feel that other contributors didn't take the experiment as seriously as they could have, and fame definitely played a part in the decisions made." The final show can't come fast enough!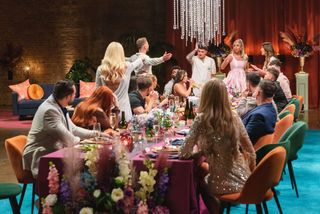 What does Thomas from Married At First Sight do for a living?
Although Thomas has given his job as being in Investment Communications, he has offered no further information regarding what this involves.
Ros is a florist, which is easy to understand, but with a bit of digging, it appears that investment communications involves PR and general communications work, specialising in the money/investment sector. Tom shares more online about his holidays, nights out and fitness exploits than any job-related news.
A lot of his content also shares how insecure he's felt for a large part of his life, about feeling different and "weird." One post detailed how this has impacted his interactions with girlfriends and love interests, with Tom saying "In my last relationship, I felt like I was walking on eggshells every day! I'd say something that'd trigger my ex, like answering the phone with 'what's up?' And she'd end the call, and ignore or break up with me. This happened so many times I can't count them."
He added that along with Ros, he'd also brought baggage to their potential relationship, but she'd changed his outlook to try and find the positives in life rather than dwell on the negatives. What a shame the pair didn't work out - we are sure Tom won't have a shortage of potential partners lined up now his relationship status appears to be single.
How much do you get paid for Married At First Sight UK?
Contestants appearing on the show aren't paid for their appearances, but are compensated for loss of earnings while they take time away from work for filming.
According to Planet Radio, the cast are also fined a whopping £10,000 if they are caught leaking any stories to the press. They're also not allowed access to their own phones, and are given production phones to communicate with each other.
Former contestant Alexis Economou said "We were told that we'd have our phones until the morning of our wedding, but I think someone was in the car and found out who one of the husbands were, so production were worried that it would be leaked." Now it appears there's an entirely zero phones policy.
There also appears to be a tight budget for brides to buy their dresses with. Former contestant Chanita explained "You get a budget, everyone gets a budget, the brides and the grooms - the brides get more than the grooms - and from that, you have to find a wedding dress."
She added "Don't get me wrong, the budget's not the best and especially with the cost of wedding dresses, because they are so expensive so you do what you can, like I said, you have to go buy a wedding dress off the shelf. Within that budget, that includes your wedding dress and your bridesmaids. My bridesmaids got their own dresses and I put a bit towards it, but because the wedding dress is so expensive, it all goes on that."
For the latest news on Peggy and Georges, and Luke and Jay from MAFS UK 2023, we have all the available updates. If you like to know who has stayed together when the reality show cameras have finished rolling, our comprehensive guide to which Love Island couples are still together from seasons gone by, will be right up your street.
Parenting advice, hot topics, best buys and family finance tips delivered straight to your inbox.