Firefly Lane season 2 part 1 recap
Everything that happened, ready for season 2 part 2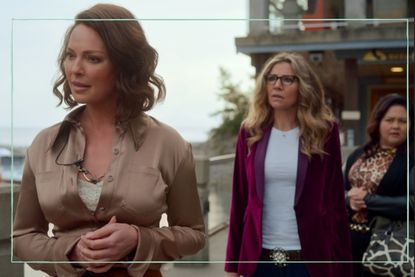 (Image credit: Netflix/Future)
The wait for the final part of Firefly Lane's season 2 is finally over. But first, Here's a handy recap of everything that happened in part 1.
Firefly Lane has captured the hearts of the world, with excellent chemistry between Katherine Heigl's Tully, and Sarah Chalke's Kate. Based on the Kristin Hannah novel of the same name, viewers of season 1 and the first instalment of season 2, have witnessed Kate and Tully navigate their lives from teenage girls in the 1970s, to the unexpected turns in their 2000s adulthood. Both seasons have drawn in millions of viewers, shooting straight into the Netflix top 10. With season 2 split into two parts, fans can now sprint to the finish line and watch the remaining season 2 part 2 episodes - they land on Netflix on April 27.
The first season 2 ending left viewers with some questions going into part 2 - we have answers for you. Firefly Lane filmed in some beautiful locations, and we reveal where Tully's apartment and Kate's house can be found, among other properties featured in the show.
Firefly Lane season 2 part 1 recap
Season 2 part 1of Firefly Lane begins with a flashback to 1975, and Tully receiving a letter from Kate.
The girls had been separated after Cloud's arrest, with Tully having to move in with her Grandmother. Tully finds an old picture of Cloud with an unknown man she thinks could be her dad, planning to confront her about it. Visiting her mom in prison, Tully questions her about the man, but she refuses to reveal anything and insists she drop the subject. Tully later finds the man is someone who worked with Cloud, and not her father at all.
Johnny suffers an injury in Iraq. Hearing of his accident, Tully offers to charter a plane for Kate, so she can get to him quickly. Kate is upset at the state they find Johnny in, with the doctor warning her that he might have brain damage, and his future remains uncertain as they won't know the extent of the damage until he wakes.
Johnny later regains full consciousness, suffering no lasting damage. In the hospital corridor Tully is speaking to her lawyers - she's being sued for ten million dollars for breaking the terms of her work contract. Kate assures Tully she'll support her through whatever is coming. Heading back to Johnny's hospital room, Charlie arrives and it transpires she and Johnny are now dating.
Tully moves into a new apartment and tries to move on from her short marriage to Max. She also attempts to move on from her miscarriage. With her agent, she brainstorms ways to continue her TV career and get around her non-compete clause, but the two struggle and Tully is discouraged. Feeling lonely, she asks Cloud to move in with her, and a flashback to the past reveals Benedict Binswanger could be her father.
Still living with Johnny but separated, Kate struggles to get over him. Kate and Johnny later look at Marah's laptop, and what they find leads them to believe she could be gay. Later during a family dinner, Sean confesses to being gay. His dad is shocked and his mom puts the revelation down to a mid-life crisis - she's actually known all along about his sexuality but denied it to herself.
Tully has been making and posting her own videos to the internet while on the hunt for a job - her videos are a huge success. Her former boss offers to drop the suit against her and give her old job back. Tully actually turns him down, instead threatening him over a previous indiscretion if he doesn't drop the suit against her. Tully decides to shift her focus towards making a documentary about finding her dad, angering Cloud hugely.
In making the documentary, Cloud eventually reveals Tully's dad is Benedict Binswanger's younger brother, whom she believed abandoned her when she was pregnant. However, as part of the documentary, they trace Tully's dad to Orcas Island and take a trip there, discovering he'd passed away just six weeks previously. Not only that, his wife reveals he never abandoned Cloud - Benedict and Cloud's father had staged the breakup, forcing each party to believe the other wanted to leave the relationship.
The eventual documentary is a huge success, and Tully finally has some closure over her dad. After trying to extricate themselves from each but finding it hard to move on, Johnny finally admits he still loves Kate, and the pair agree to try again at a huge party thrown by Tully. This means Charlie will be out of the picture now, to the relief of everyone.
Tully has Marah for the weekend, while Kate and Johnny reconnect. When Marah is asked on a date by her crush Ashley, Tully knows Kate would disapprove, but allows her to go anyway. She later gets a call from Marah, who is at a frat party. Ashley had decided to get back together with her boyfriend and left Marah at the party alone. Leaving to collect her, Tully tells her to stay on the line until she arrives.
On the way home from the party, they get into an accident and Tully wakes with a police officer guarding her door and Kate not talking to her. Tully is later taken to the police station and journalists find out she had been driving under the influence and flock to the station hoping to ask her about it. Her agent attempts to smooth the situation over, and Kate and Johnny maintain their refusal to speak to her.
Kate later briefly talks to Tully, only to let her know she will never get past what she's done, and their 30-year friendship is over. Kate and Johnny go to dinner at Kate's parent's house, and Johnny asks Kate to marry him again. She refuses, worried it would end in a second divorce. After dinner, they find Kate's dad unresponsive in the sitting room and he passes away.
Tully attends the funeral but Kate asks her to leave, and a year later, they remain estranged. Tully is offered a job making a documentary in Antarctica for several months, and she agrees to go. When Johnny proposes to Kate again, she says yes and finally realises how much she misses Tully. Kate is then sadly diagnosed with breast cancer, really prompting her to make up with her old friend. She dashes to Tully's apartment, but she's already left for Antarctica.
Firefly Lane: Cast
The cast returning for Firefly Lane season 2 part 2, include:
Katherine Heigl (Grey's Anatomy, Suits) as Tully
Sarah Chalke (Scrubs, How I Met Your Mother) as Kate
Ali Skovbye (Once Upon A Time, You Me Her) as teenage Tully
Roan Curtis (Before I Fall) as teenage Kate
Ben Lawson (13 Reasons Why, The Good Place) as Johnny
Beau Garrett (The Good Doctor, The Rookie) as Cloud
Yael Yurman (Man In The High Castle, Once Upon A Time) as Marah
India de Beaufort (Veep, Modern Family) as Lottie
Greg Germann (Ally McBeal, Grey's Anatomy) as Benedict Binswanger
Jolene Purdy (Donnie Darko, Orange Is The New Black) as Justine
Ignacio Serricchio (Lost In Space, Bones) as Danny
Roan Curtis who plays teenage Kate, spoke about her wonderful experience filming the show. She said to Netflix Tudum "One of the beautiful things about this project and our greatest takeaways is the fact that we all became friends. We've come out of this having such a perfect example of how to lead a set and how to show up and make everyone feel good and get the day done in a fast, efficient, respectful manner."
Young Tully actress Ali Skovbye added "Being able to play strong, powerful women and have [the] story focus not on a romantic relationship, but a platonic relationship, is beautiful. I love it."
Will there be a season 3 of Firefly Lane?
No, season 2 part 2 is the final stint for Firefly Lane, before it comes to an end.
Showrunner Maggie Friedman had always planned to tell Kate and Tully's story over 2 seasons. Her only stipulation was that season 2 was longer, to allow her to do full justice to the original book source material. Speaking to Glamour, Friedman said "Originally, season two was just going to be 10 episodes, but I was talking to one of the Netflix executives who's been such a great champion of the show and said, 'I know where the end of the story is.'"
She continued "I know exactly what I want it to be. I just want to make sure that we get there and don't end on a cliffhanger and then something happens and we don't complete it.' I wanted to make sure that I got to tell the full story."
Related Netflix Features:
Video of the Week
Lucy is a multi-award nominated writer and blogger with six years' experience writing about entertainment, parenting and family life. Lucy has contributed content to PopSugar and moms.com. In the last three years, she has transformed her passion for streaming countless hours of television into specialising in entertainment writing. There is now nothing she loves more than watching the best shows on television and telling you why you should watch them.