Has Workin' Moms been cancelled?
What is the future for the fan-favourite show?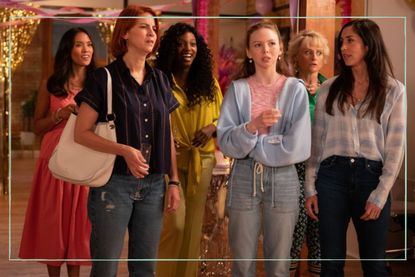 (Image credit: CBC/Future)
The show has enjoyed an unusually long run, in today's climate of rapid cancellation. What does the future hold for the Workin' Moms?
Created by and starring Catherine Reitman, Workin' Moms' seventh season lands on Netflix on April 26. Society likes to tell women they can have it all, and the cast and crew of this daring comedy puts that ideal firmly to the test - with hilarious and life-affirming results. Season 7 returns with further exploration of lasting friendships, and the relentless nature of balancing ambitious careers with raising families, and growing up when you are already an adult. But will Workin' Moms be continuing, or has it been cancelled?
Elsewhere on Netflix, the Firefly Lane season 2 part 2 release date is upon us. Also depicting themes of female friendship, careers, and family, part 1 of Firefly Lane's season 2 ending left viewers wondering about the state of Kate and Tully's relationship. With some stunning backdrops, viewers often ask where Firefly Lane filmed - we have a full breakdown of locations found in the iconic series.
Has Workin' Moms been cancelled?
Workin' Moms wasn't cancelled, but instead came to a natural end. Series creator Catherine Reitman revealed the writers began crafting an end to the show during season 6.
Speaking to Variety, Reitman explained her decision, believing she was already outstaying her welcome with the show at season 6. She said "We've all seen a show that loses its juice and keeps puttering and re-scrambling storylines. I didn't want that to be the case with Workin' Moms. Our fans have been incredibly loyal to us. I take that seriously."
Reitman went on to explain that during season 6, the crew began discussing what an end would look like - she already had a good idea of what she wanted the final moments of the show to feel. The writing team built on her vision, considering the audience perspective such as a final potential flashback episode, and past characters reappearing for a final time.
In a statement about the series coming to a close, Reitman said "To our incredible fans, making this show has been the ride of my life. Philip [Sternberg] and I hit the ground, day one of Season 1, with a three-month old and a two-year-old, watching as we pressed forward on one mission: to tell the stories of four flawed mothers, who dared to be something beyond their nurseries."
She continued "Going to work every day, whether in the room with our brilliant writers, on set with our extraordinary cast, or in post with the best producing team in the business, has cemented in me the importance of telling stories that have meaning, surrounded by artisans who get it. But like any story, there must be an ending. And so, it is with love and gratitude that I'm announcing Season 7 as our final season."
She concluded her touching statement with "To those of you who've stopped me on the street, to share your love of the show – I see you. I hear you. And I thank you. Go get 'em mamas."
What happened to Frankie in Workin' Moms?
Actress Juno Rinaldi who played Frankie in Workin' Moms, decided to leave the series. Her character was then written out at the end of series 5, to take a job in a treatment centre.
In a post shared to Instagram, Rinaldi suggested the reason for her departure was to pursue other opportunities in the industry, namely writing and producing. She said "To my dear cast, crew, friends, families and fans of the show. I have made the hard decision not to return to Workin' Moms this season.
As an artist I felt like it was time to pursue other creative opportunities as an actor and different opportunities in other mediums within the business (specifically, writing and producing). Frankie was a role of a lifetime. Deep gratitude goes out to @reitcatou for taking a chance on a nobody like me."
The actress concluded "I had 5 glorious seasons with truly incredible people and now I am so excited to see where Workin' Moms goes next , I know it's going to be fantastic! All my love. Juno."
Some fans felt her character wasn't written out properly, and reasons for her absence not made clear enough. One viewer commented on the post "Love the series, but I can't understand why Frankie wasn't written out properly. I know the actress wanted to leave, but the character just disappeared, and was never mentioned again."
Is it Catherine Reitman's baby in Workin' Moms?
Catherine Reitman reportedly used her own baby for a particular scene in Workin' Moms, where character Kate's baby refuses to latch on to feed.
According to IMDB, during the first season, Reitman had only recently given birth to her own child. At the end of episode two, her character Kate is trying to breastfeed her baby, who has shown little interest in feeding for some time.
As this was a real life experience for Reitman, she used her real-life baby for this scene. While the cameras were rolling, and after two weeks of struggling to get her baby to feed, he latched on and began nursing. Kate's joyful reaction was actually Reitman's authentic feelings during this moment.
Are Kate and Nathan married in real life?
Yes, Catherine Reitman's real life husband Phillip Sternberg, is her on-screen husband Nathan.
The couple have been married since 2009, and share children Jackson born in 2013, and Liam, born in 2015. On working with her husband on Workin' Moms, Reitman told Today "Look, it's taken a lot of work and patience to create a working dynamic together where we know how to do that on set, and then turn it off and parent together at home. And I'm one of the lucky ones, I get to look across the set and my best friend, my husband, is rooting for me in each scene."
On working through conflicts on set, she added "We work our way though it. Like any dynamic, I think you sort of figure out your language - how you speak to each other and when to wear what hat... And I'm lucky because I've got a pretty spectacular guy."
Related Netflix Features:
Video of the Week
Lucy is a multi-award nominated writer and blogger with six years' experience writing about entertainment, parenting and family life. Lucy has contributed content to PopSugar and moms.com. In the last three years, she has transformed her passion for streaming countless hours of television into specialising in entertainment writing. There is now nothing she loves more than watching the best shows on television and telling you why you should watch them.