Lockwood & Co. ending explained: Everything that happened in the finale of the Netflix detective thriller
All of your key questions answered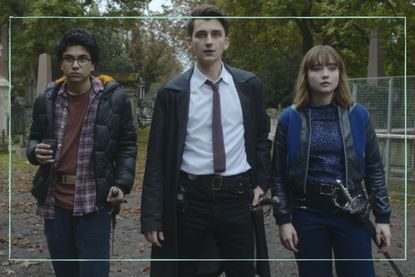 (Image credit: Netflix/Future)
Lockwood & Co. only recently landed on Netflix, but fans of the Jonathan Stroud book series and the detective thriller genre, have watched it already - how did the show end?
British detective thriller Lockwood & Co. only landed on Netflix on January 27, but hordes of fans who had waited patiently for the series, binged the eight episodes at lightning speed and now need a season 2 (opens in new tab). Based on Jonathan Stroud's book series of the same name, season one followed the first two books of the collection, The Screaming Staircase and The Whispering Skull. Both set and filmed in London, the show follows teenage ghost hunters as they enter into combat with deadly spirits night after night. With most ghost trapping agencies run by adults, Lockwood & Co. is operated by teenage boys Anthony and George, ably assisted by Lucy - a girl with especially potent ghost hunting powers. With the trio following their destiny to unravel a mystery that could change history, read on to find out exactly how the series ended, and find the answers to all your burning questions.
A drama following a very dysfunctional family is currently riding high on Netflix - for a full Ginny & Georgia season 1 recap (opens in new tab), look no further. For those confused about that Ginny & Georgia season 2 ending (opens in new tab), we have all the key questions answered. Fans are desperate for Netflix to make an announcement about Ginny & Georgia season 3 (opens in new tab), and the show's creators have dropped some major hints about how long they've planned the series to run for.
Lockwood & Co. ending explained
The final episode of Lockwood & Co. begins with George becoming increasingly obsessed with the bone glass, and deciding not to hand it over to DEPRAC for it to be destroyed. Convinced it is central to finding the origins of the Problem, George heads to Kensal Green cemetery to meet Pamela, who has an equally unhealthy obsession with the bone glass.
Making their way down into the catacombs, it becomes apparent that Pamela has her own agenda, and this plan does not involve keeping George safe - he remains unaware that the Skull had previously warned Lucy that the only way to look at the mirror and avoid death, is through somebody else. Pamela plans to use George for this very purpose.
With George and Pamela following their own plans, Lucy has a problem of her own. The type three ghoul she has trapped in a jar, warns her that George will soon meet his end. However, the Skull is very keen to take Lockwood and Lucy to the graveyard where Pamela is planning to put her evil plans into action, because he wants to be reunited with the spirit of his former master, Bickerstaff. The remaining ghost hunting duo blame themselves for not realising what was happening to George, acknowledging something was amiss, but they'd been too wrapped up in their own dramas to do anything about it.
It appeared Lockwood and Lucy might've worked out George's fate too late, as he and Pamela arrive at Bickerstaff's place of burial in the catacombs. However, Quill Kipps was tailing George the whole time, reaching him and Pamela in what appears to be the nick of time - but before he can intervene, a red ghost attacks him. George manages to save him, but notices that Quill is losing the ability to see the ghosts, otherwise he'd never have needed to be rescued.
George takes the rescued Quill to Pamela, who decides to use him instead of George to carry out her plan, and ties him up. However, having lost his powers has rendered Quill useless for looking through to see the mirror. At this point George realises that Pamela is no ally, registering she must've been the one to kill Carver and has only been pretending to be his friend.
The interlude with George and Quill gives Lucy enough time to arrive at the scene on a rescue mission - she has the Skull in tow. She volunteers to look at the mirror instead of George or Quill, with the argument she can talk to Type Three ghosts and is best placed for the job. But when Pamela gets her to cast her eyes towards the bone glass, Lucy quickly turns the Skull to look instead. The Skull expects to see the Eternal, but instead announces that something is wrong - the bone glass is a trap and needs to be destroyed.
Lucy begins to see visions of dead faces, including Lockwood's, and eventually passes out. At this point, George knocks the mirror to the floor, where it smashes. An enraged Pamela looks into the broken bone glass, and some leftover energy pours out and surrounds her. The energy becomes more intense, while an enraptured Pamela screams "it's beautiful!" but eventually she catches fire and is burnt to ashes.
After Pamela's demise, the broken bone glass releases trapped spirits. Bickerstaff's ghost is one of them, and out to get George and Lucy, Lockwood finally arrives on the scene to rescue them both - instead going into the catacombs with Lucy, Lockwood had instead stayed outside to assist Kipps' team to fight Winkman - he and his men had also taken a trip to the cemetery to try and get in on the bone glass. After seeing them off, Lockwood had tried to get to George and Lucy, but had been stopped by the Golden Blade.
The Golden Blade tells Lockwood his parents were insignificant, before shooting him in the shoulder. At the end of the episode, Inspector Barnes questions Lockwood about the shooting, and he pretends not to have seen the perpetrator. He confides in Lucy and George that it was the Golden Blade who shot him, and he wants to find out who he is - Lockwood & Co. are just as in the dark as viewers at this point, regarding Golden Blade's identity. All they know is that he works for Penelope Fittes, who can't be trusted.
At the end of the episode, the team call off the bet they had with Quill, admitting it was silly, and concluding there is a place in the ghost hunting industry for all of them. Lucy promises Quill that they won't reveal he's lost his powers, and he and Lockwood make peace with one another. Lockwood, George, and Lucy retreat to the house, where Lockwood promises there will be no more secrets. He reveals he is ready to show them what is behind the door of the mysterious locked room everyone has questions about. He leads them to the door, and opens it as the episode ends.
What was behind the door in Lockwood & Co.?
Unfortunately, viewers didn't get to see what was behind the door, and only speculation exists over what was behind it.
The door had been introduced in episode 1, as Lockwood and George showed latest recruit Lucy the house that acts as a base for ghost hunting operations at 35 Portland Row. Lockwood quickly shut down her questions about the room behind the door, and George explains that going through the door is forbidden. The room previously belongs to Lockwood's sister, Jessica, who was murdered by a ghost at the age of 15.
Jessica died while sorting through their dead parents' belongings, a job Lockwood had refused to help with. When she accidentally smashed an Indonesian ghost pot, a ghost escaped and Lockwood failed to arrive in time before the ghost killed her. Most of the current speculation regarding the contents of the secret room, suggest it could be a memorial to his dead parents and sister, or that he is keeping the ghost of Jessica herself locked up in there.
What happened to Lockwood's parents?
Not much is known about why Lockwood's parents died, only that they died when he was a very young child. They were very involved in fighting the Problem, and it is widely thought they would've been killed by ghosts like his sister.
His father Donald was a psychic investigator and researcher, who spent a lot of time travelling the world trying to solve the Problem. His mother was named Celia Lockwood, and she'd often join her husband on his travels - their home was filled with ghost hunting artefacts, and it is thought some of these could also be locked away in the mysterious room as Lockwood would consider them to be dangerous. Their ghosts were the first Lockwood had ever seen and had to fight.
When is Lockwood & Co. set?
Lockwood & Co. is set in modern day England, in an alternate reality where ghosts are the biggest threat to humans.
A snippet from a newspaper during the show's introduction, proposes the Problem - or ghost infestation - began sometime in 1973. The series suggests that Lockwood, George, and Lucy are running their agency 50 years later, placing season 1 in 2023. The lack of technology in the show left viewers confused over the time period in which it's set, but there's an assumption that the world's focus turned to living with the new enemy at this time, and technological advances were halted.
Empire (opens in new tab) sums up the setting, by saying "this is basically our world but stuck in a time closely resembling the 1980s, due to an epidemic of ghosts who can actually kill people. So, there are no smartphones, no social media, no flatscreen televisions or, indeed, streaming TV services, and barely any digital tech at all. This archaic, analogue society, hewing closely to the original source material of Jonathan Stroud's YA book series, is beautifully realised by production designer Marcus Rowland. It's essentially Thatcher's Britain minus Thatcher; stark, edgy and dangerous, and the show's use of real London locations – a lot of austere concrete buildings and crumbling mansion houses – works a treat."
Related Netflix Features:
Video of the Week
Lucy is a multi-award nominated writer and blogger with six years' experience writing about entertainment, parenting and family life. Lucy has contributed content to PopSugar and moms.com. In the last three years, she has transformed her passion for streaming countless hours of television into specialising in entertainment writing. There is now nothing she loves more than watching the best shows on television and telling you why you should watch them.