How did Anna Nicole Smith's son die, and where is her daughter Dannielynn now?
A lot of tragedy surrounds the iconic model's family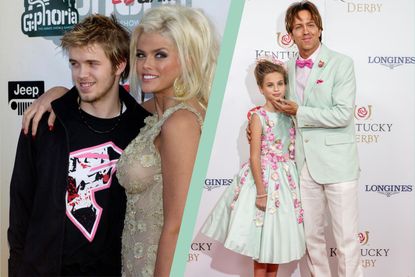 (Image credit: UPI/The Photo Access/Alamy/Future)
As a Netflix documentary delves into the life of tragic model Anna Nicole Smith, viewers have questions about those she tragically lost and left behind.
Director Ursula Macfarlane (Untouchable) has delivered a documentary tackling the life of tragic Anna Nicole Smith to Netflix. Born Vickie Lynn Hogan, the Marilyn Monroe-esque model and actress shot to fame following her first appearance in Playboy in 1992. Before her untimely death in 2007, Smith was the focus of much press attention, and the centre of many controversies. Anna Nicole Smith: You Don't Know Me, is set to unveil new insights into the her story and reveal previously unreleased interviews from those who knew her. With her son Daniel also passing away at a young age and Smith leaving behind young daughter Dannielynn, we look at what happened to Daniel Smith, and where Dannielynn is now.
Cleopatra's origins covered in the Netflix Queen Cleopatra documentary have caused controversy, in Jada Pinkett Smith's version of the iconic figure's life. In How I'm Feeling Now, Lewis Capaldi offered viewers a bare-all peep into his mental health and the price of fame. The question of what happened to Malaysia Airlines flight MH370 is still being asked, and another Netflix documentary attempts to piece together some answers.
How did Anna Nicole Smith's son die?
Daniel Wayne Smith died from an accidental overdose in 2007 at the age of 20, just three days after his half sister Dannielynn was born.
Daniel was visiting his mother in hospital following the birth of Dannielynn, when she realised he was unresponsive - he was soon pronounced dead. The circumstances surrounding Daniel's death were initially mysterious in appearance, due to several outlets reporting different stories. According to E!, his death was initially announced as suspicious.
In a statement made to the Associated Press by the chief inspector of the coroner's office, it was said in the days after Daniel's death that "Whenever there is a suspicious death we would have an inquest to determine how the person died." This came after news that an unnamed third person was present at the time of Daniel's death, when previous reports claimed he was alone in the hospital room with his mother at the time she found him dead. However, the third person has never been confirmed, and that story disappeared.
Reports then went on to claim the young man had suffered a massive heart attack, with other sources at the time refuting this claim. When Daniel's death was deemed an accidental overdose, independent toxicologist Dr. Cyril Wecht was brought on board to provide further opinion. According to Distractify, he stated the cause of death to be an interaction between methadone and antidepressants Zoloft and Lexapro; he agreed the death was accidental.
In a statement, the toxicologist explained "In my opinion, it's an accidental death," explaining that when methadone interacts with Zoloft, it metabolises much slower, resulting in a prolonged QT interval - the time it takes the heart to contract and recover.
He concluded "When the [QT interval] is prolonged, the individual could even lose consciousness and suffer cardiac dysrhythmia. And that is something that can happen from methadone alone, and in the presence of Zoloft and Lexapro, it is more likely to happen … I don't mean frequently, and certainly not predictably, so tragically, with this young man this is what happened. So I have no question at all as to the cause of death."
Where is Anna Nicole Smith's daughter Dannielynn now?
Dannielynn Birkhead is currently 16-years-old, and lives a quiet life in Louisville, Kentucky, with her father Larry Birkhead - he tries to shield her from the spotlight.
Born in September, 2006 in the Bahamas, Dannielynn was initially named Dannielynn Hope Marshall Stern. Anna Nicole claimed Dannielynn's father was her partner at the time, lawyer Howard K. Stern; he was listed on the child's birth certificate as such. However, Anna Nicole died just five months after her daughter was born, and just prior to this had told entertainment photographer Larry Birkhead he was the real father.
After Anna Nicole's death, Larry wanted a paternity test and fought for custody when the results showed he was indeed Dannielynn's biological father. The pair have lived a quiet life together ever since, occasionally stepping out to public events where they are photographed. At the age of 6, Dannielynn did briefly step into the public eye, to honour her mother by modelling for Guess.
Mommy's footsteps. Anna Nicole Smith's daughter Dannielynn for Guess. pic.twitter.com/i3jxNXkDNovember 27, 2012
See more
Dannielynn took on the gig for Guess Kids, for the brand's 2013 spring campaign. Speaking to Good Morning America on why he let his daughter take on the campaign after keeping her from the spotlight, Larry said "Dannielynn has always looked up to her mom's image. I think this is kind of Dannielynn's way of paying tribute to her mom in her own special way."
He concluded "To see her mom's picture next to hers as a Guess girl and say, 'Hey, I was a Guess Kids girl, my mommy was a Guess girl,' that might be her only connection with her mom."
How much money did Anna Nicole Smith's daughter inherit?
Dannielynn inherited $700,000 from her mother when she died, although Anna Nicole was in the process of trying to obtain millions from her former husband at the time.
Anna Nicole Smith married Texan billionaire J. Howard Marshall in 1994, when she was 26, and he was aged 89. Marshall died a short time later, leaving his $1.6 billion estate to his son, and leaving nothing for Anna Nicole. Her lawyers were in the process of attempting to obtain approximately $44 million from the estate at the time of Anna Nicole's death, proceedings that went on for years after she died in an attempt for Dannielynn to receive the funds.
Anna Nicole had refused to believe her husband would leave her nothing, after a 14-month marriage that saw her showered with gifts and her husband promising her $300 million when he died. However, a jury found Marshall to have been mentally fit at the time of completing his will, refusing to overturn his final wishes. Dannielynn was eventually the sole recipient of Anna Nicole's estate, which amounted to $700,000 at the time of her death.
When did Anna Nicole Smith die, and what was her cause of death?
Anna Nicole Smith died of an accidental drug overdose on February 8, 2007, at the age of 39.
According to a Daily Mail report, Anna Nicole had been feeling unwell in the days running up to her death, while also suffering trauma from the sudden death of her son. Recovering from the flu-like symptoms she was said to have been suffering, she was in possession of drugs to treat her symptoms, among a plethora of others. She was found lifeless in her hotel bed on February 8, and pronounced dead later that day.
She was allegedly in possession of 44 medications, including the sedative chloral hydrate, which is thought to have negatively combined with benzodiazepines clonazepam, lorazepam, oxazepam, and diazepam. The prescribing Dr, Dr. Eroshevich along with Howard Stern, were convicted of two counts of conspiring to obtain prescriptions under a false name for Anna Nicole, in 2010. They were however, acquitted of several other charges, including that of causing her accidental death.
Related Netflix Features:
Video of the Week
Lucy is a multi-award nominated writer and blogger with six years' experience writing about entertainment, parenting and family life. Lucy has contributed content to PopSugar and moms.com. In the last three years, she has transformed her passion for streaming countless hours of television into specialising in entertainment writing. There is now nothing she loves more than watching the best shows on television and telling you why you should watch them.