Endeavour series 9 ending explained: What happened to Endeavour, Joan, and Thursday as the crime drama comes to a close for the final time
The emotional finale has left viewers in tears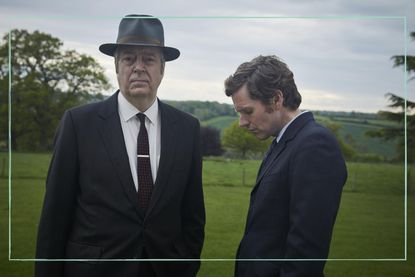 (Image credit: MammothScreen/ITV/Future)
Viewers tuned in to the final ever episode of Endeavour on ITV, to say an emotional farewell to the show after its lengthy run.
Endeavour began back in 2012 as a prequel to the popular Inspector Morse series, with Shaun Evans portraying Endeavour Morse in 60s Oxford at the start of his career. With 9 series under its belt, the outstanding cast have ensured the show has become beloved in its own right. On March 12, the final episode of Endeavour aired, with fans feeling united in bidding an emotional farewell to the show they've invested so many years in. It's fair to say the writers did an excellent job of tying up loose ends, and bringing a satisfying conclusion to the action. Read on as we break down that finale, and delve into what happened to the fan favourite characters as Endeavour aired for the final time.
Elsewhere on ITV, the You and Me cast (opens in new tab) bring a fantastic romantic comedy drama to life - can love help to overcome a tragic past? Viewers were left asking where is Karl Bishop now (opens in new tab), the killer named in (K)nox: The Rob Knox Story. The powerful documentary looked at the untimely death of Harry Potter star Rob Knox, and the man responsible for it. Helena Bonham Carter shines in Nolly on the channel, bringing the real life story of Crossroads actress Noele Gordon to viewers. Nolly filmed (opens in new tab) in several recognisable locations, and we reveal where they can be found.
Endeavour series 9 ending explained
The Endeavour series 9 finale sees Endeavour trying to solve the mystery of Blenheim Vale, along with who exactly is behind the death notices placed in the Oxford Mail that come accompanied with a cryptic message.
Endeavour himself comes close to being a victim of the untimely death notice planting killer, when his own notification of death is placed in the Oxford Times. Handyman John Bingley is found to be the man behind the notice, setting out to kill Endeavour who is rescued in the nick of time by Strange. It transpires that Bingley has a maintenance contract for many local buildings, some of which were unoccupied. He used telephones from the vacant ones to place the death notices, also using them as fake undertaker numbers when the paper made contact to confirm a death. He was also found to be using the florist owned by his wife to send the cryptic Latin message notes.
Bingley fails to show any remorse for the murders he's carried out, citing the police failing to do their job properly as reasons for the killings - he was actually driven by his own personal prejudices towards his chosen targets. While Bingley has been caught, Endeavour is left dealing with his feelings about Joan Thursday DS Jim Strange's wedding.
Endeavour and Joan have had many will they/won't they moments over 9 years, where romance appears imminent but is then ultimately shelved. With Joan now entering a marriage to somebody else, it looks like romance is finally taken off the cards for the pair. Viewers were momentarily left on the edge of their seats when Endeavour was seen at the wedding reception, admitting his feelings for Joan and kissing her. This was then revealed to be a dream sequence and in reality, Endeavour had offered his best wishes to his lost love, as she left for a honeymoon with her new husband.
What happened to Thursday?
Thursday is still impacted by the child abuse scandal covered in series 2, and the series 9 finale brings him some closure to both that and the Blenheim Vale cases.
When Arthur Lott makes a return, his heavy involvement in the historic child abuse scandal of season 2 was revealed - he had been responsible for the paedophile ring responsible being covered up. More devastation comes when it also comes out that Thursday's brother Charlie Thursday was also involved in the scandal after being brought into it by Arthur. Arthur demands that Fred Thursday shuts down the Blenheim Vale investigation, while Fred demands the money lost in series 5 by his brother be returned to him.
With this all taking place on Joan's wedding day, Endeavour is the one to confront Arthur instead of Thursday, as he's indisposed. Endeavour questions Arthur over the death of Andrew Lewis, and the fate of Big Petey Williams - the boy DS Peter Jakes was forced to give up when tortured to give his name as a child.
Jakes had felt intense guilt over the Blenheim Vale investigation, and it was believed Williams had been murdered and buried in the Blenheim Vale grounds. However, Arthur debunks this theory when he admits to taking Williams to Lincoln, and handing him over to a couple named Kennett. Endeavour then makes a link between the murdered Raymond Kennett, who was stabbed in the pub.
Just as it looks like Arthur will hand Endeavour the lost briefcase full of Thursday's money, he instead hits and tries to kill him. Endeavour is again saved, this time by the biker gang, who are after Arthur for the stabbing of a crew member on his orders. After this encounter, Endeavour makes it to Joan and Strange's wedding reception. He collapses from injuries sustained during the altercation, but is treated in hospital.
Arthur's fate doesn't play out on screen, but Thursday is later seen saying Arthur "had it coming". Viewers also aren't told if Endeavour knew exactly what Thursday did to Arthur, but he does work out it was Thursday who killed Tomahawk, aka Raymond Kennet. He tells Thursday he'd given the biker gang the message that Tomahawk was an informant, to buy Tomahawk's real killer some time - this hints to Thursday that he knows what he did.
Tomahawk had threatened Thursday's son Sam for being on his turf. Coming up behind Sam with a knife, Thursday had arrived on the scene to confront his son over the theft of money from his wallet, but ended up preventing him being stabbed - Tomahawk responded to this intrusion by trying to stab Thursday instead, with Thursday ultimately killing him.
Endeavour agrees to keep quiet about Thursday's crimes, but warns him the biker gang are out for revenge - when they worked out what he'd done, he and Sam would no longer be safe. Endeavour tells Thursday that he and his son must disappear, meaning the pair can't see one another again. Before he leaves wit his son, Endeavour gives Thursday the briefcase of money and Thursday hands over his gun. Endeavour says "Goodbye sir", and as they shake hands and Thursday uses Endeavour's first name, he replies "Morse, sir. Just Morse."
What happened to Joan?
As Joan and Strange are unconnected to the biker gang incident and aren't in trouble, they can stay in Oxford with Endeavour telling Thursday he'll watch over them.
During Endeavour's dream sequence where he declares his feelings for Joan, he says "Truth is, I love you. I've loved you from the first moment you opened that door and I should have told you. I should have said something… but now it is too late." Viewers felt robbed that Endeavour was to be denied his happy ever after, as all he does at the reception is hug Joan as a tear rolls down his face.
Joan and Strange drive off to their honeymoon, with Elton John's Rocket Man playing over the drama. In the closing moments of the finale, Endeavour is seen sat outside the church where Joan got married, brandishing his gun. A shot fired indicates he could have taken his own life, but ultimately decided against it as we then see him singing with his choir Blenheim Palace, ruminating over the people he will no longer see.
The finale ends with Endeavour asking the choir leader "Is that it?" to which he gets the reply "That's it." Driving away in his black Jaguar, he passes a red Jaguar moving in the opposite direction. Seeing the driver reflected in the rear view mirror, viewers see John Thaw – the Morse Endeavour would go on to be in his older years, as the prequel comes to a close.
Endeavour series 9 ending: Fan reaction
The Endeavour fan reaction cements the fact it was well written and concluded the series nicely.
Many viewers spoke about John Thaws appearance in the final moments. One viewer wrote on Twitter "Goodbye Morse, my old friend. We met when I was 12, I'm now 47. And I will miss you so. Superb #Endeavour finale. This show has continued John Thaw's legacy in the highest fashion and has truly done him proud." Another added "Brilliant ending and of course I broke when John Thaw was in the rear view mirror."
"Endeavour""Morse Sir. Just Morse."Brilliant ending and of course I broke when John Thaw was in the rear view mirror. #Endeavour #EndeavourTV pic.twitter.com/qxA2yp7cBRMarch 12, 2023
See more
Coming in with more praise, another fan said "What a beautiful ending to #Endeavour. A brilliantly written & acted drama. All the cast have been fab but Shaun Evans has been just perfect as the younger, awkwardly charming Morse. Will miss it & his lovely wee face from our screens." In agreement, another added "AND THAT IS HOW YOU DO IT. That is how you give such a beautiful show a fitting end. They couldn't have chosen a better line for the departure of Fred Thursday. The writing, the acting. Nothing will ever compare to this show."
Related ITV Features:
Video of the Week
Lucy is a multi-award nominated writer and blogger with six years' experience writing about entertainment, parenting and family life. Lucy has contributed content to PopSugar and moms.com. In the last three years, she has transformed her passion for streaming countless hours of television into specialising in entertainment writing. There is now nothing she loves more than watching the best shows on television and telling you why you should watch them.