Where is Grace filmed? Series 3 filming locations of the ITV crime drama revealed
A beloved British seaside takes centre stage in the show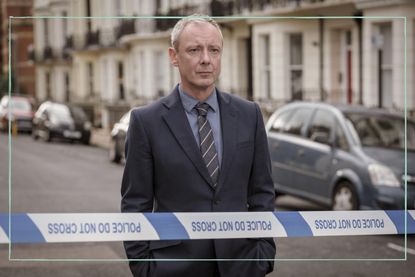 (Image credit: ITV/Future)
A beautiful seaside city features in Grace, and we've been sleuthing to bring you every spot the cast and crew of Grace series 3 were spotted filming at.
Popular British crime drama series Grace, arrived back on our screens on March 19, with viewers quick to ask for news of a Grace series 4. John Simm stars in the titular role of DS Roy Grace, a detective still reeling from the disappearance of his wife Sandy six years previously, who unconventionally uses the paranormal to help crack cases. The series is based on the bestselling novels by Peter James, with Simm's character based on a real detective James was introduced to when he became the victim of a burglary. Now into its third series, Grace draws consistently high ratings, sealing its place as a fan favourite as it steps seamlessly into the spot left by the beloved Endeavour. Fans tuning in to series 3 of Grace, are keen to know where some of the familiar locations featured in the show can be found - read on to find out exactly where they are.
Another crime drama made a welcome return on ITV recently for a fourth series - The Bay filmed in a very popular spot, and we have an exclusive interview with one of the cast members, giving the lowdown on the filming experience. Over on BBC One, the Better series 1 ending left fans of the popular show divided. On Channel 5, a crime drama with an interesting plot has viewers gripped - Desperate Measures filmed in an unusual location, with an incredible city standing in for Manchester.
Where is Grace filmed?
Grace series 3 filmed on location in Brighton, with the cast and crew spotted at the iconic Brighton Palace Pier, the South Downs, Rottingdean, Burgess Hill, Hove Lagoon, and Bond Street.
Work first began on the historic Brighton Palace Pier in 1881, but due to a multitude of challenges, the pier didn't open until 1899. No stranger to appearing on film, Brighton Palace Pier was recently used in the Harry Styles film My Policeman. Author Peter James shared a picture of John Simm in character as Grace outside the famous pier, with the caption "Who is ready for this?! #itvgrace."
The South Downs has featured in previous seasons of Grace, namely as the location where a second body was found in the series 2. The South Downs National Park features 1,600km2 of beautiful views, popular with hikers and cyclists. With a number of picturesque villages and coastline steeped in history, the area was an easy choice to feature in Grace.
According to the Brighton Argus, scenes filmed in Rottingdean were shot at St Margaret's Church, Nevill Road and on Beacon Hill. One Twitter user suggested some scenes were filmed at a flat belonging to Nick Cave, sharing a picture of the flat with the caption "Twitter, some of you might remember when I was asked if my flat could be used for filming? Well it was for this programme #Grace on ITV. They used this flat though, first floor, Nick Cave's I gather. I took a pic of them filming."
Twitter, some of you might remember when I was asked if my flat could be used for filming? Well it was for this programme #Grace on ITV. They used this flat though, first floor, Nick Cave's I gather. I took a pic of them filming pic.twitter.com/sErPOPrgEIMay 8, 2022
See more
In Burgess Hill, it was reported that an empty Lidl was going to be used for filming some scenes. A reclining chair shop also shared pictures of filming taking place directly outside of their premises in the Market Place shopping centre. They captioned the photo " filming returns to Burgess Hill right outside The Martlets Burgess Hill. So exiting."
According to Sussex Live, when filming took place at Hove Lagoon, local resident Fatboy Slim made a visit to the set and was seen chatting to the actors. John Simm was seen filming there, along with co-stars Richie Campbell and Craig Parkinson.
In Bond Street, The Argus reported that John Simm was seen in Gresham Blake tailors on the corner of Bond Street, along with Craig Parkinson. Filming equipment was also set up outside the Jubilee Library in nearby Jubilee Street, with pictures of the shoot making their way to Twitter.
Keep your eyes peeled for the stars of ITV's crime drama Grace around #Brighton this week!Filming has been taking place in Bond Street and the station according to @brightonargus https://t.co/VmlrFuvB8gNovember 22, 2022
See more
Where is the house in Grace filmed?
The house in Grace is filmed in Brighton's Kemptown on Eaton Place, near Marine Parade.
Kemptown has been voted as one of the coolest places to live in the world, renowned for its laidback vibes, beautiful seafront and incredible nightlife. Eaton Place features beautiful examples of Regency architecture, with properties in the area being extremely sought after.
Eaton Place, Brighton | Beautifully presented first floor flat that has a west facing balcony and direct s ... https://t.co/MuJMBHrIEo pic.twitter.com/z3sdPZRa2QAugust 13, 2020
See more
How many episodes of Grace are there?
Grace series 3 consists of three episodes in total, with each being two hours in length. Episodes will air weekly on Sundays on ITV and ITVX, where they will remain on ITVX for viewers to catch up with.
Episode 1 entitled Dead Like You, sees Assistant Chief Constable Alison Vosper's leaving party disturbed by a shocking event. Grace and Branson are then responsible for interviewing police officials and hotel guests about exactly what happened. Grace is troubled by the incident, with the detectives left thinking the sinister Brighton Prowler could be again rearing its ugly head.
Dead Man's Grip is the title of episode 2, that sees a road collision swiftly evolve into something quite different, with the discovery of a body at the scene. Grace and Branson are up against the clock to save another life before the body count ramps up.
Episode 3 - Not Dead Yet - follows a rising singer, dreaming of heading to LA to make it big. Her plans are thwarted by another shocking incident that leaves her fearing for her life. Grace wonders whether a sinister fan could be behind threats made against the singer, as police follow different lines of inquiry.
Grace series 3: Cast
John Simm (Life on Mars, Doctor Who) as DS Roy Grace
Richie Campbell (Liar, Death in Paradise) as DS Glenn Branson
Craig Parkinson (Misfits, Line of Duty) as DS Norman Potting
Laura Elphinstone (Line of Duty, Game of Thrones) as DS Bella Moy
Zoe Tapper (Survivors, Demons) as Cleo Moray
Rakie Ayola (Noughts + Crosses, Silent Witness) as ACC Alison Vosper
Sam Hoare (Carnival Row, Death in Paradise) as Cassian Pewe
Brad Morrison (Dinosaur) as DS Nick Nicholl
Alexander Cobb (Indian Summers, Mr Selfridge) as Kevin Spinella
The role of Cassian Pewe was originally portrayed by James D'Arcy, but Sam Hoare has stepped into the role for series 3. John Simm made a statement about the recasting of the role, saying "We are hoping that the new Cassian will slip seamlessly into the fold. As an actor Sam absolutely did. From day one he was brilliant. He's such a lovely guy. He's perfect for Cassian. I would say that he is Roy's main adversary."
Related ITV Features:
Video of the Week
Lucy is a multi-award nominated writer and blogger with six years' experience writing about entertainment, parenting and family life. Lucy has contributed content to PopSugar and moms.com. In the last three years, she has transformed her passion for streaming countless hours of television into specialising in entertainment writing. There is now nothing she loves more than watching the best shows on television and telling you why you should watch them.