Will there be a series 4 of Grace? Future of the ITV crime drama confirmed
John Simm has made an announcement about the show's return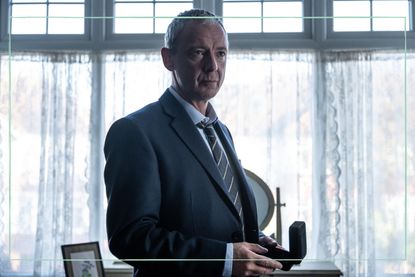 (Image credit: ITV/Future)
Grace series 3 came to a close on Sunday, April 2, and fans want to know if everyone's favourite paranormal-loving detective will be back.
The gritty and gripping Grace series 3 has reached a conclusion after just 3 incredible episodes. The crime drama is based on the bestselling Roy Grace novel series by Peter James, and largely set in the Brighton & Hove area - Grace filmed in many iconic locations around the city of Brighton, to maintain authenticity to the source material. John Simm has led a stellar cast throughout all series of the show, in the titular role of Detective Superintendent Roy Grace, who is fond of using the paranormal to solve a variety of cases around the popular seaside location. With viewers keen to see the return of the dogged detective and his team, we have an update about the future of the show and whether series 4 can be expected.
Another crime drama has recently aired on ITV, leaving viewers asking is Six Four based on a true story? Grey's Anatomy's Kevin McKidd has taken a break from surgical wizardry, to take on the role of a Scottish detective in the drama. Elsewhere on the channel, The Bay season 4 ending has also left viewers wanting more of the show - proving we are a nation of crime-drama enthusiasts.
Will there be a series 4 of Grace?
Yes, a series 4 of Grace has been confirmed, with John Simm revealing on Instagram that filming for a fourth outing is about to begin filming.
Ahead of the Grace series 3 finale premiere on April 2, Simm shared a picture of himself and co-star Richie Campbell in character as DS Roy Grace and DS Glen Branson, to Instagram. He captioned the picture "'Not dead yet' based on the novel by @peterjamesuk. The Season 3 finale tonight at 8pm on @itv @itvxofficial, hope you enjoy." In confirmation of series 4, he concluded "We're off to start filming 4 more. See you next year!"
Fans were quick to reply to Simm's post to share their relief and enthusiasm the show would be back for series 4. One wrote "Gutted it's the last one. But sooooooo happy to hear there will be another series." Another added "Just watched tonight's episode. Thank god that's not the end. No spoilers but at one point I was holding my breath. Excellent programme. Excellent cast."
The new series is set to consist of four feature length episodes - more than any of the previous series. Each episode covers one of Peter James' books, with the new series expected to cover Dead Man's Time, Want You Dead, You Are Dead and Love You Dead. Eight books from the Grace novel series have been filmed so far, but with a total of 19 currently in print, there is hope for Grace fans the series has plenty of life left in it even after series 4.
Grace series 4: Cast
It's expected that all of the core cast from the series will return for Grace series 4, as there is no reason to believe they wouldn't - this would mean Richie Campbell, Craig Parkinson and Laura Elphinstone would come back alongside John Simm.
Guest actors will likely be revealed in the run up to the series 4 release, with all cast expected to return including:
John Simm (Life on Mars, Doctor Who) as DS Roy Grace
Richie Campbell (Liar, Death in Paradise) as DS Glenn Branson
Craig Parkinson (Misfits, Line of Duty) as DS Norman Potting
Laura Elphinstone (Line of Duty, Game of Thrones) as DS Bella Moy
Zoë Tapper (Survivors, Demons) as Cleo Morey
Brad Morrison (Dinosaur) as Nick Nicholl
Sam Hoare (Carnival Row, Death in Paradise) as Cassian Pewe
Alexander Cobb (Indian Summers, Mr Selfridge) as Kevin Spinella
Clare Calbraith (Heartbeat, Downton Abbey) as Sandy
Speaking about preparing for the series on the Chris Evans Breakfast Show, John Simm said "Before we started, I went mad on the books, I devoured about 12 of them. And then I had to stop, because when we started filming, I got really confused about which case I was supposed to be solving!"
He added "There was too much Grace in my head! I thought, I'll just be him in the daytime and I won't read about him in the nighttime." On what viewers always knew about the character, Simm confirmed "He's completely, through and through, a good guy."
Does Roy Grace find his wife?
Although Roy Grace hasn't solved the mystery of his wife's disappearance on screen yet, the Grace books author Peter James has revealed viewers will see the case solved.
Throughout series 1 and 2, there have been several leads relating to Sandy's whereabouts. With Grace finally set to declare his wife dead, series 2 ended with a phone call from Germany from an old friend, revealing a possible sighting of Sandy. Speaking to Radio Times, Peter James said "One thing that John [Simm] and I discuss a lot is Sandy and her disappearance. It will ultimately resolve, and I think the audience will love it."
Series 3 contained flashbacks to Grace and Sandy's life together, with audiences drip fed reasons she might have left. James continued "Grace has always idolised Sandy but what I have gently shown through the books is that maybe she wasn't quite the perfect wife that he always thought. I'm writing Sandy's story as a standalone novel at the moment, which is from her perspective from the day she leaves him and the real reason that she leaves him!"
How many episodes of Grace on ITV are there?
There are eight episodes of Grace in total, all taking the form of feature length films. Series 1 consists of two episodes, with series 2 and 3 consisting of three episodes each.
All episodes are currently available to watch on ITV catch up service ITVX, for free. On Instagram, one viewer had only just discovered the series and were excited to watch every episode. They wrote "I'm a bit of a latecomer to the Grace party as I've only seen series 3, but it's absolutely brilliant, I will watch the other episodes on ITVX."
Another expressed their joy that series 4 of the show would have the highest number of episodes yet, writing "'4 more' made me very happy! Fantastic show, fantastic script, and absolutely fantastic actors! I just wish the 4 more were ready now!"
Related ITV Features:
Video of the Week
Lucy is a multi-award nominated writer and blogger with six years' experience writing about entertainment, parenting and family life. Lucy has contributed content to PopSugar and moms.com. In the last three years, she has transformed her passion for streaming countless hours of television into specialising in entertainment writing. There is now nothing she loves more than watching the best shows on television and telling you why you should watch them.