Mighty Morphin Power Rangers Cast: Then and now
Most of the original cast are back for the new Netflix film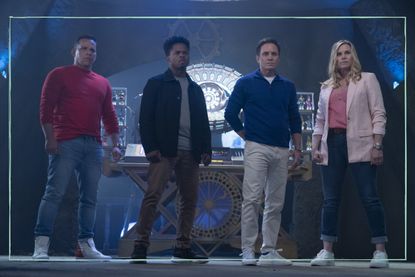 (Image credit: Geoffrey H. Short/Netflix/Future)
For those who grew up idolising the Power Rangers, now is the time to celebrate - Netflix are here with a 30th anniversary film special, featuring some original cast members!
The Mighty Morphin Power Rangers hit our screens back in 1993, becoming an instant smash hit with kids around the world. Based on the Super Sentai Japanese tokusatsu franchise, there were actually only 3 seasons of the original live-action show, that came to an end in 1995. However, such was the popularity of the series, the Power Rangers spawned a further 26 series and 3 feature films, cementing its enduring popularity. For the 30th anniversary of the original series, Netflix are releasing a celebratory film entitled Mighty Morphin Power Rangers: Once & Always. Original Blue Ranger Billy Cranston will be back, along with the first Black Ranger Zack Taylor. Second Rangers Catherine Sutherland, Steve Cardenas, Karan Ashley, and Johnny Yong Bosch will also be back for the special. Keep reading, as we take a look at the cast of Mighty Morphin Power Rangers then and now.
For more nostalgic film fun, Margot Robbie's Barbie movie now has a confirmed released date! There's also not long to wait now until the Disney+ premiere of the new Peter Pan & Wendy film. For those asking how to watch the recently released Mummies movie, we have all the intel you need.
Mighty Morphin Power Rangers cast: Then and now
David Yost as Billy Cranston
Now 54 years-old, Yost began his career as a state champion gymnast, before making the decision to move to California to become an actor when his gymnastics career came to an end. Landing the role of Blue Ranger Billy Cranston just three months after arriving in California, it's a role that stayed with him throughout most of his career - he went on to appear in Mighty Morphin Power Rangers: The Movie, Mighty Morphin Alien Rangers, and Power Rangers Zeo when the original series ended.
Walter E. Jones as Zack Taylor
Walter E. Jones portrayed the original Black Power Ranger, Zack Taylor. He was written out of the show halfway through the second season, following disputes over his contract and pay, being replaced by Johnny Yong Bosch. Jones returned occasionally to the Power Rangers franchise after this incident, but never in his original role.
He went on to have a successful acting career after his departure from the series, appearing in Sabrina, The Teenage Witch, Moesha, Buffy the Vampire Slayer, Early Edition, NYPD Blue, CSI: Crime Scene Investigation, Off Centre and The Shield. The actor has been enthusiastically promoting the new film on his Instagram page, where he often shares pictures of himself and other original Power Rangers cast members.
Catherine Sutherland as Katherine Hillard
Australian born Catherine Sutherland is now 48-years old. As with David Yost, her part in the Power Rangers franchise has been one that has followed her for most of her career. Sutherland has appeared as the Pink Zeo Ranger and the first Pink Turbo Ranger in the Power Rangers series. The actress has also had small parts in Neighbours, and Class Dismissed.
Sutherland played the second Pink Ranger Katherine "Kat" Hillard, a part originally played by Amy Jo Johnson who played Pink Ranger Kimberly Hart. Johnson left the show after one season, to pursue other acting opportunities. Johnson refused the opportunity to reprise her role in the latest film, as she had been the original Pink Ranger - a decision that caused some controversy. Writing on Twitter, the actress said "Please stop saying I didn't do [the] reunion because of money. Simply not true. Maybe I just didn't want to wear spandex in my 50s or couldn't go to NZ for a month. Or none of ur beeswax."
Steve Cardenas as Rocky DeSantos
Steve Cardenas made his name playing Rocky DeSantos, the second Red Ranger in the Mighty Morphin Power Rangers original series - he went on to portray the Blue Zeo Ranger in Power Rangers Zeo. Cardenas took over the role of the Red Ranger from Austin St. John. St John joined other original Power Rangers cast members in leaving their roles if pay and working conditions were not improved after the first 1993 series. When their requests were denied, they did indeed leave the show.
Cardenas took over from St. John from season 2, and has had very few roles outside of the franchise. St John is also currently embroiled in legal difficulties, after allegedly being investigated for his part in wire fraud related to COVID-19 relief loans. He has been suspected of incorrectly using the scheme for personal gain.
Karan Ashley as Aisha Campbell
Karan Ashley is best known for the role of the second Yellow Ranger, Aisha Campbell. She took over the role from Thuy Trang who played Yellow Ranger Trini Kwan, who left the role over pay and working conditions disputes. After her stint as a Power Ranger, Ashley made guest appearances in shows such as Hangin' with Mr. Cooper, Kenan & Kel, The Parkers, and Taylor's Wall. She now works predominantly as a radio host and producer.
Thuy Trang would have been unable to reprise her role in the upcoming film, as the actress sadly died in a car crash in 2001 at the age of 27. In the upcoming film, the Rangers unite when they find Rita Repulsa has killed Trini, Trang's original Yellow Ranger. To honour Trang, actress Charlie Kersh will play Trini's screen daughter Minh for the film.
Johnny Yong Bosch as Adam Park
Johnny Yong Bosch took over the role of the Black Ranger from Walter E. Jones, after Jones quite the original show after the first season due to the pay and conditions disputes. He has gone on to have several small acting roles, but has been a very successful voice artist, and was a vocalist/guitarist/songwriter in the band Eyeshine.
Is Jason David Frank in Once and Always?
Jason David Frank will not appear in Once and Always. The actor took his own life in November 2022.
Prior to his death, Frank had already stated he didn't wish to be part of the 30th anniversary film. He portrayed Green Ranger Tommy Oliver in Mighty Morphin Power Rangers, a role originally only written to last 14 episodes. Due to the popularity of the character, he came back as the White Ranger and the new team leader for subsequent iterations of the show.
Appearing to have maintained a friendship with David Yost, Yost shared pictures of himself and Frank spanning several decades, to his Instagram account. He captioned the photos "We must not allow the clock and the calendar to blind us to the fact that each moment of life is a miracle and a mystery - HG Wells.
My complicated friend
You had my heart on day one
So intelligent, so funny, so energetic
A light so bright, a force like no other
You shaped & transformed so many lives
I know you can now see the truth of the glory that is you.
Thank you, thank you, thank you."
Related Netflix Features:
Video of the Week
Lucy is a multi-award nominated writer and blogger with six years' experience writing about entertainment, parenting and family life. Lucy has contributed content to PopSugar and moms.com. In the last three years, she has transformed her passion for streaming countless hours of television into specialising in entertainment writing. There is now nothing she loves more than watching the best shows on television and telling you why you should watch them.