Where was Great Expectations filmed? Locations featured in the Olivia Colman BBC drama
One Shropshire town features heavily in the series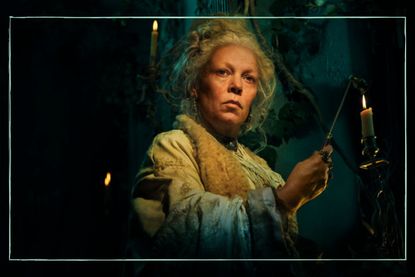 (Image credit: BBC/FX Networks/Pari Dukovic/Future)
There's a new and lavish adaptation of the Dickens classic on the block, and everyone is asking where Great Expectations filmed for its 2023 outing.
Great Expectations has made its way to the small and big screen many times over the years. When a brand new adaptation for 2023 announced with Peaky Blinders' Steven Knight at the helm, there were even greater expectations for Great Expectations. The all-star cast led by Olivia Colman as the bitter and reclusive Miss Havisham, is also a draw for viewers wanting to see the literary classic come to life yet again. As will many period dramas, beautiful backdrops feature to offset the action, and Great Expectations is no different. Read on, as we reveal exactly where filming for the 2023 iteration of the drama took place, as the damning critique of the class system plays out.
Also on the BBC, viewers have been asking where The Bay filmed for series 4. As well as revealing the locations used, we have an exclusive interview with a cast member who talks about the filming process. The Gold true story has left viewers astonished after tuning into the BBC drama, with many asking where is Kenneth Noye now? Noye was heavily involved in the heist, and has led a crime fuelled life.
Where was Great Expectations filmed?
Great Expectations filmed in Shrewsbury, Salisbury, Hampshire, Oxfordshire, Surrey, Essex, and London.
Although parts of London were used during the shoot, it was actually the Shropshire town of Shrewsbury that often stood in for the streets of London throughout filming. According to iNews, three locations were predominantly used in the town - St John's Hill was styled as a busy city scene, while Council House Court was turned into an opium den. St Mary's Water Lane that leads to the river, was covered in fish entrails to form the Market Street, where Pip is lodging.
Fantastic for Shrewsbury to have the Crew of Great Expectations in the town filming , especially as it's on my street!!#Shrewsbury #greatexpectations pic.twitter.com/rrLU8IfIzZMay 23, 2022
See more
Shrewsbury residents were quick to take snaps of filming taking place in the town, sharing their findings to social media. Capturing the crew while they were at St John's Hill, one Twitter posted some snaps, along with some architectural shots of the area. They said "Filming for Great Expectations in St. John's Hill last week."
Filming for Great Expectations in St John's Hill last week. pic.twitter.com/sHJfcISGWfMay 30, 2022
See more
Another shared a series of action shots, with some very interesting smoke effects in use, and the crew getting costumes and actors ready for action. They wrote "Amazing to be able to watch some filming in #Shrewsbury for the BBC production of 'Great Expectations' #CharlesDickens. Thanks to all the super friendly film crew and security teams."
Not the best photos but amazing to be able to watch some filming in #Shrewsbury for the BBC production of 'Great Expectations' #CharlesDickensThanks to all the super friendly film crew and security teams 😊@shropshirelive @ShropshireStar @BBCShropshire @ShropCouncil pic.twitter.com/lddmgTaL7IMay 24, 2022
See more
Miss Havisham's home scenes were filmed across two counties - the exterior of Myles Place near Salisbury Cathedral was used, along with the exterior of Shirburn Castle near Watlington in Oxfordshire. Myles Place is thought to have been built in 1718, with historian Sir Arthur Bryant living there after the second World War until he died in 1985.
No stranger to featuring in film and television, Shirburn Castle is Grade I listed, with fourteenth century origins. Remodelled in the Georgian era by Thomas Parker, the first Earl of Macclesfield, it remained largely unchanged while the the Earls of Macclesfield remained in residence until 2004.
In Hampshire, scenes set in the marshes were filmed at Bucklers Hard, while a church and graveyard in the village of Hartley Mauditt also featured.
Hartley Mauditt, Hampshire, where we were married. More recently "the eerie churchyard was covered with fake snow" for filming Great Expectations https://t.co/L0WFrOr0B7 pic.twitter.com/ETK6aEffg6June 1, 2022
See more
In Surrey, Peper Harrow can be spotted, while Oxenford Farm near Elstead was transformed into Pip's home village - a schoolhouse, inn, blacksmith's were all constructed for the shoot. In Essex, further wetlands scenes were filmed around Fingringhoe.
In London itself, filming took place at Skinner's Hall, Newgate Prison and Westminster. There is a key appearance by the Foreign, Commonwealth and Development Office, standing in as the Royal Exchange - Pip's place of work.
Where is Great Expectations set?
In line with the source material, Great Expectations is set between Kent and London. In the novel, Pip grows up in Kent before moving to London to become a gentleman.
Speaking to Radio Times about finding filming locations that perfectly captured the essence of the story, director Brady Hood said "I think the overall world of it that we wanted to do from the beginning was ensure that we stripped back a little bit of the theatrics in trying to find real locations where possible, giving the actors that realism in a sense. So hopefully that would carry through the performance a little more, trying to find the right places in which they could play.
He added "And so that we could flow with the camera and we could move and allow them the freedom without being constrained cutting between doors. We spent a lot of time trying to find the right places that we felt were right for the characters and their backstories."
Great Expectations: Cast
Olivia Colman (The Crown, The Favourite) as Miss Havisham
Fionn Whitehead (Dunkirk, Emily) as Pip
Ashley Thomas (Top Boy, The Good Fight) as Jaggers
Johnny Harris (This Is England '86, Without Sin) as Magwitch
Shalom Brune-Franklin (Line of Duty, The Tourist) as Estella
Hayley Squires (Call The Midwife, The Essex Serpent) as Sara
Owen McDonnell (Spooks, Killing Eve) as Joe
Trystan Gravelle (The Terror, The Rings of Power) as Compeyson
Matt Berry (What We Do In The Shadows, Toast of London) as Mr. Pumblechook
Tom Sweet (Gunpowder, Listen To Mother) as young Pip
Olivia Colman spoke about reading the script and what attracted her to the role. She said "The first time I read Steven Knight's script, I thought it was much darker than what I had remembered from school. Quite a few bottom slapping moments, which I did not recall from the original Dickens! There were quite a few changes and I found it quite gripping. I worked with Steven previously on Locke, but I don't think that matters really. I just always like a good script and he has written it very well. That for me is always the most important thing."
On the character of Miss Havisham, the actress added "Miss Havisham is a woman who was madly in love with someone; she went to get married and he never turned up. Her life stopped from that moment, pretty much. She is only really in her forties, but she is always depicted as a much older woman. We have gone for long white hair and lots of broken veins. We think she went white with the shock and the heartbreak. In this version she is an opium addict, so she has had a bit of a life – indoors, no sunshine. She adopts a baby, Estella who she sort of trains to be an assassin in a way; to hurt men as much as she was hurt."
Great Expectations: Reviews
Reviews of Great Expectations have been mixed, with both audience and critics finding it doesn't meet the standards they expected from the adaptation.
Ricky Valero from Ready Steady Cut was positive about the series, saying "You have some incredible technical things about the series, including the production, costumes, and score that reel you in. Furthermore, you have some dynamite performances that make your stay in this world one to remember. Steven Knight is a master at creating these worlds you won't forget, and he did so again with Great Expectations."
Angie Han from Hollywood Reporter was no so impressed. She said "This Great Expectations may be unusual in its eagerness to go down darker paths than most Dickens adaptations would ever think to. Rather than find anything new in those pleasure gardens thick with opium smoke, though, it loses the very quality that made Great Expectations such a favourite to pore over again and again to begin with - its ability to connect."
One viewer was very open about their disdain for the show, sharing their thoughts on Twitter by writing "If I hear a single "he's a genius actually" about that turgid, wasteland of a script, I'll punch a wall. #GreatExpectations sucked dry of anything like life or story. No drive. No feeling. How does he DO that?"
However, a very enthusiastic fan used their Twitter account to counterargue "Thing is I've read #GreatExpectations more times than I can remember and watched endless adaptations over the years - and I ALWAYS have time to give to another version. I LOVE Dickens and I've been reading him since childhood. This is PERFECT."
Related BBC Features:
Video of the Week
Lucy is a multi-award nominated writer and blogger with six years' experience writing about entertainment, parenting and family life. Lucy has contributed content to PopSugar and moms.com. In the last three years, she has transformed her passion for streaming countless hours of television into specialising in entertainment writing. There is now nothing she loves more than watching the best shows on television and telling you why you should watch them.