Why has Gregg Wallace left Inside The Factory? The touching reason he's stepped away from the BBC show
The presenting star is stepping into another role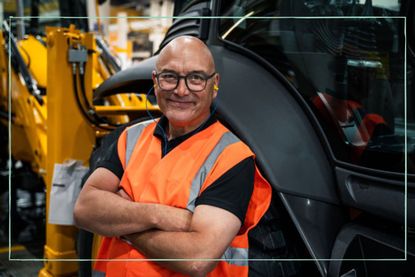 (Image credit: BBC/Voltage TV/Future)
The down to earth presenter is a favourite with fans of Inside The Factory, but Gregg Wallace is stepping away from his role after making some difficult decisions.
After 7 series and 1 special of Inside The Factory, presenter Gregg Wallace will be stepping down from presenting the show. Alongside fellow host Cherry Healey, Gregg visits the factories where beloved products are made, exploring everything from the creation of Nestlé and Thorntons chocolate, to Heinz beans and Typhoo tea. Historian Ruth Goodman is also on hand to provide an overview of how the products came to exist as consumers know and love them today. However, Gregg has made the announcement he will be stepping away from his position as presenter on the series. Read on to find out why he won't be returning, and the different role he will be taking instead.
There are many questions surrounding who is Gregg Wallace married to, as the presenter has tied the knot multiple times. Many were also keen to know Gregg's weight loss diet, after he shed an incredible four stone. The star has also opened up about his fears of being an old dad, after the 58-year-old fathered a child later in life.
Why has Gregg Wallace left Inside The Factory?
Gregg Wallace has left Inside The Factory to focus on supporting his 3-year-old son Sid, who is autistic and non-verbal, requiring extra parental input.
Gregg made the announcement when he appeared as a guest on Gaby Roslin's BBC Radio London show. According to Digital Spy, he said "Do you know my son Sid? He's autistic, he's very autistic. He's got his fourth birthday coming up next year, and he's non-verbal... he's a lovely boy but it's not easy, so I've made the decision not to do Inside the Factory anymore."
He continued "The hair net's gonna go. It's a good time to stop doing it, but there's actually 12 episodes in the can, so I wouldn't have been filming for a while anyway, so it just seemed like a good idea to stop."
Speaking further about Sid's needs, Gregg went on to say "He's a beautiful, beautiful boy. He doesn't have any sensory issues but he's non-verbal. Imagine a child that you can't threaten or bribe, and that's what you've got."
"You've got a little boy who's cuddly and happy and naughty, but he can't talk to you, so he gets frustrated because he can't tell you what he needs. So we need to find education, and I can't just leave that to Anna... Factory is a lot of travelling. Some of them are in Europe."
What are the signs of Autism in children?
According to the NHS, signs of autism in young children can include not responding to their name, avoiding eye contact, and not returning smiles when they're smiled at.
Younger autistic children can also become upset if they don't like certain tastes, smells, and sounds, and can be prone to making repetitive movements such as hand flapping, flicking their fingers or rocking. Gregg Wallace's son Sid is currently non-verbal, and a common sign of autism is not talking as much as other children, or not talking at all. Children also find pretend play difficult, and can repeat the same phrases over and over.
In older children, autism can manifest differently. Symptoms can include failure to understand what others are thinking or feeling, and unusual speech - repeating phrases and talking 'at' others are common. Extreme upset at a change in routine, along with a very keen interest in specific subjects or activities can also frequently occur.
Older autistic children can become upset at being asked to do something and will often find making friends hard, preferring to spend time alone. They can take things very literally, not understanding the nuance of phrases such as "break a leg," and find expressing their emotions difficult.
Autism diagnosis rates are different between boys and girls, with girls less likely to be diagnosed. This is due to autistic girls having a better ability to mask symptoms by copying the way other children behave and play, and withdrawing from difficult situations. They can cope better with social situations and have been found to display fewer signs of repetitive behaviours. The National Autistic Society has detailed information on spotting autism in girls.
How many children does Gregg Wallace have?
Gregg Wallace has 3 children - Tom and Libby were born during his second marriage to former pastry chef Denise Wallace, with 3-year-old Sid was born to Gregg's current wife, Anne-Marie Sterpini.
Tom and Libby are both in their late twenties, and Gregg met his older children's mother Denise, in 1993. They married 1999 but separated in 2004 when Denise discovered Gregg was having an affair. Gregg confessed to drinking heavily during the marriage, being forced to admit to himself he had a problem with alcohol at this time.
Denise herself also suffered from alcohol addiction, and Gregg eventually gained custody of their children together when Denise would become too incapacitated with drink to care for them. Denise was sadly unable to overcome her addiction, passing away from it in 2017.
Although Gregg doesn't share many pictures of himself and his older children to Instagram, November last year saw him post a rare photo of himself and his eldest child at Twickenham stadium together. The post was captioned "Me n my boy Tom Wallace Twickenham @thegreenroomexperience."
He also rarely shares pictures of himself and Libby. However, Libby's personal Instagram features plenty of pictures of herself and young brother Sid, indicating they have a close relationship. The occasional snap featuring Gregg will pop up on her feed, with the pair sharing the same broad smile.
Gregg Wallace net worth
Gregg Wallace's net worth is thought to be approximately £4 million. In 2016, his Masterchef salary was £250,000, and he will have amassed further funds from his other presenting jobs.
On the back of his successful weight loss, Gregg also now runs subscription nutrition service, Show Me Fit, which will add to his profits. For a fee of £7 per month, subscribers gain access to healthy recipes that come with the guarantee of being quick and easy to make - new recipes are added each week. Nutritionist Katharine Bright is also on hand to help subscribers understand the science behind health and weight loss, to make it easier to keep the weight off.
An exclusive Facebook page is also available for support, where members can share ideas and tips, and celebrate weight loss milestones. Sustainability is also promised by the site, which promises recipe ingredients will be cheap to buy and easy to find, in turn lowering shopping bills and decreasing food waste.
Related BBC Features:
Video of the Week
Lucy is a multi-award nominated writer and blogger with six years' experience writing about entertainment, parenting and family life. Lucy has contributed content to PopSugar and moms.com. In the last three years, she has transformed her passion for streaming countless hours of television into specialising in entertainment writing. There is now nothing she loves more than watching the best shows on television and telling you why you should watch them.