Which Lloyds Pharmacy stores are closing down? Full list and 2023 update
Is your local on the list?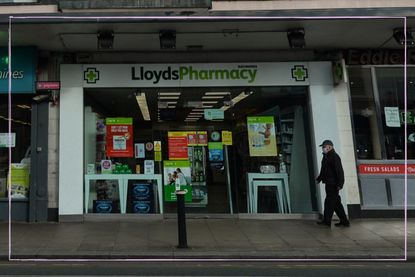 (Image credit: Future/Getty)
Here's the latest on which Lloyd's Pharmacy stores are closing in the UK in 2023.
British consumers continue to see a shake up to the high street and other invaluable services in 2023. M&S store closures (opens in new tab), Iceland closing down some stores and several Argos stores closing down (opens in new tab) have all been announced of late, with changes set to take effect within the coming year.
Now the bosses at Lloyd's Pharmacy have confirmed a big change to it's number of in-store pharmacies at Sainsbury's across the UK. Set to impact thousands of customers and loyal staff members, we've shared details of which Lloyd's Pharmacy outlets are closing down and what we know of the reason behind the decision.
Which Lloyd's Pharmacy stores are closing? Full list
Alperton
Altrincham
Amblecote
Apsley Mills
Archer Road
Arnold
Ashton Moss
Badge Farm
Bagshot Road
Ballymena
Bamber Bridge
Banbury
Barnstaple
Barnwood
Bath
Beaconsfield
Berryden
Bicester
Biggleswade
Bishop Auckland
Blackheath
Bognor Regis
Bolton
Bramingham Park
Brentwood
Bridgend
Broadcut
Brookwood
Burnley
Burpham
Bury St Edmunds
Bybrook
Calcot
Cannock
Canterbury
Carlisle
Castle Point
Chaddesden
Chadwell Heath
Chafford Hundred
Charlton Riverside
Cheadle
Chester
Chesterfield
Chichester
Chippenham
Chiswick
Christchurch
Cobham
Coldhams Lane
Coreys Mill
Court House Green
Cramlington
Crayford
Cromwell Road
Crystal Palace
Darlington
Dartford
Denton
Didcot
Dome Roundabout
Dulwich
Dunstable
Durham
East Filton
East Grinstead
East Mayne
East Prescot Road
Eastleigh
Edenthorpe
Ellesmere Port
Eltham
Ely
Emersons Green
Exeter
Fairfield In Park
Fallowfield
Farlington
Farnborough
Fosse Park
Frome
Glen Road
Gloucester Quays
Godalming
Grimsby
Hadleigh
Halifax
Hampden
Hankeridge Farm
Harlow
Harrogate
Haverhill
Hayes
Haywards Heath
Hazel Grove
Heaton
Heaton Park
Hedge End
Hendon
Hereford
Heyford Hill
High Wycombe
Hoddesdon
Horsham
Huntingdon
I.O.W
Keighley
Kempshott
Kempston
Kenton
Kidderminster
Kidlington
Kiln Lane
Kings Lynn
Ladbroke Grove
Larkfield
Leamington
Lee Green
Leeds Moortown
Leek
Letchworth
Lewes Road
Lincoln
Liverpool (Woolton)
Locksbottom
London Colney
Longwater Lane
Loughborough
Low Hall
Luton
Macclesfield
Maidenhead
Mansfield
Marsh Mills
Marshall Lake
Meadowbank
Melksham
Mere Green
Merton
Milton Keynes
Monks Cross
Morecambe
Nantwich
New Barnet
New Cross Gate
Newbury
Newbury Park
Newcastle U Lyme
Newhaven
Newport
Newton Abbot
Nine Elms
North Cheam
Northfield
Northwich
Oldbury
Osmaston
Paignton
Penzance
Penrith
Peterborough
Pinhoe Road
Pound Lane
Preston
Purley Way
Queens Road
Redband Road
Reedswood
Rice Lane
Richmond
Romford
Rugby
Rustington
Sale
Salford
Scarborough
Scunthorpe
Sedlescombe
Sevenoaks
Shorehead
Shrewsbury
Slough
South Ruislip
Southend
Southport
Spalding
Springfield
St Albans
Stanmore
Stanway
Stirling
Straiton
Streatham
Stroud
Sudbury
Sunderland
Sunderland North
Sury Basin
Swadlincote
Swansea
Sydenham
Tadley
Talbot Heath
Taplow
Team Valley
Telford
Tewkesbury Road
Thanet Westwoodcross
Thetford
Thornhil
Torquay
Truro
Tunbridge Wells
Upper Norwood
Upton
Urmston
Wakefield
Walton
Warlingham
Warren Heath
Watchmoor Park
Water Lane
Wednesfield
Weeden Road
Welwyn Garden City
West Green
West Park Farm
Whitechapel
Whitehouse Farm
Whitley Bay
Whitstable
Wigan
Winchmore Hill
Winnersh
Winterstoke Road
Witney
On January 15, 2023, Lloyd's Pharmacy confirmed that it would be closing all outlets currently based in Sainsbury's supermarkets. The large scale shut down will see 237 Lloyd's Pharmacy stores close across the country, putting an estimated 2,000 jobs at risk.
Kevin Birch, the chief executive of Lloyds (opens in new tab), said: "This decision has not been an easy one and we understand that our patients and customers may have questions about how the change will affect them. We would like to thank them for their continued support and assure them that we are committed to providing a smooth transition over the coming months."
First time out this year, due to a persistent bug. All the way to @Sainsbury's (about 5 minutes). Met with the news that the Lloyd's pharmacy there is closing down. Reason not stated, but Sainsbury's will lose out, as people get shopping while collecting pills. Very inconvenient.January 26, 2023
See more
When are Lloyd's Pharmacy store closing down?
Sainsbury's have confirmed that the Lloyd's Pharmacy closures will take place over the next few months, adding that it would "work with [Lloyds] to ensure customers are clear on how they can access an alternative pharmacy provision to meet their needs".
Lloyd's Pharmacy have stressed to Chemist+Druggist (opens in new tab) that they are "currently exploring options for each individual branch" with regards to the closures. Adding that this "means that timeline and final plans will vary on a branch-by-branch basis".
A spokesperson for the British Pharmacy company similarly expressed that colleagues affected by the closures will also be explored via a "branch-by-branch basis". Though they are commited to be there to "support them through the process".
A representative for Lloyd's Pharmacy confirmed to Chemist+Druggist (opens in new tab) in February that their Dorset outlet will be closing as early as next month. "The Lloydspharmacy branch in Christchurch will be closing on March 13, 2023 when the lease with Sainsbury's will expire," they told the journal.
The company, however, refused to comment on whether the deadline also applied to other pharmacies shutting down elsewhere.
I've just read @LloydsPharmacy are closing down all of their 237 Sainsbury's in-house facilities! I'm livid! It's been a godsend to me, I was having a heart attack in August, hoping the pain would go away but the pharmacist insisted on calling 999! I was in 🏥 for 4 nights!January 30, 2023
See more
It was back in 2015, that Lloyds Pharmacy's parent company bought Sainsbury's 280-store pharmacy chain for £125 million. As part of the deal, 2,500 staff members were transferred to Sainsbury's outlets.
Just last April, Private equity firm Aurelius then acquired McKesson UK (opens in new tab) - Lloyd's parent company which also owns John Bell & Croyden and AAH Pharmaceuticals.
Why are Lloyd's Pharmacy closing stores?
A spokesperson for the company has said that the decision to close some Lloyd's Pharmacy outlets in Sainsbury's was made after carrying out "a strategic review of its operations in response to changing market conditions".
Whilst no other explanation has been given, the UK has been dealing with Lloyd's Pharmacy closures over the last few years now. After sharing their financial report for 2020/2021, the company announced that it was to close, merge, or sell 76 branches over the next financial year. This was credited as being part of a "rationalisation programme" that was a consequence of the "challenging" government funding model.
Indeed, a lack of government funding for pharmacies has been similarly echoed by Phoenix UK - which owns the Numark and Rowlands pharmacy groups.
Of the Lloyd's Pharmacy closures, Nigel Swift (opens in new tab), Phoenix UK's deputy managing director, told the Guardian (opens in new tab): "This announcement is the clearest possible sign of the dire situation facing community pharmacy in England as a result of insufficient government funding.
"Since the start of the pharmacy contract there has been a massive cut in real-term funding, resulting in hundreds of closures. At a time when the NHS is in crisis, the community pharmacy network is needed more than ever before. These closures will put even more pressure on already overstretched nearby pharmacies and dilute patient access to essential healthcare services, particularly in deprived communities."
Bestway Group's decision to increase its stake in @sainsburys has led to speculation it is interested in taking over some of the supermarket's @LloydsPharmacy branches. https://t.co/5M9aTDIAno pic.twitter.com/d1pEauQhjMFebruary 3, 2023
See more
As for the future of Sainsbury's in-store pharmacies, some hope could be on the horizon. Independent Community Pharmacist reports (opens in new tab) that there is speculation that Bestway Group - who owns Well Pharmacy - may be looking to take over some of the outlets following a new deal made with the supermarket.
The Bestway Group reportedly purchased a 3.5 per cent stake in Sainsbury's for £200 million in January - and Grocery trade publications Grocery Gazette and Retail Gazette have suggested the company may be interested in acquiring some of the 237 LloydsPharmacy branches in Sainsbury's that are to close.
Nothing has been confirmed by either parties to date.
Related features:
Video of the Week
Emily Stedman is the Features Editor for GoodTo covering all things TV, entertainment, royal, lifestyle, health and wellbeing. Boasting an encyclopaedic knowledge on all things TV, celebrity and royals, career highlights include working at HELLO! Magazine and as a royal researcher to Diana biographer Andrew Morton on his book Meghan: A Hollywood Princess. In her spare time, Emily can be found eating her way around London, swimming at her local Lido or curled up on the sofa binging the next best Netflix show.