Which M&S stores are closing? 2022 update
The retailer announced further closures in October.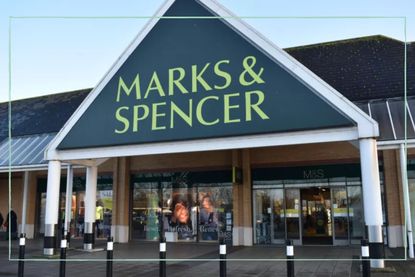 (Image credit: Future/Alamy)
We've shared what we know of the M&S stores closing in 2022, as October brings with it news of further shop changes.
2022 has been a tough year for companies, bringing with it McColl's store closures (opens in new tab), the closing of Wilko stores (opens in new tab) and the shutting down of Natwest branches (opens in new tab) all in part to a harsh economic backdrop. Like it's high street counterparts, M&S has sadly become another chain to fall victim to sale losses and rising running costs. And the result of this has led the British retailer to announce the closure of further stores - adding to the already large list of shops shutting down as part of it's restructuring model.
It's sad news for fans of the long-serving department store that's dressed and fed generations since 1884. So if you're concerned you won't be able to pick up an original Colin the Caterpillar birthday cake (opens in new tab) or indulge in a dine-in deal for two, check out to see if you're nearest M&S is going to be affected.
Which M&S stores are closing? 2022 update
From October 2022 onwards, a further 67 M&S stores are set to close down. The high street retailer said that it was closing 'lower productivity' stores in an effort to save the business £300 million.
The newly announced store closures equate to a quarter of it's total shops shutting down. M&S chief executive Stuart Machin confirmed that the aim was for 180 'full line' shops to remain from early 2028 - selling food, clothing and homeware. This new figure is a huge reduction compared to it's current 247 stores.
M&S first announced a big 10-year restructuring plan in November 2016. Part of this plan was the closure of 100 low-performing stores by 2022 and a shift in focus to food.
The retail giant then revealed they would increase the number of store closures to 120 in May 2019. With a new deadline given of April 2024.
In 2021, M&S confirmed plans to close another 30 branches and merge or move a further 80 in order to increase profits. This was not long after a previous 59 clothing and food stores were announced to shut too.
M&S store closures list - 2022 update
M&S have yet to confirm which 67 stores are to be shut down following the news. So we'll update you as soon as we know more details.
We are able to confirm that the following 48 M&S stores have since closed or relocated following the 2021 announcement:
Andover
Ashford
Basildon
Bedford
Birkenhead
Bournemouth
Boston
Bridlington
Buxton
Clacton
Covent Garden
Crewe [Relocation]
Cwmbran
Darlington
Deal
Dover
Durham
Edgware Broadwalk
Falkirk
Falmouth
Fareham
Felixstowe
Fforestfach
Greenock [Relocation]
Huddersfield
Hull
Keighley
Kettering
Kirkcaldy
Luton Arndale
Newark
New Mersey Speke [Will change to a food-only store]
Newmarket
Newry [Relocation]
Northampton
Portsmouth
Putney
Redditch
Rotherham
Slough
St Helens [Relocation]
Stafford [Relocation]
Stockport
Stockton
Walsall
Warrington
Weston Super Mare
Wokingham [Relocation]
Simply Food stores
It wasn't all bad news in the latest announcement though as M&S confirmed plans to open a further 104 of their Simply Food outlets. These are often the smaller 'food to go' shops that motorists find at petrol and service stations.
Taking place from now till early 2028, this will increase their current Simply Food stores considerably from 316 to 420.
A select number of Simply Food stores are set to reopen in the same area or location as sites that were previously named for closure.
Why are M&S stores closing?
The high street retailer has announced a store shake-up to tackle a soar in running costs in recent years - with staffing costs and increased energy bills believed to be part of the problem.
The Daily Mail (opens in new tab)reports that part of the £300 million the business hopes to save from the shop closures includes trying to reduce an anticipated £100 million energy bill. "Mr Machin said energy costs were already £40m higher than this time last year, adding that they could rise to £100m next year," states the publication.
It's understood that the stores alone equate to 80 per cent of M&S' energy usage - primarily from running lights, tills and refridgerators.
Marks and Spencer - like most other retailers - also suffered a financial loss during the coronavirus pandemic. Like all other non-essential shops, M&S were ordered to close their stores during a number of national lockdowns (opens in new tab) over 2020 and 2021. And this had a major impact on customer sales and the retailer's finances.
M&S reported a £201 million loss in 2020, with sales in clothing and food down by 31%. This is a huge difference to the £67 million profit they made in 2019.
Did M&S close their banks?
M&S closed their in-store bank branches in summer 2021. This aligned with closures to its current accounts and regular saver accounts on August 31, 2021. Despite there now being no physical bank branches left, M&S will still provide a bank service to customers online (opens in new tab) by offering credit cards and other financial services.
Services now available as part of M&S banking include:
M&S Credit Card
M&S Personal loans
M&S Club Rewards
M&S Car Insurance
M&S Pet Insurance
M&S Travel Insurance
M&S Home Insurance
M&S Travel Money
M&S Savings and Investments
Is M&S still delivering?
Yes, M&S is still delivering items to customers. Standard delivery costs £3.50, or is free for orders over £50 (exclusions apply) and these will be delivered between three and five working days but you will have to check your postcode (opens in new tab) for delivery.
Nominated/ next day delivery priced at £4.99 is available for clothing, home, and beauty. Choose a day that suits you and order by 10pm for next-day delivery. Timeslot delivery £5.99 is temporarily unavailable.
Flowers are free delivery - simply order by 7pm for next-day delivery.
Wine delivery is £4.99 or free for orders over £100 for delivery between three and five working days. Nominated next-day delivery is available for wine, costing £6.99 or free with a £150 minimum spend.
If delivery isn't for you, M&S still offers free click & collect service on clothing, home (except furniture) and beauty. Orders can be collected from 12pm on the chosen day of collection and don't worry if you can't make that day, stores will hold items for seven days.
Customers who have food to order can pick up their purchases from 9am on the chosen day of collection, just make your way to the food information desk.
CHRISTMAS FOOD TO ORDER IS HERE! 🤩🎄 Our best Christmas range EVER is ready to shop online. 🍽️ Shop via the link, then select your local store at checkout to collect your Christmas food from 22-24 December: https://t.co/9rhts0BVaN Northern Ireland collection slots TBA shortly. pic.twitter.com/LC6JkCaBoqSeptember 27, 2022
See more
All M&S furniture comes with free/ nominated next-day delivery but customers are advised that orders can take anything between one and six weeks to dispatch. A note in the item description will provide this information and an estimated time frame.
Video of the Week