15 summer pasta recipes that are guaranteed to inspire you
The best summer pasta recipes, from pasta salads to simple fresh sauces using seasonal ingredients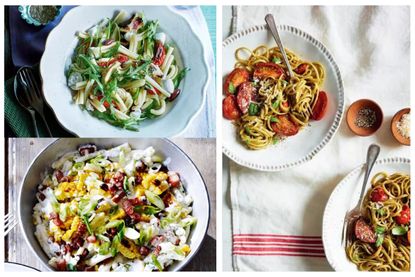 (Image credit: Future/various)
Try our selection of summer pasta recipes, perfect for family dinners on warm evenings, and for serving at BBQs or summer parties.
"Pasta is perfect as a main for a light lunch or summer Sunday dinner because it makes all the family happy. Kids love it as much as adults and a pasta salad is a healthy and balanced meal with proteins, carbohydrates, and veggies," says Italian chef Vittoria Veltri, who runs cooking classes for children and adults at Pasta & Play. "I also make it as a side dish for a summer BBQ in the garden or for a buffet party, serving mini-portions in boat-like plates."
Vittoria suggests keeping your summer pasta recipes easy. "My favourite is super simple but delicious because the ingredients are few but of high quality and taste," she says. "Cook the pasta al dente, then season with extra-virgin olive oil, chopped tomatoes (I use the one from my garden), and mozzarella cut into cubes. I chop some fresh basil leaves and dried oregano to add extra taste. Salt and pepper, a good mix, and it's ready to be eaten, or add smoked salmon, tuna in olive oil, anchovies, mackerel, olives, or capers."
Another simple one is to make fresh homemade pesto for a pasta salad. "My favourite pesto is made with sundried tomatoes, a few basil leaves, almonds, a bit of garlic, Parmigiano, and olive oil. Season with salt and pepper and blend everything," Vittoria recommends.
Summer pasta recipes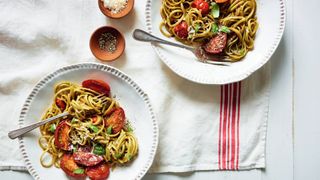 1. Balsamic tomato pasta
Serves: 4 | Skill level: Easy | Total time: 15 mins
The simple things are always the best when it comes to Italian food in general, and this is the perfect example. Minimal ingredients mean you can spend a little more on the best quality, particularly when it comes to tomatoes. Buy them on the vine, because the flavour will be SO much better – try vibrant red, orange, and yellow baby plum tomatoes. The balsamic adds a rich sweetness. Serve the sauce with linguine and add fresh basil and shavings of Parmesan to serve.
Get the recipe: Balsamic tomato pasta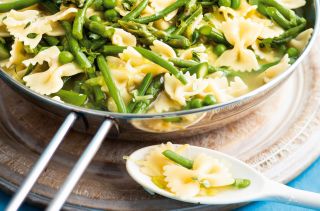 2. Primavera pasta
Serves: 4| Skill level: Easy | Total time: 20 mins
Unbelievably fresh and simple, this dish makes the best use of seasonal veg, with asparagus, green beans, and peas in the mix – broad beans would be a great addition too. To up the protein, a handful of prawns wouldn't go amiss or, if you're partial to a creamier sauce, stir in a dollop of creme fraîche. This recipe is served with pasta bows, but they could be switched to fusilli, penne, or orecchiette. Don't be shy with a liberal sprinkling of Parmesan, to bring the flavour to the next level.
Get the recipe: Primavera pasta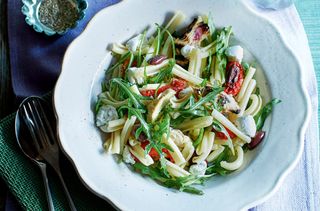 3. Antipasti pasta
Serves: 2 | Skill level: Easy | Total time: 15 mins
Get yourself down to support your local deli, or hit the picnic aisle in the supermarket, and grab fresh olives, artichokes in oil, sunblush tomatoes, and mini balls of mozzarella (or just tear apart a regular ball). Stir them all into cooked pasta with a glug of good quality extra virgin olive oil, some seasoning, and a handful of rocket and you've got the perfect sunny weather pasta dish – served warm or cold. Meat eaters might like to tear up some Parma ham or salami to mix through as well.
Get the recipe: Antipasti pasta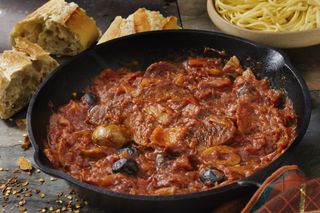 4. Puttanesca pasta
Serves: 4 | Skill level: 30 mins | Total time: Easy
An excellent choice for busy days (which is every day amidst the summer school holiday-work juggle) when you haven't got much in the fridge, as a puttanesca can be cobbled together from store cupboard ingredients. It isn't any the poorer for it, either – it's one of our favourite pasta sauces. The saltiness of the anchovies and olives paired with the sweetness of the tomatoes is a flavour winner, and it's wonderful served with tagliatelle or spaghetti but can be paired to absolutely any shape of pasta to perfection, the sauce mopped up with hunks of crusty bread.
Get the recipe: Puttanesca pasta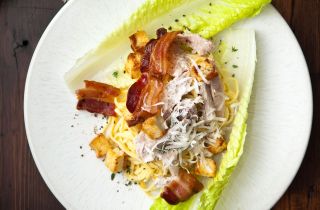 5. Chicken Caesar pasta
Serves: 4 | Skill level: Easy | Total time: 1 hr 10 mins
A riff on a classic Caesar salad, with the tangy sauce and shredded chicken stirred through pasta and served in romaine lettuce boats. Perfect hot or cold, it can be made with freshly roasted chicken thighs, or is a perfect seasonal use for leftovers from a roast chicken, though it is perfectly tasty without the meat. Baked salmon also works well. This recipe uses long pasta, but penne would be great too. A brilliant one for dinner in the garden with a crisp glass of rosé or a cold beer.
Get the recipe: Chicken Caesar pasta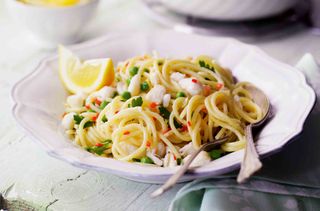 6. Crab and chilli pasta
Serves: 4 | Skill level: Easy | Total time: 25 mins
Crab pasta is an utter delight in the summer months, and is perfectly lovely made with tinned crab meat, though fresh will elevate it to the next level. A touch of heat from the chilli – remember, pasta dishes should be subtle with the heat, not blow your head off – pairs fabulously with the sharp tang of the lemon zest. Go heavy on the garlic too, and use a top-quality olive oil. Best served with spaghetti or linguine.
Get the recipe: Crab and chilli pasta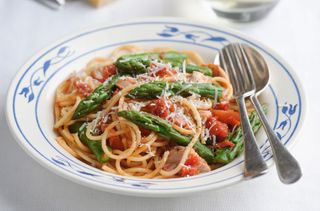 7. Fiery asparagus and chicken pasta
Serves: 4 | Skill level: Easy | Total time: 25 mins
This spicy tomato sauce has a touch of the arrabbiata about it, but with added pancetta and chicken (though both could be left out for a veggie version) and plenty of fresh seasonal veg. Asparagus is a great touch, but once it's gone out of season, broad beans or runner beans are a marvelous alternative. The rosemary brings much depth of flavour so try not to leave it out (dried works if need be), and we think throwing in a few anchovies would do the same if you're a fan.
Get the recipe: Fiery asparagus and chicken pasta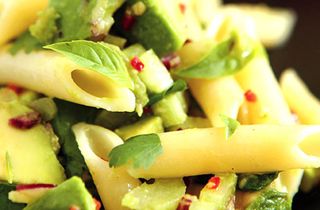 8. Avocado and pasta salad
Serves: 4 | Skill level: Easy | Total time: 25 mins
Some can be a tad dull, but not all pasta salads are made equal, and this one is a riot of health-giving flavour. The avocados provide the 'good' fats, and the dressing is packed with everything from lime zest to Dijon mustard and sprinkled with crushed flaxseeds. It will benefit from the addition of some protein. Try shredded chicken, salmon, or prawns, or even add some chunks of feta or griddled halloumi.
Get the recipe: Avocado and pasta salad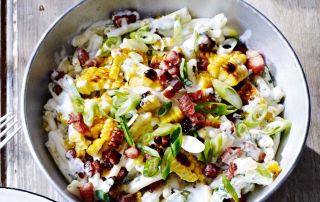 9. Ranch pasta salad
Serves: 6 | Skill level: Easy | Total time: 20 mins
A super flavoursome salad famed in the US, made with soured cream, mayo, garlic, and stacks of fresh herbs, with sweetness from the corn and saltiness from the pancetta. Here it's turned into a pasta dish with penne, fusilli, or even a smaller shape like macaroni, stirred through. It would also be perfect alongside some leftover roast meat, but is pretty wonderful just as it is.
Get the recipe: Ranch pasta salad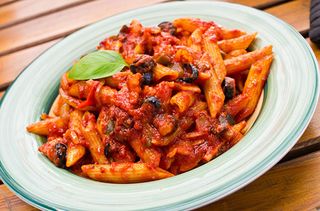 10. Penne pasta arrabiata
Serves: 4 | Skill level: Easy | Total time: 25 mins
Did you know, language fans, that arrabbiata means 'angry' in Italian? Arrabiata is a brilliant store cupboard dinner to save some cash on yet another trip to the supermarket when the kids have fleeced you with endless days out over the summer holidays. It's big on flavour and fabulous for the whole family (just go light on the chilli for the kids, pasta sauce isn't meant to be crazy spicy anyway – this is not a Vindaloo situation).
Get the recipe: Penne pasta arrabiata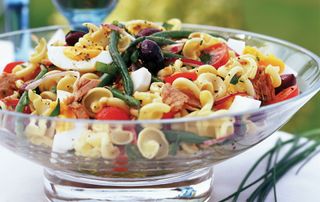 11. Quick pasta niçoise
Serves: 8 | Skill level: Easy | Total time: 25 mins
A classic for a reason. Egg, tuna, olives, green beans, red onions, and tomatoes, all tumbled together with a sharp, tasty vinaigrette. And while a niçoise is commonly made with new potatoes by way of carbs, this version includes pasta shapes instead. We recommend using tuna in olive oil for maximum flavour or, even better, searing a fresh tuna steak and slicing that through. Leave the egg yolks just very slightly under hard-boiled for more flavour, and throw some capers in too.
Get the recipe: Quick pasta niçoise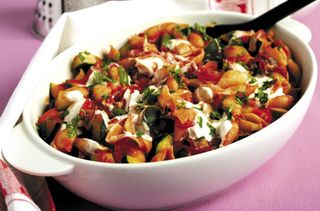 12. Courgette pasta bake
Serves: 4 | Skill level: Easy | Total time: 1 hr
A pasta bake can be a wintery affair, like a big stodgy food hug on a cold evening – but that's not always the case. Using summer veg like courgettes, which are abundant at this time of year, is a great way to give one a seasonal twist. And we all love a one-pot dinner dish, whatever time of year it is. There's a hint of chilli in this one too, and, though this version is topped with a fromage frais, toasted mozzarella will add more taste and appeal to the whole family.
Get the recipe: Courgette pasta bake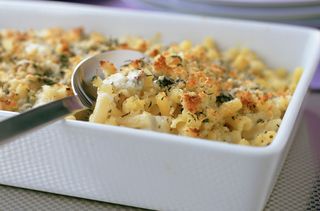 13. Vegetable macaroni cheese
Serves: 4 | Skill level: Easy | Total time: 20 mins
Mac and cheese is a year-round family dinner staple, and this one is packed with veggies that can be adapted to the season. Summer it up by adding some seasonal veggies, from courgettes to fresh peas, as well as a pop of colour from some fresh tomatoes, thriving in the UK at this time of year. An absolute winner for everyone.
Get the recipe: Vegetable macaroni cheese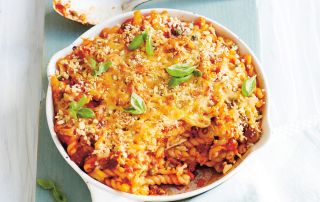 14. One-pot tuna puttanesca
Serves: 4 | Skill level: Easy | Total time: 30 mins
Another one-pot dish that can be served faff free in the garden on a summer evening, this classic puttanesca sauce is mixed with tuna and pasta shapes (we recommend penne or rigatoni) and topped with cheddar and mozzarella mixed with breadcrumbs for maximum crunch and flavour. Add some mixed herbs to the crumb topping, throw some anchovy fillets in with the sauce, and use tuna in oil rather than brine, for max flavour. A perfect family dinner. Simple as that.
Get the recipe: One-pot tuna puttanesca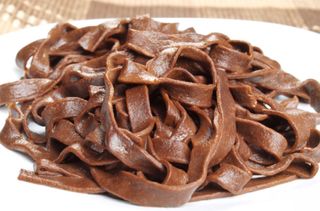 15. Chocolate pasta
Serves: 6 | Skill level: Medium | Total time: 45 mins
Who said pasta had to be savoury, huh? This is a brilliant novelty talking point for a summer dinner party and is great served with vanilla ice cream or creme fraîche. If you've got your own pasta machine, great, but the recipe has instructions for how to make without – and the best bit is that only four ingredients are required. If the kids didn't already love pasta enough, they'll be positively giddy over this offering.
Get the recipe: Chocolate pasta
Related Features:
Pasta makes the perfect side dish when hosting a BBQ this summer - and we've got plenty more inspiring healthy BBQ food ideas for you to choose from too.
Or if you're looking for something to serve after dinner, how about trying one of our mouthwatering summer dessert recipes - including cookie ice cream sandwiches and more?
Parenting advice, hot topics, best buys and family finance tips delivered straight to your inbox.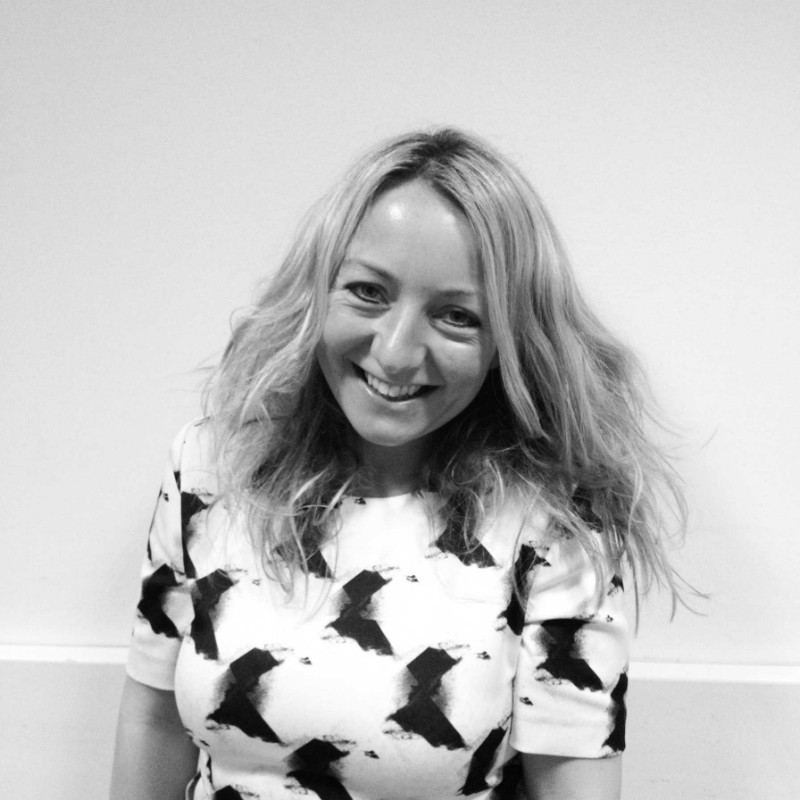 Lara Kilner is a writer and editor with two decades of experience in national newspapers, magazines, and websites. She writes about food, lifestyle, travel, health and wellness, and entertainment, and regularly interviews celebrities and people with interesting life stories and experiences. Her foodie content has included interviews with Jamie Oliver, Rick Stein, Queer Eye's food expert Antoni Porowski, the Hairy Bikers, Hugh Fearnley Whittingstall, Raymond Blanc, Andi Oliver, Paul Hollywood, Prue Leith, and Nadiya Hussain.