21 Christmas food traditions from around the world
From Australia to France, we've rounded up some of the most traditional treats served around the world during the festive period...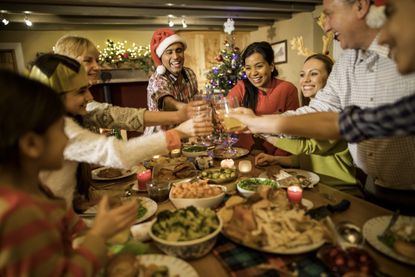 (Image credit: Getty)
How we celebrate Christmas around the world can vary from country to country, particularly the food we eat and when we serve it. Find out more about Christmas food traditions from around the world.
We've discovered some delicious Christmas foods from around the world that are well worth adding to your Yuletide feast. From Australia to France, we've rounded up some best Christmas recipes from around the world, including German Stollen, Italian Panettone, and Greek baklava. Everyone does it differently and that's what makes Christmas so special.
In the UK, as we already know, it's not Christmas unless we've got a big turkey, stuffing, crispy roast potatoes, a bowl full of sprouts, and all the trimmings for Christmas lunch. But in Iceland, roast lamb is the traditional dish, while in Sweden it's a delicious ham. When it comes to pudding, there are so many wonderful choices, from Canada's cookies to New Zealand's pavlova, Denmark's rice pudding to Jamaica's rum-infused fruit cakes.
So why not give your Christmas spread an exotic twist with these classic Christmas recipes from around the world?
1. Iceland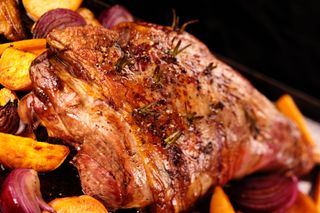 In Iceland, the main meal, which they refer to as the 'Yule meal', is traditionally a leg of roast lamb presented in the middle of the table on Christmas Day. Another specialty includes leaf bread which is made out of thin sheets of dough. The dough is cut into delicate patterns and fried before serving.
Why not serve roast lamb as your main meat at Christmas? Try our roast leg of lamb with date and herb stuffing.
2. Canada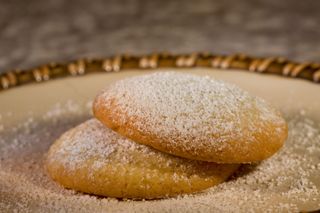 Many families in Canada have cookie-baking parties where the whole family bakes and eats cookies together. Everyone has their own special recipe and at the end of the party, everyone goes home with a mixed batch of cookies. What a great idea!
Want to throw your own cookie party? We've got plenty of mouthwatering cookie recipes to choose from including these sugar cookies.
3. Australia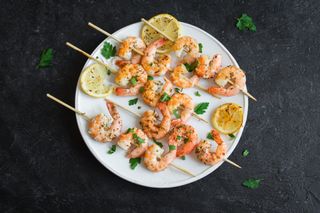 With the sun shining down under there's only one thing to have on Christmas Day and that's a BBQ. An Australian Christmas is usually spent around the barbie with plenty of family and friends for company. Not all Aussies opt for the BBQ though, some prefer a classic European roast - we can't blame them!
These barbequed prawns with lemon, sage and garlic would make the perfect party food on Boxing Day!
4. Denmark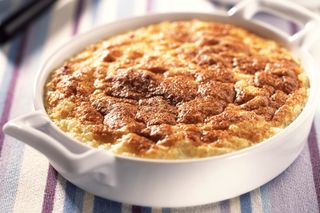 Love rice pudding? Well, you're going to love this tradition in Denmark. Most families whip up a 'Ris á la mande', a special rice pudding (traditionally made with milk, rice, almonds, vanilla and whipped cream) served for dessert on Christmas Day. What makes this tradition so special? A whole almond is hidden in the rice pudding and whoever finds it gets a present!
Fancy giving this Denmark tradition a go? Whip up your own rice pudding recipe and hide an almond inside - the kids will love looking for it!
5. USA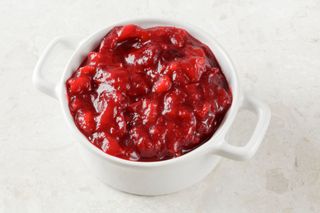 Cranberry sauce is an essential part of any American Christmas and Thanksgiving meal. Whether it's shop-bought or homemade, loose or jellied, cranberry sauce is a must on the dinner table especially if you're serving turkey.
Why not give this classic American sauce a go? Try our cranberry sauce recipe.
6. China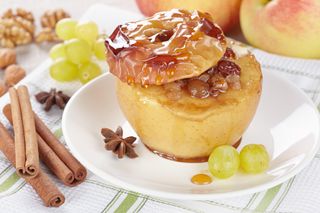 A tradition that is becoming rather popular in China is the giving of apples on Christmas Eve. Most stores in China will sell apples wrapped in colourful paper so people can buy them and give them as gifts. The reason behind this? The word for Christmas Eve in Chinese, 'Ping An Ye' sounds very similar to the Chinese word for apple, 'Ping Guo' and the two things were brought together.
Why not turn your apples into an impressive dessert and serve it on Christmas Eve? Try our fruit and nut baked apples recipe.
7. Germany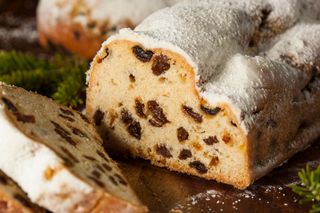 A Stollen is a German fruit cake packed with dried fruit and marzipan. Dusted with icing, this impressive bake is usually eaten during the Christmas season in Germany when it is called 'Weihnachtsstollen' or 'Christstollen'. The Stollen dates back to the 15th Century when it was given as a gift at Christmas.
Try making your own Stollen this year with this classic Stollen recipe by Paul Hollywood.
8. Mexico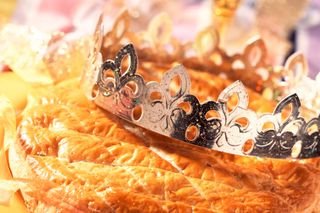 In Mexico, Christmas isn't celebrated officially until January 6th which is known as Epiphany or 'El Dia de los Reyes' meaning the day of The Three Kings. During this day, families will feast on a special cake called Three Kings cake or Twelfth Night cake which has a figure of the Baby Jesus hidden inside. The lucky finder of the Jesus figure becomes the 'Godparent' of Jesus for that year.
Why not give this classic Twelfth Night cake recipe a go?
9. Ireland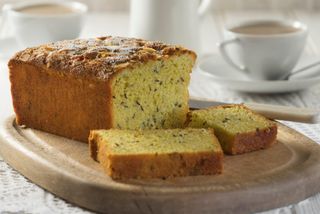 Imagine someone baking you a whole cake and giving it to you on Christmas Day! That's what some people do in Ireland. A round cake packed full of caraway seeds is traditionally made for each person in the house - lucky for some!
Like the sound of a caraway seed-infused sponge? Try this caraway seed loaf cake recipe - and then eat the whole thing yourself, you might be able to get away with it if you say it's an Irish tradition!
10. New Zealand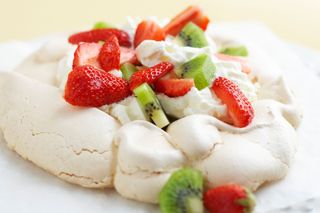 Other than BBQ for dinner, dessert is the main focus on Christmas Day in New Zealand. Hot fruit pudding, fruit salad, and ice cream are only a few of the desserts families feast on. Another favourite is a classic pavlova topped with cream and heaps of fresh berries. It's the showstopper often proudly displayed in the center of the table - who could blame them?
Fancy making a pavlova this Christmas? Why not give this strawberry and kiwi pavlova recipe a try?
11. Spain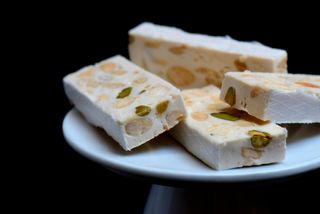 Nougat or 'Turrón' is often served as a traditional Christmas dessert in Spain. The sweet mixture of honey, sugar, egg whites, and almonds is a special favour on Christmas Day. Another traditional food served at Christmas is Spanish dry-cured ham, also known as Jamón which sits the head of the dinner table.
Why not make your own nougat? It would make a perfect food gift or treat on Christmas Day. Try our easy nougat recipe.
12. Russia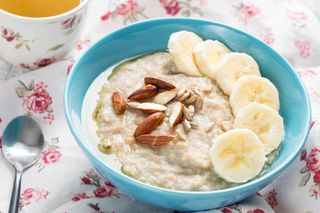 In Russia, some people choose not to eat anything and fast on Christmas Eve until the first star has appeared in the sky. People then eat porridge or 'Sochivo' which is a porridge made from wheat or rice and served with honey, fruit, nuts, and seeds. Porridge in Russia symbolises unity and in the past families would throw a spoonful of it onto the ceiling and if it stuck, it meant good luck and harvest for the family - we have no idea how they'd clean it up afterward though.
Fancy a warm bowl of porridge this Christmas? Look no further! Get our classic porridge recipe.
13. Poland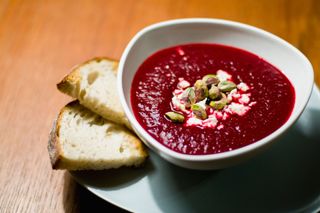 Beetroot soup or 'Borscht' is served as a traditional starter around Christmas time in Poland. It can be served hot or cold and is usually served on Christmas Eve, which is the day most Polish people have their main feast.
Fancy making some beetroot soup for your starter at Christmas? Try our easy Borscht with goat's cheese tartlets recipe.
14. Italy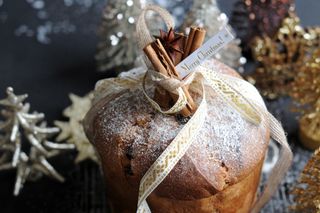 Panettone is the heart of Italy around Christmas time. Packed with candied peel, sultanas, raisins, and many more, this sweet bread is usually about 12-15 cm high and should roughly weigh about 1kg. It's a tear-and-share bread for the whole family to feast on throughout the Christmas celebrations.
Panettone would make a delicious treat on Christmas Eve. Why not give Gino D'Acampo's Panettone classico a go?
15. Jamaica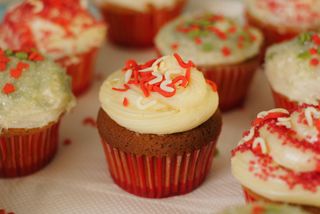 Fruit cake is a big tradition in Jamaica where they leave the dried fruit to soak in a red wine and rum mix months before Christmas Day so the cake is extra moist and packed with alcoholic flavours. Other Jamaican favourites include curry goat, stewed oxtail, and rum punch mmm...
These cupcakes may not be as intense as Jamaican rum fruit cake but they're near enough - soaking mixed dried fruit in rum to make them extra juicy and full of flavour. Why not give them a go this Christmas? Get the recipe: Christmas cupcakes
16. Norway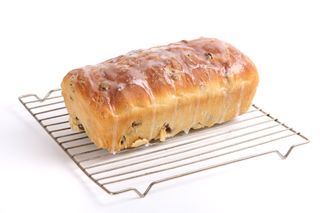 Lots and lots of delicious cakes and bakes are made and eaten over the festive period in Norway. One of the most popular bakes on the menu is a special bread called 'Julekake'. This sweet bread is packed with raisins, candied peel, and cardamom. Other classic dishes served include rice pudding and mutton ribs.
Give this cinnamon raisin bread recipe a Norwegian twist by adding candied peel and swapping the cinnamon for cardamom instead!
17. Sweden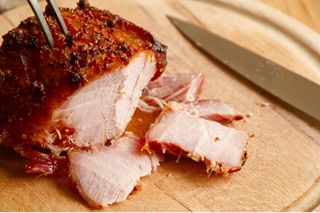 The main feast in Sweden happens on Christmas Eve. This feast is called a 'Julbord' which is a buffet including cold fish, cold meats, cheese, pickles, and more. One of the stars of the show is the Christmas ham also known as 'Julskinka' which is made by boiling the cut and roasting it in the oven until crisp. This is usually left to cool and then served cold with the rest of the buffet food.
Swap your Christmas turkey for a Christmas ham instead by learning how to cook a whole ham.
18. Greece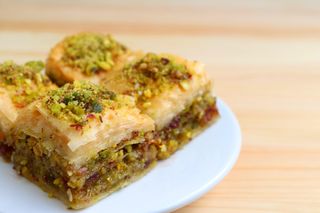 Roast lamb or pork are often the main meats served at Christmas in Greece. This is followed by a sweet, filo pastry dish called Baklava. This delicious bake combines chopped nuts with a sweet honey or syrup sauce - it's a must-have in most Greek homes around the festive season.
Make your own with our classic Baklava recipe
19. France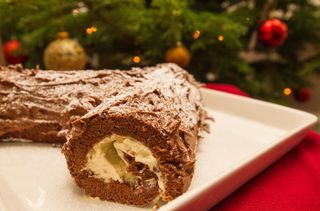 In France, it's a tradition to have Christmas lunch on Christmas Eve or early Christmas morning after the midnight church service. Roast turkey, chestnut, and venison are a few of the dishes served at the feast. When it comes to dessert a chocolate log, Yule log, or 'Bûche de Noël' is traditionally served with fresh cream - this favourite usually disappears in minutes, we can see why!
20. Japan
The traditional Japanese Christmas food is Christmas cake, but it's not fruit cake. It's usually a sponge cake decorated with strawberries and whipped cream. Yum!
21. Ukraine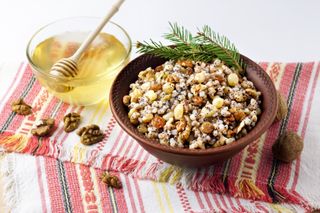 Kutia or Kutya is a ceremonial grain dish with sweet gravy traditionally served by Eastern Orthodox Christians in Ukraine, Belarus, and Russia during the Christmas period.
Related Features
Christmas recipes (including Christmas dinner, dessert, and more!)
Video of the Week