Easy Christmas breakfast ideas and recipes for Christmas morning
Here are some of our quick and easy Christmas breakfast ideas you can whip up if you fancy making something special for breakfast on Christmas day.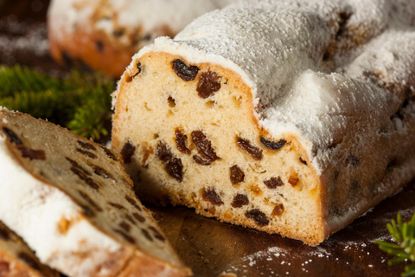 (Image credit: Future)
Fill your Christmas day full of good food from start to finish with our Christmas breakfast ideas. From a classic meat-packed fry-up to sweet pancakes drizzled in berry compote, we've got plenty for you to choose from.
Our easy Christmas breakfast ideas are sure to inspire! Fill your Christmas day full of good food from start to finish with our Christmas breakfast ideas. From a delicious German stollen to a classic meat-packed fry-up, sweet pancakes drizzled in berry compote to scrumptious French croissants, our collection has plenty of ideas for you to choose from.
Food is one of the most important things on Christmas day. Whether it's deciding what bird to cook for Christmas dinner or which chocolates to hang up on your Christmas tree, Christmas is the perfect excuse to go food crazy - and breakfast time should be no exception!
Take a look through our collection of the best Christmas breakfast recipes and choose which one you'll be making this year...
Cinnamon toast with raspberries
First on the list for this year's Christmas breakfast is toast!
Don't overlook the toast. Topped with egg, spread with homemade jam or dipped in egg to make classic French toast, you can't go wrong with a slice of toast.
Toast is a quick and easy option that lets everyone choose their own toppings and spreads. French toast is even better as you can drizzle it in honey or maple syrup to turn your standard slice of bread into a fancy breakfast.
Recipes to make:
Psst! To make it extra special you can make your own bread to toast with our collection of delicious bread recipes!
Croissants
Croissants are a great way to start Christmas Day. Light and fluffy, they'll leave plenty of room for Christmas dinner, while still offering a lovely sweet treat in the morning. After all, few things are more scrumptious than a deliciously warm croissant, straight from the oven!
Simply spread with lashings of extra butter and jam for a deliciously indulgent start to the day.
Recipes to make:
Christmas breakfast wreath
Now this one's a bit special: an all-day brunch wreath that's just lovely for sharing. And don't worry, you don't have to make it on the day, it can be made in advance and frozen. With all your brunch essentials like sausages, bacon and black pudding, it's a wonderfully indulgent way to start the day.
All day brunch wreath
Overnight oats
Overnight oats are a deliciously healthy way to start your day - and you can add some lovely ingredients to make them extra special. We've got some scrumptious recipes with chocolate and peanut butter (totally delicious!) and chocolate and banana (just too good!).
Recipes to make:
Salmon

Fancy serving something a little bit fancy on Christmas morning? We think smoked salmon is the perfect choice - it adds a lovely posh twist without breaking the bank.

Served with a spread of cream cheese on a bagel or cooked alongside some freshly made scrambled egg, smoked salmon is a great choice and would go perfectly with a glass of Bucks Fizz - don't mind if we do!

Recipes to make:

North Pole Christmas breakfast

A North Pole Christmas breakfast is the sweetest treat your children could dream of and a lovely way to start Christmas Day!

Find out how to make your own North Pole Christmas breakfast here.

Full English breakfast

Why not start the day as you mean to go on with a hearty fry-up? Nothing

beats a full English breakfast packed with juicy sausages, spoonfuls of

beans and a fried tomato or two.

A fry-up is a great way to feed

a lot of people in one go so is perfect if you've got lots of family

members round. You can make a variety of different things in different

pots and pans and let everyone help themselves - just remember to get

the whole family to chip in with the washing up!

Recipes to make:

Pancakes

Pancakes are another breakfast treat that is that little bit special. Drizzled in a blackberry compote, simply dusted in sugar or topped with streaky bacon and maple syrup, pancakes are a treat for whole family on Christmas morning.

You could even hold a festive pancake flipping competition - it's a great way to get a little bit more fun into your day!

Recipes to make:

Eggs

From scrambled egg to eggs Benedict, everyone loves an egg at breakfast time and Christmas morning is no exception. There are plenty of ways to cook your eggs which means there are plenty of ways to keep everyone happy.

Top an English muffin with a poached egg or serve a fried egg on a bed of crisp brown toast - whichever recipe you choose, they'll be clean plates all round plus they'll be no snacking until lunch time as eggs are packed full of protein!

Recipes to make:

See more delicious egg recipes

Waffles

An American favourite, the waffle! Whether you fancy making them from scratch or opt for the shop-bought version, Christmas is the perfect excuse to treat yourself and the family to something naughty but oh-so-nice.

Drizzle in maple syrup and top with bacon or spoon on some chocolate sauce and sprinkle with fresh berries - the kids are going to love topping their waffles with their favourite ingredients.

Recipes to make:

Traditional German Stollen

(Image credit: Future)

In Germany, they give fruit cake packed with dried fruit and marzipan called 'Christstollen' as a Christmas gift – making it the perfect sweet treat to snack on at the beginning of Christmas Day! Buy a Stollen to enjoy with a hot cup of tea on Christmas morning or try making your own Stollen this year with this classic Stollen recipe by Great British Bake Off star Paul Hollywood.

Discover more traditional Christmas food from around the world here.

Omelettes and frittatas

If you want to go for the speedy and filling option, then omelettes and frittatas are the perfect choice. Pack with your favourite ingredients like cheese, mushrooms or tomatoes or give it a festive spin with turkey and cranberry sauce.

It's a great way to keep everyone full... maybe even until dinner time (that is is everyone can resist the Christmas chocolates!)

Recipes to make:

or

Get more frittata recipes

Baked treats

From blueberry muffins to Danish pastries, bakes are a fuss-free option for Christmas morning. Of course you won't be able to make muffins or a loaf cake on Christmas morning (unless you're super mum!) so make these tasty treats on Christmas Eve or a few days before instead.

Baking away in the kitchen with the kids is a great way to spend Christmas Eve and you'll get the reap the benefits on Christmas morning with a warm cuppa - you deserve it!

Recipes to make:

Low-cal porridge

If you're saving yourself for the main event later, and don't want to spoil your Christmas dinner feast with a big breakfast, why not start the day with a bowl of warming porridge? Easy to whip up in a big batch for the whole family, this low cal, a slow-energy releasing carb brekkie is the perfect way to start the day before the festive feasting commences!

For more breakfast ideas under 100 calories, click here!

Vegan breakfast recipes

We've got a delicious vegan fry-up to start the day off perfectly without any meat or dairy. With mushrooms, onion, garlic, cherry tomatoes and haricot beans, this is a dish that's full of flavour and sure to fill hungry bellies on Christmas morning.

Or, for something a little sweeter, our scrumptious vegan banana bread recipe is a great way of sneaking some fruit into a sweet breakfast for Christmas morning. With a good helping of vegan-free chocolate, it's a perfect treat to start the day.

Recipes to make:
Jessica Dady is Senior Content Editor at Goodto.com and has over 10 years of experience as a digital editor, specialising in all things food, recipes, and SEO. From the best food hampers to cookbooks, from the best cake stands to kitchen appliances, Jessica has a wealth of knowledge when it comes to must-have food products. A passionate baker, she spends some of her time creating celebration cakes for friends and family including her two lucky children.