This crumble topping is made from plain flour, butter and demerara sugar.
When you're craving a comforting pudding that requires minimal ingredients a fruit crumble is perfect. You can adjust the filling depending on what's in season but apple, rhubarb and peach are all popular options. The topping takes just 10 minutes to prepare and requires only two steps.
This crumble topping would go perfectly with Hairy Bikers apple and blackberry crumble and Mary Berry's plum crumble fillings. The sweetness of both fillings pairs perfectly together with the buttery crumble texture. And don't forget the homemade custard.
Ingredients
150g plain flour
100g butter
85g demerara sugar
Method
Heat the oven to 200C (180C fan, Gas 4). Cut the butter into cubes and place in a mixing bowl with the flour. Rub the butter into the flour until it resembles breadcrumbs, then stir in the sugar.
Sprinkle the crumble topping over your prepared fruit filling and bake for 35 - 40 minutes until the filling is piping hot and the crumble topping is crisp and golden. Approximately 500g of fruit such as sliced apples, plums or rhubarb, sweetened with a little sugar is a good guide for a filling.
Watch how to make crumble topping
Top tips for making a crumble topping
This crumble topping has lots of uses and can be customised depending on your preferred flavours. To give some extra texture to your crumble topping, you can add a tablespoon or two of porridge oats or substitute 50g of the plain flour for oats instead. This makes your crumble topping thicker and dense. Opt for rolled oats or porridge oats or if you want a chunkier looking topping, jumbo oats work just as well. We have plenty more tips and tricks for making crumble topping below.
Although this crumble topping is easy to make by hand, you could also pulse the ingredients together in a food processor for a speedier method. Parent tester Grace Holliday's Ninja 3-in-1 food processor review is worth a read if you're considering buying a new one.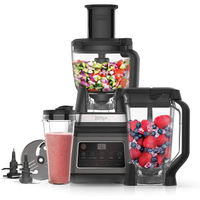 Ninja 3-in-1 Food Processor - View at Amazon
This food processor is available in two designs, black and silver or copper and black. It is easy to use and comes with lots of dishwasher-safe parts for easy cleaning. You can pulse ingredients or blend on a slow, medium, or high speed.
Cinnamon is also a star ingredient in desserts and goes so well with this plum crumble with oats. You might also like our apple crumble or this rhubarb crumble is delicious.