Where is Karl Bishop now? The man who killed Harry Potter actor Rob Knox, as ITV documentary (K)nox: The Rob Knox Story is released
The documentary looks at the terrible tragedy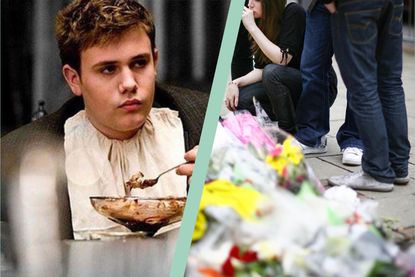 (Image credit: Instagram @thewizardsandthebands/BEN STANSALL/AFP via Getty Images)
As an ITVX documentary looks at the tragic murder of up-and-coming actor Rob Knox, attention has turned to the perpetrator of the terrible crime.
Award-winning documentary (K)nox: The Rob Knox Story will start streaming on ITVX on February 23. The documentary concluded production in October 2020, and has since been touring the film circuit, picking up a string of accolades along the way, and praise for its strong anti-knife message. In 2008, 18-year-old actor Rob Knox was stabbed to death days after filming scenes for his breakthrough role in Harry Potter and the Half-Blood Prince. His death sparked an awakening to the rising knife crime in the UK, that still remains a problem not just in this country, but globally. The documentary features interviews with Rob's family and friends, and prolific members of the Harry Potter cast speak of their time knowing the deceased actor. Rob's life in the lead up to his death and the ensuing police investigation come under close scrutiny while the anti-knife crime themes run through the narrative. With focus returning to the devastating crime, we look at where killer Karl Bishop is now.
For more true crime on ITV, Cold Case Forensics looks at what happened to Rachel Nickell (opens in new tab), and where where her killer is now - forensic advances eventually caught the correct killer of the young mother who was murdered on Wimbledon Common. What happened to Rachel Wood (opens in new tab) is explored in Channel 4 documentary In The Footsteps of Killers, as her tragic death remains unsolved. What happened to Natascha Kampusch (opens in new tab) is the subject of Channel 5's The Girl in The Cellar. Her kidnap and subsequent imprisonment and escape, makes for a chilling watch.
Where is Karl Bishop now?
Karl Bishop remains in prison serving a life sentence - a judge recommended he serve at least 20 years before being eligible for parole.
Bishop was also served three extra sentences for wounds he inflicted to five others present at the scene, at the time of the killing. His sentence was given on Thursday, March 5, 2009, with Mr. Justice Bean concluding "your lack of regret, let alone remorse, was truly chilling."
Brian Altman, QC, said for the prosecution that Bishop was a "habitual knife carrier" who considered stabbing people as an "occupational hazard". The Evening Standard (opens in new tab) later reported that in the time after Rob Knox's death, the Met admitted that Bishop had been reported to police for attempted knifepoint robbery two months prior to the fatal stabbing, but detectives failed to arrest him.
Two weeks after the knifepoint robbery, the victim's mother reported her son's flat had been burgled, naming Bishop as the suspect. Scotland Yard admitted that a serious error had been made in failing to arrest Bishop for this incident. The Met said it the Independent Police Complaints Commission to investigate, and to indicate the gravity of the error on their part.
What happened to Rob Knox
On 24 May 2008, 18-year-old Rob Knox was stabbed to death outside the Metro Bar in Sidcup, south London, by 22-year-old Karl Bishop. He had finished filming his scenes for his breakout role in Harry Potter and The Half-blood Prince, just four days before his death.
Bishop initially began a fight with Rob's brother, Jamie. He had been looking for confrontation with the brothers, because the previous week Rob had stood up to him in a row over a mobile phone, and Bishop sought revenge. He attended the Metro Bar armed with two large kitchen knives, to begin the altercation.
Coming to his brother's assistance, it was Rob that ended up being stabbed five times, with five of the brother's friends being wounded at the scene. Rob later died from internal bleeding and injuries from the wounds he sustained during the 90-second attack.
Who did Rob Knox play in Harry Potter?
Rob Knox played Marcus Belby in Harry Potter. His first appearance was in Harry Potter and The Half-Blood Prince, which was released the year after his death - the cast wore white ribbons to the film premiere, in Rob's honour.
The actor had also signed on to reprise the role of Marcus Belby in the final instalment of the Harry Potter film series, Harry Potter and the Deathly Hallows. He also would have appeared in part 2 of the lengthy production, which was released in July 2011. Sadly, his acting dreams and burgeoning career were cut short.
The character of Marcus Belby was the nephew of Damocles Belby, an Order of Merlin-awarded potioneer responsible for developing the Wolfsbane Potion. Wolfsbane was used by Professor Lupin and other Werewolves, to relieve the effects of lycanthropy. Belby began attending Hogwarts School of Witchcraft and Wizardry on 1 September, 1990, and was sorted into the House of Ravenclaw.
Who is Rob Knox's brother?
Rob Knox's brother is Jamie Knox. Now aged 32, Jamie is a husband and father, having welcomed his first child in February, 2022.
According to the Daily Mail (opens in new tab), Jamie and wife Cathy announced their son, Rory Robert Knox, had arrived on February 1, 2022, at 9:32pm. He wrote on Instagram saying "Rory Robert Knox came into the world and filled mine and Cathy's hearts with all the love in the universe."
The pair became engaged in 2018, and announced the impending arrival of their first child in August, 2022. Instagram pictures emerged of Cathy with a growing baby bump, with Jamie captioning them "So excited about the next stage in our lives welcoming this little one into the world. @cathyfoster33 you're going to make an amazing mummy."
Related ITV Features:
Video of the Week
Lucy is a multi-award nominated writer and blogger with six years' experience writing about entertainment, parenting and family life. Lucy has contributed content to PopSugar and moms.com. In the last three years, she has transformed her passion for streaming countless hours of television into specialising in entertainment writing. There is now nothing she loves more than watching the best shows on television and telling you why you should watch them.