Will there be a season 2 of Lockwood & Co? Speculation and everything we know so far about the return of the Netflix mystery thriller
We have the latest news for you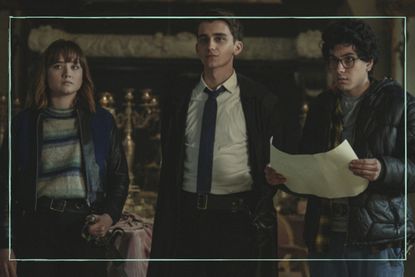 (Image credit: Parisa Taghizadeh/Netflix/Future)
Fans have efficiently made their way through the first season of Lockwood & Co, and are hungry for more - will they get to find out what's behind that door?
Viewers who have seen the season 1 Lockwood & Co ending (opens in new tab) only have one question - will there be a season 2? Let's face it, if we don't get to see what's behind that mysterious door of Lockwood's, there could be riots. Although Netflix are rapidly accruing a reputation of being a little too quick to cancel shows and relegate them to television dumpsters, the positive critical and viewer response to the show and pre-existing fan base from the books, could work in its favour. The ghost hunting trio have to find some conclusion to the mystery of what started the Problem and how to end it - plus we need to know if Lockwood and Lucy will end up together - with no technology in their lives, the youngsters need some happiness. Read on for all the intel we have about a season 2 of Lockwood & Co, alongside a look at other burning viewer questions.
Elsewhere on Netflix, fans are keen to know if there will be a That '90s Show season 2 (opens in new tab) - we've gathered up all available information about this too. Similarly, Ginny & Georgia season 3 speculation (opens in new tab) is rife, and the show creators have made it known exactly how many seasons they've planned. If you need a recap of that explosive Ginny & Georgia season 2 ending (opens in new tab), we also have this covered.
Will there be a season 2 of Lockwood & Co?
There has been no official announcement made about a Lockwood & Co. season 2, but the series creator has spoken about his hopes for the show to continue.
As well as ending on that huge cliffhanger and apparently leaving the door wide open for a second season, show writer Joe Cornish spoke to Radio Times (opens in new tab) about the future of the supernatural thriller. He said "Well, there are five books. Season 1 encompasses the first two books. So we think there's definitely two more seasons we'd love to make out of the remaining books."
He continued "It's lovely to be working on a story where, if you read the books, you kind of know where it's going, and you know that it's all been thought through, it's a breadcrumb trail - little breadcrumbs have been laid in this season that then pay off massively as the story goes forward. So it's not one of these things where we're making it up as we go along. There's very much an overall game plan."
He concluded by adding "And the books get better and better, and more and more spectacular, incredible set pieces, incredible character twists, amazing developments, conflicts, challenges for the characters. So for us, this is the starter course. And we would love it if we got to serve the full meal. This is a tortured analogy, but I've taken it all the way."
Fans on social media came out in their droves to request a season 2. One Twitter urged fans to watch the show to increase viewing figures an chances of a renewal. They wrote "Listen, I'm not really on Twitter any more BUT I'm back for one tweet thread only, to urge you all to spend your weekend watching #LockwoodandCo. It's genuinely the best book-to-screen adaptation I've seen in years (and the books were already great). Stream it so we get season 2!"
Listen, I'm not really on Twitter any more BUT I'm back for one tweet thread only, to urge you all to spend your weekend watching #LockwoodandCo. It's genuinely the best book-to-screen adaptation I've seen in years (and the books were already great). Stream it so we get season 2! pic.twitter.com/POnhqKcdBZFebruary 3, 2023
See more
Another echoed this statement, adding (opens in new tab) "I was lucky enough to read the first few scripts for this whilst in discussion to work on the show (I didn't in the end). Brilliant scripts and the resulting series doesn't disappoint. Fingers crossed for Season 2! #LockwoodandCo."
Lockwood & Co ghost types
In Lockwood & Co there are three types of ghost, simply titled Type One, Type Two, and Type Three.
Type One Ghosts are the most common, and also the weakest form of ghost. They can be formless, or can manifest as a person, and are usually Stalkers, Lurkers, or Shades. If they manage to manifest as a person, they usually become trapped in repetitive behaviour cycles and become unaware of their surroundings. They are skilled in spreading unease and anxiety and rarely attack humans, although they can still become a danger to the living if provoked.
Type Two Ghosts are both more rare, and powerful than Type Ones. Taking the form of Poltergeists and Wraiths, Type Two ghosts possess a more developed sense of intelligence that gives them insight into the living that Type Ones will never achieve. This heightened sense can sometimes cause them to harm the living unprovoked, and they can find themselves bound to the living world by a sense of injustice - they make continuous attempts to correct what went wrong in their living life.
Type Three Ghosts are the rarest and most powerful of all the ghosts forming the Problem. They are so rare, it was thought for a time that their existence was actually a myth. They display amplified abilities of Type Twos but on a much more powerful level, and have human level of intelligence. They can hold conversations with humans who have the ability to hear them, and delight in sharing dark secrets with the living. There have only been two documented encounters with Type Three ghosts.
What age is Lockwood & Co for?
The book series is for ages 9-12, and the Lockwood & Co TV series has been given a 12 classification in the UK.
Of the books, The Book Trust suggests they have an interest age of 10+, with a reading age of 11+. Having accrued a multitude of 5 star reviews on book review site GoodReads (opens in new tab), one reviewer wrote of the series "This is my favourite book series ever! Such great development throughout all five books, not only in the characters, but the overarching story as well. Stroud does a wonderful job of world building. With each book, we get a better understanding of this alternate universe that he has created. I truly appreciate everything about this series."
They continued "It's so fun to watch each character take on their own individual journey, while creating impactful relationships with the other characters. The humour in this book also keeps some of the darkest times light. Every time I read this series I am completely consumed by it. Another great thing about this series is that I believe anyone can read it and find it entertaining and enjoyable. I believe I started reading this series in middle school, and it still holds up so well now as I am about to start college. Overall, this is a wonderful, wonderful series, and I really cannot say enough about it."
Although given a 12 classification, the TV series has been rated 10+ by Common Sense Media (opens in new tab), the site that offers real insight into the suitability of shows based on children and adults who have seen them. They say about Lockwood & Co: "This show is a great watch for newcomers to the series and fans of the books alike. Lockwood & Co. is dark and scary, but also has an engaging storyline that tweens and teens should love.
It's also fast-paced and lively. From sword fighting and secrets to running away from home and fighting the undead -- the action doesn't stop. Characters have depth in a similar way to the original series, and director Joe Cornish's focus on keeping tweens entertained with adventures (don't miss his Attack the Block or The Kid Who Would be King) is a welcome sweet spot. Viewers will happily be left guessing about what comes next in this riveting series."
Lockwood & Co: Reviews
The reviews of Lockwood & Co have been overwhelmingly positive, with the show currently holding 90% critic score, and 93% audience score on review aggregator site Rotten Tomatoes.
Vicky Jessop from the Evening Standard (opens in new tab) offered 4 stars, saying "Does Lockwood & Co break any new ground? As with Stranger Things, no. But it weaves all its constituent parts into an entertaining narrative that raises just the right amount of hair on the back of the neck. A spooky delight."#
Leila Latif from The Guardian (opens in new tab) also offered 4 stars. She said "there are mysteries, sword fights and jump scares aplenty, as well as some marvellous supporting turns from Ivanno Jeremiah as the no-nonsense Inspector Barnes and Luke Treadaway as The Golden Blade, who strike the perfect balance of camp and gravitas."
One audience member said "Amazing, I'd say it's an almost perfect book to screen adaptation, the changes are for most not bothersome and adds to the story. The actors have so much chemistry and it's incredible to watch this trio go on their adventures. I hope there will be a season 2, this show deserves it."
Another added "Stranger Things meets The Frighteners in this excellent Ghost-Busting new series. A perfect blend of witty dialogue and seriously entertaining ghostly action that genuinely chills the spine and raises hairs. Highly recommend viewing and some bright young talent growing in front of our half-concealed eyes…"
Related Netflix Features:
Video of the Week
Lucy is a multi-award nominated writer and blogger with six years' experience writing about entertainment, parenting and family life. Lucy has contributed content to PopSugar and moms.com. In the last three years, she has transformed her passion for streaming countless hours of television into specialising in entertainment writing. There is now nothing she loves more than watching the best shows on television and telling you why you should watch them.