Cooking with 12 year old and over kids
Cooking with kids is not only great fun, it's also a brilliant bonding exercise and ideal for even really young children. And you get your very own helpers…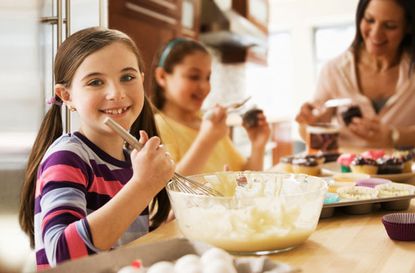 If your child is aged 12 years and over and loves cooking up a storm in the kitchen, you've come to the right place. As part of our cooking with kids guide, we're here to help you decide what to make with your little chef. From chocolate chip cookies to simple stir-fries you can make more than you think with your kids from 12 up.
At this age they're practically ready to serve up a three-course feast - well, not quite, but they may well have learnt enough cooking skills, from mixing dough to preparing fruit and veg, to be able to make some dishes practically unsupervised.
At this age, you're setting them up with skills for life. Before their teenage years, cooking has been more about having fun and getting their hands dirty. Now you can begin to teach them real skills that they'll keep with them and build upon for years to come, and of course will allow them to cook for you in the future! If you're not sure what to make check out our 10 best recipes to make with kids over 12 years old.
New skills
They're also old enough to learn how to use the cooker (under your supervision) so teach them how to safely turn it on and off and check your cooker's manual for more information about that particular model.
Kids 12+ will love helping you make the recipes we've selected as they involve stove top cooking, frying in a pan and cooking in the grill or oven. They can do most bits on their own.
Kids can also start using the electric blender to mix ingredients and make smoothies and soups.
Using knives safely in the kitchen
You can now teach kids how to chop safely - of course, you should be around when they're using sharp knives. Make sure you've got a large chopping board and a good-quality, sharp knife - it's the blunt knives that are more likely to cause harm when cutting.
Teach them how to tuck their fingers in or curl them under when they're cutting. If they're taking the knife out of a drawer and to a work surface, make sure they carry it point-down. If it does fall, teach your children to let it fall instead of trying to catch it! If they're unsure how to hold the knife, put some tape around the area where they should grip it as a guide. And if they do cut themselves, run the finger in cold water until the bleeding stops then dry with a paper towel and stick a plaster on it.
Independence Day!
This is also a good age to get the kids involved in planning the week's meals from writing out a shopping list to helping you pick and choose items at the supermarket or online
They're old enough to make their own dough, salads and bake an array of recipes from cakes to cookies so get them started with these easy recipes. Of course you should still be around but only offer help when they ask for it or when you know they need it.
Where to next?
Now's the time for you and your master chef to choose which recipe you'd like to make first. Click on the picture below to see our 10 best recipes. Happy cooking!
More cooking guides:
Cooking with kids: under 3 year olds
Cooking with kids: 3-6 year olds
Cooking with kids: 7-11 year olds