Netflix's Perfect Match: Meet the reality star cast of the new dating show
Perfect Match sounds like the ultimate dating show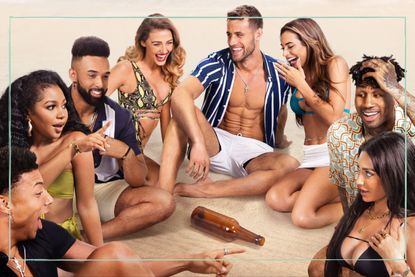 (Image credit: Netflix)
Netflix's Perfect Match features reality stars from Too Hot To Handle, Love is Blind, The Circle and more. So let's meet the cast.
Fans of reality TV are in for a treat this Valentine's Day, because Netflix's brand new show Perfect Match brings together some of the biggest stars from the streaming service's previous dating shows in a second attempt to find love.
If you're one of those people who loves to keep up with the cast of reality TV after they leave the screen - asking which Too Hot To Handle couples are still together (opens in new tab) who is still together from Love is Blind (opens in new tab) and checking in on whether successful couples such as Alexa and Brennnon are still together (opens in new tab) - then you're going to love Perfect Match. Let's take a look at the cast...
Perfect Match cast
1. Francesca Farago - Too Hot To Handle
Francesca Farago starred in the first ever season of Too Hot To Handle, which aired back in April 2020.
After much rule breaking, the Canadian finally found love with fellow cast member Harry Jowsey. The pair dated on an off after leaving the show, before calling it quits for good in May 2021.
Since then, Francesca went on to date The Only Way Is Essex star Demi Sims, and also appeared on Love Is Blind: Life After the Altar as Damian Power's date.
Many are surprised by Francesca's appearance on Perfect Match, as it appears she's been in a serious relationship with Jesse Sullivan for the last six months, with Jesse even saying on Instagram (opens in new tab), "I cannot wait to get down on one knee for her."
Fans have concluded that Perfect Match must have been filmed before the pair got together.
2. Chloe Veitch - Too Hot To Handle
Chloe starred alongside Francesca in season one of Too Hot To Handle, and also starred in the 2021 series of The Circle US.
Chloe didn't find love during her time on Too Hot To Handle but she did walk away with a chunk of the prize money, and has stayed good friends with with fellow contestant Nicole O'Brien.
Posing as herself on The Circle, Chloe had a little more success, coming in second place and being crowned 'Fan Favourite'.
Her other reality TV stints include an appearance on Channel 4's Celebrity Ghost Trip, where she was partnered with Too Hot To Handle co-star Nicole O'Brien, and Celebrity Hunted.
3. Chase DeMoor - Too Hot To Handle
Chase DeMoor is an American footballer who appeared on season two of Too Hot To Handle.
After beginning the season happily coupled up with Canadian model Carly Lawrence, Chase was quick to jump ship after the arrival of Tabitha Cliftt.
He was eventually beaten to the cash prize by Marvin Anthony, after Marvin showed his commitment to fellow contestant Melinda.
4. Georgia Hassarati - Too Hot To Handle
Georgia Hassarati is from Brisbane, Australia, and was on season 3 of Too Hot To Handle.
She had an on-off relationship with season one star and Francesca's ex Harry Jowsey since mid 2022, before the pair broke it off for good at the end of the year.
In an interview with The US Sun (opens in new tab) in November 2022, Harry said of his relationship with Georgia: "At the moment, Georgia and I are no longer together, but let me tell you my relationship with her was nothing short of amazing. Georgia is such an incredible human being. She is one of the most amazing people I have ever met, and I am beyond grateful we crossed paths."
5. Izzy Fairthorne - Too Hot To Handle
Personal trainer Izzy was also on season 3 of Too Hot To Handle. Though she was a finalist, Izzy left the show single and lost out on the prize money to Harry and Beaux.
Izzy got on well with fellow Perfect Match contestant Georgia, and the pair actually broke Lana's rules together while on the show, landing themselves in hot water with their fellow cast mates.
6. Bartise Bowden - Love is Blind
Bartise appeared on Love is Blind season 3. Although he did make it out of the pods after proposing to fellow contestant Nancy, it wasn't meant to be.
Although Nancy said yes at the altar, Bartise said "I do not", causing Nancy to walk back down the aisle in tears.
Bartise has since said that he feels 'ashamed' watching the show back, but that he doesn't have any regrets.
7. Damian Powers - Love is Blind
Damien Powers had little more success on Love is Blind than Bartise when he appeared on the first season of the show.
He left the pods with then-fiance Giannina Gibelli, and though they had their ups and downs and ultimately decided against saying 'I do', they did leave the show in a committed relationship.
It wasn't meant to be however, and the couple didn't last. Unsurprisingly, Giannina was unimpressed by Francesca Farago turning up as Damien's date on After the Altar, so it will be interesting to see how the pair get along on Perfect Match.
8. Diamond Jack - Love is Blind
Also on season one of Love is Blind, Diamond split with her fiance Carlton before they made it to the wedding, following a huge fight surrounding Carlton's sexuality.
After Carlton proposed, he told Diamond that he'd dated men and women before, prompting Diamond saying that she felt betrayed that he didn't tell her sooner.
And the drama didn't end there for Diamond. Before After the Altar she went on a blind date with the friend of a friend's boyfriend, Rumeal. Rumeal ghosted her but still turned up to the reunion, and ended up spending the whole night sulking while Diamond chatted to her cast mates.
9. Lauren Chamblin - Love is Blind
Lauren 'LC' also appeared on the first season of Love is Blind, and though she didn't get engaged she did close to Matthew Barnett while in the pods. However, Matthew is now married to fellow contestant Amber Pike.
Though things didn't work out on the show, LC did briefly date one of her cast members, Mark Cuevas, after filming wrapped. Mark had got all the way to the altar with fiance Jessica Batten, before saying 'I don't'.
LC has said in the past that she remains good friends with fellow Perfect Match cast member Diamond.
10. Shayne Jansen - Love is Blind
Shayne appeared on season 2 of Love is Blind. He was engaged to Natalie Lee during the programme, but the pair didn't get married after Natalie called things off in the final episode.
Though the pair did reconnect after filming for the show ended, it was not meant to be and they have since called it quits, with Natalie accusing Shayne of sending flirtatious messages to fellow cast member Shaina while they were together.
11. Calvin Crooks - The Circle
Calvin Crooks appeared on The Circle US season 3, playing himself. He didn't have much success however, ending up blocked and exiting the show in episode 7.
After being blocked, Calvin picked another player to receive an advantage. He chose Nick, who received a second account and posed as 'Vince'. Vince was deactivated in episode 9, but Nick as himself made it to fifth place.
12. Joey Sasso - The Circle
Joey Sasso won the first season of The Circle US. While taking part in the show, he formed a connection with fellow contestant Miranda, who he shared a kiss with after she visited him following her elimination.
Though Joey and Miranda did go on a date after The Circle, it wasn't meant to be.
13. Mitchell Eason - The Circle
Mitchell took part in The Circle season 2, after his mother Tammy and brother Ed competed in the first season of the show.
Playing himself, he was added in episode 5 of the show and made it to the penultimate episode before he was blocked by Lee - who was pretending to be 'River'.
14. Nick Uhlenhuth - The Circle
Nick appeared on season 3 of The Circle US alongside fellow Perfect Match cast member Calvin. Nick came in fifth place, and played himself but as a drummer, as well as 'Vince', after Calvin gave him and advantage.
He made it all the way to the final episode, where he is shocked to find that his close friend on the show 'Isabella' was actually Sophia playing her older sister.
15. Savannah Palacio - The Circle
Savannah was an influencer before she joined The Circle season 2, and already had a following on both Instagram and YouTube.
Despite playing herself, she only made it to episode four before being blocked by her fellow cast members.
Savannah has previously appeared on Netflix's game show The Floor is Lava.
16. Ines Tazi - The Circle France
Ines Tazi appeared on The Circle France in 2020, playing herself but pretending to be single, as she was in a relationship at the time.
Despite scoring high in the first few episodes, Ines was blocked in episode 9 by eventual winner Romain.
17. Anne-Sophie Petit-Frere - Selling Tampa
Anne-Sophie stars in the Selling Sunset spin-off Selling Tampa, in which estate agents at an all-female, black-owned agency sell luxury properties in Tampa, Florida.
She was born in Haiti before moving to America in 2005, first getting into the world of real estate when she got an entry level accounting position in a real estate property management firm during her senior year of college.
18. Colony Reeves - Selling Tampa
Colony Reeves is one of the breakout stars of Selling Tampa. She started her career as a teacher but was inspired by her dad to get into real estate.
19. Dom Gabriel - The Mole
The Mole on Netflix was a 2022 reboot of the classic reality show in which players complete challenges while trying to identify the one among them who's sabotaging their missions.
Contestant Dom lives in Toronto, Canada, where he works as a warehouse worker and performs as a singer-songwriter under the moniker DNTCALL. On his Instagram account, he refers to himself as 'Netflix's first rockstar'.
20. Will Richardson - The Mole
Will starred alongside Dom in Netflix's reboot of The Mole, and went on to win the season (despite appearing to be a prime suspect at one point) by correctly guessing that Kesi Neblett was the Mole.
21. Zay Wilson - The Ultimatum
In The Ultimatum, six couples have to make the decision to either get engaged or break up, after swapping partners for three weeks.
Zay entered the show with his girlfriend of two and a half years, Rae. Both connected with their new partners, and when Rae couldn't give Zay reassurance that she wanted to be with him at the end of the three-week trial, he disappeared into the night and refused to answer her calls.
When he came back at 8am smelling of alcohol, Rae called time on their relationship.
22. Kariselle Snow - Sexy Beast
The format of Sexy Beasts sees the contestants wear prosthetics to make them look like different animals while on their dates - the idea being that it is a 'true blind date'.
Kariselle appeared as a panda on the show, but underneath the prosthetics she's a model and pageant queen.
23. Abbey Humphreys - Twentysomethings
Abbey joined the cast of Netflix's Twentysomethings as a recently divorced 28-year-old looking to explore her bisexuality and love after heartbreak.
What is Perfect Match?
Perfect Match is a brand new dating show that stars famous faces from Netflix's other reality TV series. it's presented by Nick Lachey, who co-hosts Netflix's Love Is Blind, and at the end of the series he will crown one couple the "perfect match".
Netflix says: "Perfect Match brings together the most famously single stars of Netflix's unscripted series (Love Is Blind, The Ultimatum, Too Hot To Handle, The Mole and more) to a tropical paradise in an attempt to find love. As they compete to form relationships, the most compatible couples will play matchmaker, breaking up other couples and sending them on dates with brand-new singles they'll invite to the villa. Will they create better matches, or will they create chaos? In this over-the-top journey of strategy and dating hosted by Nick Lachey, only one couple will be crowned the Perfect Match."
Perfect Match release date
Perfect Match will be released on Netflix in the UK on February 14th at 8am. There will be 12 episodes in total but only four are released at a time.
The second batch of episodes will be available on 21st February, with the final four released on 28th February.
Video of the Week
Ellie joined Goodto as a Junior Features Writer in 2022 after finishing her Master's in Magazine Journalism at Nottingham Trent University. Previously, she completed successful work experience placements with BBC Good Food, The Big Issue and the Nottingham Post, and freelanced as an arts and entertainment writer alongside her studies. In 2021, Ellie graduated from Cardiff University with a first-class degree in Journalism.