Which couples from The Ultimatum are still together?
Here's the update you need!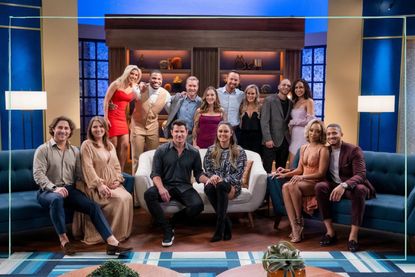 (Image credit: Adam Rose/Netflix/Future)
Netflix's The Ultimatum had viewers hooked when it aired back in April 2022. But are any of the couples who featured on the show still together?
From the creators of Love is Blind, The Ultimatum followed six couples at a crossroads in their relationship. One member of each pair offered the other an ultimatum: get married or break up. Throughout the experiment, contestants essentially acted single, dating other people to see if they actually want to stay together. After the trial period the couples reconciled, spending another three weeks together before making the final decision; get married or get out. The series definitely got viewers talking, and with a new iteration of the show about to air, many are asking if any couples from The Ultimatum are still together?
Viewers first came for the incredible properties, but stayed for Selling Sunset's drama and tangled love lives. Newcomer Bre Tiesi has a famous boyfriend, and we reveal everything we know about the couple and season 6 newbie. For those asking if Mary and Romain are still together, the tumultuous couple recently shared a sad update with their followers.
Which couples from Netflix's The Ultimatum are still together?
1. Jake and April
Are they still together? No | Are they engaged? No
April Marie issued the ultimatum to Jake Cunningham, saying she wanted to start a family together and get married. Jake, however, wasn't sure if he was ready. After being paired with Rae as his trial partner, Jake formed an instant connection with her and they were kissing publicly by episode three.
At one point, Jake said that if he had to make a decision there and then, he would leave with Rae and not April, who had been paired with Colby. By the final episode, Jake had decided to call it quits with April. He told her: "I tried to push every little bit of me to get to that point. I'm just not ready for it myself. I'm sorry I couldn't get there, I never expected this to happen. I love you, and I do wish you the best."
April then found love with Cody Cooper - a broker and founder of his own real estate company. The pair remain together, with April announcing on Instagram on February 13 that the pair are expecting their first baby in August 2023. In a video featuring the positive pregnancy test and images from a scan, April captioned the post "The hardest secret we've ever had to keep! Coming soon... 2023."
After leaving the show hand-in-hand with Rae, Jake revealed at The Ultimatum reunion show that they'd parted ways. He cited needing "time to heal" individually after the experiment, as the reason for the split. He also later said that "something could happen down the road" with Rae, being open about the fact they stayed in touch.
Little is known about Jake's current relationship status, as he hasn't discussed this publicly since the reunion. His Instagram account is very quiet, and he only shares pictures of himself and his activities on rare occasions, with no indication of a romance appearing on social media.
2. Alexis and Hunter
Are they still together? Yes | Are they married? Yes
Alexis Maloney and Hunter Parr had been together for two years before appearing on the show. Alexis was ready to get married, but Hunter wasn't so sure.
The pair tried dating other contestants, and Hunter made a connection with April. However, when it came to the rematching stage in episode two, Hunter revealed the experiment had helped him to realise what he wants. He got down on one knee and proposed to Alexis, who happily accepted, and the couple left the experiment early.
The pair married in California in June, 2022, sharing videos to social media of themselves dancing to Elton John's Tiny Dancer and Beyoncé's Crazy In Love, on the big day. After honeymooning in Santorini, Mykonos and Athens, they settled into married life in Los Angeles. Since the wedding, Alexis has shared many updates from the couple's travels together, from skiing holidays to sun-kissed beach snaps.
3. Lauren and Nate
Are they still together? Yes | Are they married? Yes
Lauren Pound and Nathan Ruggle's engagement was slightly more awkward than Alexis and Hunter's. Entering the experiment, Nate had issued Lauren the ultimatum, as he was ready to have children. Lauren however, remained adamant she didn't want them.
Seeing Lauren picked by Colby as his trial partner in the experiment proved too much for Nate - despite telling other girls he was going to pick them, he decided to propose to Lauren, just moments after Alexis and Hunter got engaged. Lauren accepted, but some contestants voiced concern that they felt Nate was proposing for the wrong reasons. They felt the proposal came from jealousy over Lauren being chosen by Colby, not from wanting to get married.
However, the marriage went ahead on October 1, 2022, in Breckenridge, Colorado. Nate said he was willing to sacrifice having children if it meant staying with Lauren, stating "I met so many amazing people, and still no-one held the candle to Lauren for me." At the reunion, the pair admitted to seeing a counsellor to work through their issues, agreeing to have one child in the future.
While recently in 2023 there has been no open discussion about children, this would remain a private issue for the couple to work together should it still something Nate is set on. In the meantime there appears to be plenty of parties and travel for the couple, who recently visited Tokyo and Switzerland.
4. Madlyn and Colby
Are they still together? Yes | Are they married? Yes
Madlyn Ballatori and Colby Kissinger's relationship seemed rocky from the start. Madlyn even told Colby: "The only thing scarier than losing you right now would be to marry you."
Madlyn quickly made a connection with Randall, and during a girls' night out drunkenly admitted to Shanique that they kissed off screen. In later episodes, Colby revealed that his "love" for Madlyn didn't stop him from hooking up with other girls.
However, when it came to Ultimatum Day, Colby made a shock proposal and Madlyn accepted, saying "I walked in here thinking that I had nothing to learn and I couldn't have been more wrong. I don't need somebody who isn't going to make mistakes, but someone who is willing to own up for them, and is willing to improve. This is the best choice I could've made."
The pair got married on the spot, and by the reunion episode, Madlyn revealed she was seven months pregnant with their first child, a baby girl. Daughter Josephine Riley was born in May 2022, with Madlyn revealing it had been difficult not to share her pregnancy with family and friends in the way she'd wanted; restrictions keeping spoilers from the show leaking, meant the couple had to wait before speaking openly about the baby.
Still going strong in 2023, the couple posted a sweet gender reveal post in April, revealing Josephine is going to be big sister to a baby brother. Fellow contestant April commented "I TOLD YOU GUYS" on the post, and had performed "the ring test" to find out the gender of the baby. This involves holding a ring over Madlyn's stomach, and seeing which direction it turned. In using this method, she had correctly predicted the baby would be a boy.
5. Shanique and Randall
Are they still together? Yes | Are they married? No
Shanique Imari gave the ultimatum to Randall Griffin, saying she wanted a big wedding. But Randall wanted to wait until he was out of debt.
Throughout the series Shanique became close to Zay, while Randall connected with Madlyn. But when they finally met up on Ultimatum Day, Randall and Shanique were both in tears as they declared their love for each other. Randall said "I wanted you to be my wife since the day I laid eyes on you, I just didn't know how to show it."
However, at the reunion special, the couple shared the surprising news they had called off the engagement and split for a period of six months. Good news followed, when news later broke that the pair had again reconciled. Reflecting on their turbulent period, Randall explained: "We tried to change but we obviously still have our differences," While Shanique added the break was "the hardest time of my life."
She continued "I think with us, we just really needed that time apart to appreciate things. This is my best friend in every way, and one of the best things that's ever happened to me in my life. We're back together and just trying to figure it out, one step at a time."
Randall said of their reunion: "Our journey is a little bit different than everybody else's, and coming on the show you have a timeline. But our timeline is our timeline and I'm excited for what's to come." In 2023, Shanique still wears a ring on her wedding finger but the pair aren't yet married. They do appear to be living happy and full lives, with many loved-up shots making it to Shanique's Instagram account.
6. Rae and Zay
Are they still together? No | Are they engaged? No
During the experiment, Rae Williams bonded with her trial partner Jake, while Zay Wilson got close to Shanique. The pair even ended up in bed together after Zay won over Shanique's family by opening up about his childhood.
However, shortly after reuniting and Zay saying he was ready to commit, he and Rae had a big fight. Zay disappeared for an entire evening, returning home at 8am smelling like "alcohol and perfume." It later emerged that he had accused Rae of sleeping with Jake when she hadn't, and he failed to mention that he had slept with Shanique.
During the reunion show, Rae used the show to come out as bisexual, admitting she revealed she'd had had a relationship with a woman. She said "I have been with one person, she's amazing. I had a really good connection with her but we kept it casual and I'm kind of figuring out myself and my sexuality, because I was very uncomfortable with being bi for a very long time."
Rae is currently single, and living in Houston. She works as a 911 operator, and has done some work for Playboy.
After the show, Zay went on to appear in season one of Perfect Match, alongside other single stars from shows including Love Is Blind, Sexy Beasts and The Circle. However, Zay again left the series single, remaining single to this day.
Zay shares his positivity and faith to his Instagram account, and can often be seen attending marketing events for upcoming TV shows and films. Most recently, he has had involvement with events for Ben Affleck's Air movie, the Creed Movie, and Outer Banks.
Related Netflix Features:
Entertainment writer - contributor
Robyn is a freelance celebrity journalist with ten years experience in the industry. While studying for a degree in Media and Cultural Studies at London College of Communication, she did internships at Now and Heat magazines. After graduating, she landed a job at Star magazine, where she worked her way up to features editor. She then worked at Future as Deputy Celebrity Content Director across Woman, Woman's Own, Woman's Weekly and Woman & Home magazines.