Where is Perfect Match filmed? Locations of the new Netflix dating show
Here's where the luxury villa is located...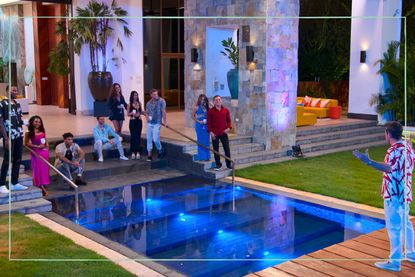 (Image credit: Netflix)
Netflix's newest dating show has arrived, and viewers have been asking where is Perfect Match filmed?
Perfect Match sees a number of familiar singles brought together to try and find - as the name suggests - their 'perfect match'. The Perfect Match cast (opens in new tab) is made up entirely of reality stars who have previously appeared on Netflix dating shows, making the new series a perfect binge watch for TV fans who are keen to know which Too Hot To Handle couples are still together (opens in new tab) and who is is still together from Love is Blind (opens in new tab).
Fans are keen to know if the show's strongest couple, Joey and Kariselle, (opens in new tab)are still together, as well as the fate of the winners Georgia and Dom (opens in new tab). But the cast isn't the only thing that's caught they eye of viewers. The luxury beachfront villa that Perfect Match is filmed in is equally as jaw-dropping as the show's attractive contestants. Here's what we know about where Perfect Match is filmed...
Where is Perfect Match filmed?
Perfect Match was filmed near Panama City, at the edge of a rainforest in Playa Bonita. Panama City is the capital of Panama, a country in Central America, and is on the coast of Panama Bay.
The series was filmed in a luxury villa close to the beach, where the contestants are often filmed completing challenges. According to the property listing on Latin Exclusive (opens in new tab), the Perfect Match villa is located 20 minutes from downtown Panama City and 45 minutes from Panama City's Tocumen International Airport.
Perfect Match villa
The Perfect Match villa has six bedrooms, five bathrooms, a terrace, a gym and an infinity pool. You can actually rent the villa for a whopping $7,300 per night, via Latin Exclusive.
Latin Exclusive describes the property as "perched at the edge of the rainforest on a small cliff above the Pacific Ocean on Playa Bonita." They add that the house was inspired by the Panama Canal and had "dramatic" high ceilings that "maintain a feeling of openness and freshness."
The listing also says: "The Master suite offers over 1,500 sq. feet of indoor space, two terraces and a private plunge pool. The master bathroom, which includes an indoor garden, has been designed as a Temple of Water, with the main shower taking a starring role in the middle of the room."
In addition, each of the guest rooms have "a unique architectural design, ranging from open ceiling showers, to bathtubs in the middle of the room, to custom-made furniture."
Other features include a private plunge pool in the master suite, a library, an elevator and a barbecue/picnic area.
When was Perfect Match filmed?
Perfect Match was reportedly filmed in early 2022, though the exact timeline is not known.
Contestant Bartise Bowden revealed on his Instagram story that he was filming the show in March 2022, when answering a question about the timeline of his appearances on other Netflix shows, which included Love is Blind season 3 (opens in new tab) and the show's spin-offs After the Altar and the reunion episode, as well as Perfect Match.
Meanwhile, another Love is Blind contestant, Natalie Lee, who appeared on the show's second season, said Perfect Match was filmed in February 2022. Natalie was engaged to Perfect Match contestant Shayne Jansen during their time on Love is Blind and though the pair didn't get married, they did continue to date for a time after the show.
On an Instagram story posted in January 2023, Natalie wrote: "While Shayne was filming the show in Feb 2022, he texted me numerous times he wanted to leave midway through filming because he still had feelings for me after we saw each other for [the] first time since our breakup at the reunion show taping."
She added: "And yes, he was casting for the show while we were in a relationship in Nov 2021."
Related features:
Video of the Week
Ellie joined Goodto as a Junior Features Writer in 2022 after finishing her Master's in Magazine Journalism at Nottingham Trent University. Previously, she completed successful work experience placements with BBC Good Food, The Big Issue and the Nottingham Post, and freelanced as an arts and entertainment writer alongside her studies. In 2021, Ellie graduated from Cardiff University with a first-class degree in Journalism.