Are Georgia and Dom still together? Perfect Match season 1 update
Georgia and Dom went on to win the Netflix dating show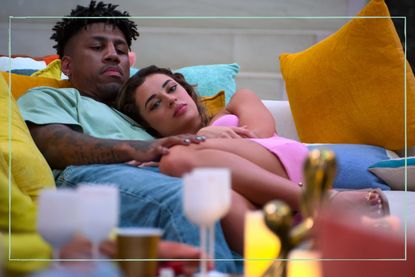 (Image credit: Netflix)
The final episodes of Perfect Match have aired, and fans want to know if the show's winners Georgia and Dom are still together.
Netflix's brand-new show Perfect Match was the perfect binge watch for fans of the streaming service's other dating shows such as Too Hot To Handle and Love is Blind. The show brought together some of the biggest stars from previous reality TV to form the Perfect Match cast (opens in new tab). The contestants were challenged to forge a genuine romantic connection - their 'perfect match' - all while staying in a beautiful luxury villa that had viewers dying to know where was Perfect Match filmed (opens in new tab).
Now that all the episodes have aired, fans of the reality dating show are keen to know how long each couple lasted on the outside. And just like many were asking if Joey and Kariselle are still together (opens in new tab) or if Nick and LC are still together (opens in new tab), others want to know if the winning couple, Georgia and Dom are still together.
Are Georgia and Dom still together?
No, Georgia and Dom are no longer together. In an interview with TODAY (opens in new tab), Dom suggested that long distance had played a role in their decision to separate after the show - as he is from Canada and Georgia is Australian.
He added: "I think it was the kind of thing where, 'Let's see where the future leads us. Let's kind of do our thing on our own.' If the future has something else in store, if it's meant to be, then it's meant to be."
Following the release of the final episodes of Too Hot To Handle, Netflix released a 'Where are they now?' video (opens in new tab), in which Georgia said, "We were at different levels of the relationship, and he's such an amazing person the last thing I wanted was for it to be an ugly ending to something so beautiful."
However, Dom didn't seem to look back so fondly on their time together, saying in his interview: "After the show we ended before we even got the chance to redeem our prize."
He added, "We were still talking, we were still together and she had to go and do a certain podcast. The podcast came out and the title of the podcast was 'Georgia and Harry Jowsey fall in love'.
"Yeah I would say I was blindsided."
Harry Jowsey is a former Too Hot To Handle contestant who Georgia has since dated.
What happened between Georgia and Dom on Perfect Match?
Dom and Georgia were the winning couple on Perfect Match season 1, after being voted the top couple by their fellow contestants.
However, Dom started off the series coupled up with a different Too Hot To Handle star, Francesca Farago. But when Francesca left Dom to couple up with newcomer Damian Powers - who had previously appeared on Love is Blind - he formed a connection with Georgia.
Despite remaining solid for the rest of the show, Dom and Georgia weren't expecting to be winners - with Dom telling Tudum (opens in new tab) after the show aired: "We were like, 'There's no chance.' And then [Joey] gets down on one knee and we're like, 'Yeah. No. This is it.' We literally looked at each other and were like, 'It's fine. We'll get drunk afterwards.'"
Their prize for winning was a one-week all-expenses paid vacation anywhere in the world, and Georgia told Dom in an interview after they were named the winners: "We won! I did not think that was going to happen. I know you were my perfect match, but I didn't know we were The Perfect Match."
Unfortunately, Georgia and Dom broke up before they had a chance to redeem their prize.
Where are Georgia and Dom now?
Dom and Georgia seemed to end their relationship amicably not long after appearing on Perfect Match, but it looks like they no longer have such fond feelings for each other, following a social media feud.
After the 'Where are they now?' video aired, in which Dom claimed to have felt "blindsided" by Georgia's podcast with Harry Jowsey, Georgia addressed Dom's comments in an Instagram story post. She wrote: "Since Dom would rather communicate online rather than face to face, this is for you Dom. You are so 'unbothered' but you never spoke to me about having issues with the title of a podcast I had no say in creating.
"I came back to our hotel after that podcast. You conveniently left out that you were at diner with Ines that night and I actually go back to our hotel before you did. Didn't mention you two were in contact continuously post show either? And are dating now?"
Since then there's been a lot of back and forth between the two, and Dom responded with a post showing screenshots of texts allegedly from Georgia, writing in the caption, "Why would I speak to you about having issues afterwards when I asked how was the podcast right after? But you failed to mention you literally mention me on the podcast and I didn't find out till after."
He added that his dinner with Ines included fellow Perfect Match cast member Zay Wilson and the producers of the show, saying that he is "very f**king single," in response to Georgia's claim he is dating Ines.
Since appearing on Perfect Match, Georgia has in fact dated Harry Jowsey, who has also been in a relationship with another Perfect Match contestant, Francesca Farago.
The pair confirmed their relationship with a TikTok (opens in new tab) posted in April 2022, and it was reported that Georgia had moved in with Harry in L.A. for a brief period. However, it didn't last and the couple split later that same year.
Related features:
Video of the Week
Ellie joined Goodto as a Junior Features Writer in 2022 after finishing her Master's in Magazine Journalism at Nottingham Trent University. Previously, she completed successful work experience placements with BBC Good Food, The Big Issue and the Nottingham Post, and freelanced as an arts and entertainment writer alongside her studies. In 2021, Ellie graduated from Cardiff University with a first-class degree in Journalism.