Are Joey and Kariselle still together? Here's what happened between the Perfect Match couple
Joey and Kariselle had dated before they appeared on the Netflix show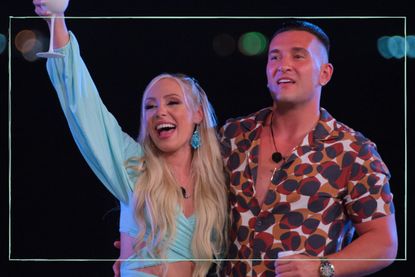 (Image credit: Netflix)
The final batch of Perfect Match episodes have landed and fans of the show want to know if Joey and Kariselle are still together.
If you're a fan of reality dating shows then you've probably binged the whole of Perfect Match, the brand new Netflix show that brings together some of the streaming services biggest reality stars in a competition to find love. The luxury villa in a tropical setting had viewers wanting to know where Perfect Match was filmed (opens in new tab), while others were keen to know more about the Perfect Match cast (opens in new tab) and where they had seen them before.
And there's one couple in particular that caught fans' attention. Kariselle and Joey were the show's strongest couple, matching on day one of the show and leaving the series in a relationship. Just like viewers want to know if the show's winners, Georgia and Dom, are still together (opens in new tab), or if last-minute pairing Nick and LC are still together (opens in new tab), it's no surprise that Perfect Match viewers have been asking if Joey and Kariselle are still together.
Are Joey and Kariselle still together?
Joey and Kariselle are no longer together. Joey recently told Netflix Tudum (opens in new tab), "You live in different places, you're trying to get on the same page with each other. I think that both of us really respected each other enough to be able to walk away from the situation and really give each other time, distance, space."
He added: "We love very hard, so the highs are high, and the lows can be very low. At this point, we just know that we're probably better apart, but that we really want to try to work on our friendship."
It wasn't the first time the pair had parted ways, however. Joey and Kariselle dated before they appeared on Perfect Match, and they discussed their history when they appeared on the show.
Kariselle had travelled to LA to spend time with Joey, and though they had fun together he wasn't ready to be in a relationship. After some on and off dating, the pair parted ways until their reunion on Perfect Match.
What happened between Joey and Kariselle on Perfect Match?
In one of the final episodes of Perfect Match, Joey proposed to Kariselle, and the pair ended the series engaged. It came after they decided to make their relationship official in the second batch of episodes.
When the pair first appeared on the show together, Kariselle was reluctant to give Joey a second chance after their failed relationship on the outside, and at one point she considered matching with Too Hot To Handle's Chase DeMoor instead.
But she ultimately chose Joey, and the pair continued to pick each other as a match right through to the end of the series. Despite their rocky start - including a tense compatibility challenge in which Joey admitted he was still hung up on an ex - the couple cruised through the remaining batches of episodes.
And even though they lost the final prize to fellow Perfect Match contestants Georgia Hassarati and Dom Gabriel, they seemed to end the series very content with each other, after calling Joey's mom to tell her they were engaged and sharing the news with the rest of the cast.
Where are Joey and Kariselle now?
Netflix released a 'Where Are They Now?' video on YouTube (opens in new tab) with the Perfect Match cast, in which Joey and Kariselle separately shared how their relationship had not worked out after filming ended.
In the clip, Kariselle said: "That was the craziest time of my entire life." She went on to say, "Things with Joey, they were good," but added that it was a rollercoaster between the two until eventually the pair "just couldn't get it back."
She said: "I feel like I knew it was over when we were talking about being a power couple. Joey said we were like the next Batman and Robin, and I was like, 'Who's Batman?' Does this boy really think I'm like a side-kick?"
Since the show ended, it looks like Kariselle has been working on her career as a vocalist, recently announcing on Instagram that she'll be releasing some new music this year.
Meanwhile, Joey said in the Netflix video: "Relationships are hard and going on Perfect Match is like relationships on steroids."
He added, "Sometimes we've had to laugh about it. I'm like, you think some people are gonna be surprised that we didn't make it? Look at us! Sometimes we're so up, we're so down, but we love so hard."
Joey went on to say, "Without going into details, things just weren't the way that they were supposed to be."
Since his appearance on Perfect Match, he's been sharing plenty of behind the scenes clips form Perfect Match on his Instagram (opens in new tab), and it looks like he's still on good terms with most of the cast members.
As to whether the pair will reunite in the future, Kariselle said: "Me and Joey can never rekindle and never get back together, but it's me and f***ing Joey. How am I supposed to sit here and look you in the face and say 'I don't see myself ever getting back with the man I almost spent the rest of my life with'."
Related features:
Video of the Week
Ellie joined Goodto as a Junior Features Writer in 2022 after finishing her Master's in Magazine Journalism at Nottingham Trent University. Previously, she completed successful work experience placements with BBC Good Food, The Big Issue and the Nottingham Post, and freelanced as an arts and entertainment writer alongside her studies. In 2021, Ellie graduated from Cardiff University with a first-class degree in Journalism.