When is The Crown season 5 coming out? Netflix release date, episodes and cast details
There's a new cast and new storylines in store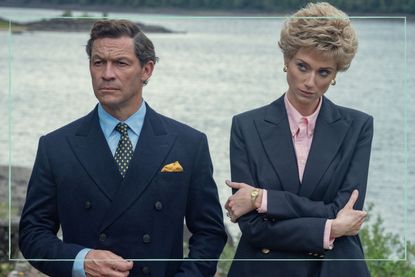 (Image credit: Future/Netflix)
The Crown season 5 is coming out sooner than you think! We reveal the confirmed release date and stellar cast signed up to appear as the next breed of royals in the hit Netflix drama.
It's been a long old wait for fans of The Crown and the upcoming fifth season. Season 4 dropped to high praise and fanfare in November 2020 and for the past two years audiences have been slowly drip fed details of the next installment. First came confirmation of the new The Crown cast (opens in new tab) members taking over the respective royal roles on screen - and in August 2021 we were treated to our first glimpse of Imelda Staunton as the Queen on set.
Fast forward a year and September 2022 brought news of a release date. And as we inch closer to it arriving on screens, producers treated fans to an epic The Crown season 5 trailer (opens in new tab) in October, with a whole 2 and a half minutes of action to feast our eyes on. With just a few weeks to go now, we share the all important details of when The Crown season 5 is coming out, plus details of cast and story timelines.
When is The Crown season 5 coming out?
The Crown season 5 will be released at 8am on November 9, 2022. From this date all episodes will be available to stream exclusively on Netflix.
A November 2022 release date was first confirmed by new cast member Imelda Staunton back in September 2021. The actress, sat at a desk on the set of the fifth series shared the release date in the style of the Queen's annual Christmas Day message. It wasn't until September 24, 2022 - that the official date was confimed as November 9.
According to Deadline (opens in new tab), production of the beloved Netflix show was not affected by the pandemic. With the cast and crew able to follow the same production schedule that was in place for prior seasons.
Imelda Staunton was spotted (opens in new tab) in her new role in the Netflix series back in July 2021 and fans were additionally given a first-look of Prince Charles and Princess Diana (opens in new tab) in the show during filming that same summer.
Official first look images - coutresy of Netflix - were kept under wraps for some time, only being released in October of this year as anticipation builds for it's release. The trailer then followed on November 20 and it's safe to say that the response was overwhelmingly positive from fans.
the crown season 5 is gonna slay our entire existence and im so here for it! pic.twitter.com/gIf7L5mA2yOctober 20, 2022
See more
How many episodes of The Crown season 5?
There is likely to be 10 episodes in The Crown season 5. The previous four series have each had 10 episodes each. And it is expected that the same number will apply to series 5 and 6.
Each episode will last around 60 minutes in length - as is the precedent with episodes from the show's previous seasons.
What time period will The Crown season 5 cover?
The Crown season 5 time period will carry on where season 4 ended - in the 1990s. The noughties was a decade packed with royal drama surrounding key figures like Princess Diana and Princes Charles, as well as the Queen herself.
Audiences are expected to see a new Prime Minister in this time period too. John Major replaced Margaret Thatcher at Downing Street in 1990. He stayed in office till 1997 when his successor, Tony Blair, took over.
New season, new decade, new cast. A first look at Season Five of The Crown, arriving 9th November. pic.twitter.com/dBa8VXSUGHOctober 14, 2022
See more
Each season of The Crown typically centres on a ten or 12-year period, with series four following the events from 1977 to 1990. This included the arrival of Diana and her wedding to Charles (opens in new tab). And it is thought their relationship will be further explored in season 5.
Who will play Queen Elizabeth II in The Crown season 5?
Veteran British stage and screen actress Imelda Staunton will play the Queen in season 5. She replaces Olivia Colman as the monarch and main character.
You may recognise Imelda for her roles in Harry Potter, Nanny McPhee, Shakespeare in Love and Cranford. She's also married to Downton Abbey's Mr Carlson (Jim Carter) in real life.
Imelda Staunton as Queen Elizabeth II. pic.twitter.com/A1MYVNXMCVOctober 17, 2022
See more
Staunton recently told BBC's Woman Hour her fears on playing such a well-known and well-loved figure. "I think my sort of extra challenge, as if I needed it, is that I'm now doing the Queen that we're a little more familiar with," she says. "With Claire Foy, it was almost history and now I'm playing one that people could say 'she doesn't do that,' 'she's not like that,' and that's my personal bête noire."
Who will play Prince Philip in season 5 of The Crown?
Welsh actor Jonathan Pryce will take over from season four's Tobias Menzies as the Duke of Edinburgh.
The 73-year-old actor boasts an impressive acting portfolio, having starred in Evita, Pirates of the Caribbean, Game of Thrones and earning recognition for a number of leading stage roles. Jonathan was also nominated for an Oscar last year for his portrayal of Pope Francis in The Two Popes.
No doubt fans will find watching Pryce's Philip in the new series a bittersweet experience, following the Duke of Edinburgh's death (opens in new tab) in April 2021. It was recently revealed that the late Prince Philip was upset by The Crown (opens in new tab) and their portrayal of his childhood.
Jonathon admitted that the prospect of playing the Duke of Edinburgh is "daunting", but he is "delighted" to be working with Netflix again.
The Crown season 5 cast: Full list
Imelda Staunton as Queen Elizabeth II
Lesley Manville as Princess Margaret
Jonathan Pryce as Prince Philip
Elizabeth Debicki as Princess Diana
Dominic West as Prince Charles
Claudia Harrison as Princess Anne
Jonny Lee Miller as John Major
Olivia Williams as Camilla Parker Bowles
Flora Montgomery as Norma Major
Marcia Warren as The Queen Mother
James Murray as Prince Andrew
Sam Woolf as Prince Edward
Bertie Carvel as Tony Blair
Humayun Saeed as Dr. Hasnat Khan
Timothy Dalton as Peter Townsend
Lydia Leonard as Cherie Blair
Natascha McElhone as Penelope Knatchbull
Senan West and Timothee Sambor as Prince William
Teddy Hawley and Will Powell as Prince Harry
New faces will take on the roles of the Royal Family in season 5, in what has become custom for the Netflix series. After every two seasons the cast is refreshed and replaced by more mature actors who are better suited to portray the ageing monarch and her children.
Fans were sad to see Claire Foy and Matt Smith depart after heading up the first two series as her Majesty and Prince Philip respectively. Though they soon embraced their season 3 and season 4 replacements - Olivia Colman and Tobias Menzies - as the two heads of the institution.
The Crown producers have revealed the new acting talent for season 5 and 6, with audiences no doubt familiar with a few British faces.
What key events will happen in The Crown season 5?
Though no official synopsis has been shared, we're expecting a number of key events from the 1990s to take place in Season 5 - in particular the end of several of the Queen's children's relationships.
Season four set the stage for the separation of Princess Diana and Prince Charles. The couple announced their separation in 1992 and officially divorced in August 1996.
1992 also saw two other divorce announcements - Princess Anne and Captain Mark Phillips (April 1992). Plus Prince Andrew and Sarah Ferguson (March 1992). It is thought the ending of these royal relationships will be key events in season five.
The Queen famously dubbed 1992 her "annus horribilis" with a huge fire at Windsor Castle breaking out and resulting in millions of pounds worth of damage. It is likely Peter Morgan will cover this key event in series five too.
Other national key events that could happen in The Crown season 5 is the start of the Gulf War (January 1991), the Queen's Ruby Jubilee (February 1992), the IRA bombings of London stations (February 1991) and the arrival of Tony Blair at Downing Street (May 1997).
Is there a season 6 of The Crown?
Yes there will be a sixth series of The Crown and this will be the last season of the hit Netflix show. Filming for the sixth season is currently underway.
The show's creator Peter Morgan initially said that season 5 would be the show's last series. However, in July 2020, Netflix confirmed that there will be a sixth and final season for fans to look forward to (hurrah).
News from the palace: we can confirm there will be a sixth (and final) season of @TheCrownNetflix, in addition to the previously announced five!July 9, 2020
See more
In the Netflix announcement, Peter said: "As we started to discuss the storylines for Series 5, it soon became clear that in order to do justice to the richness and complexity of the story we should go back to the original plan and do six seasons."
Producers have also confirmed that season 6 will deal with the death of Princess Diana. Though the show won't be re-enacting the crash scene out of respect. In a statement to the Daily News (opens in new tab), Netflix clarified: "[Season 6] will not depict the crash, contrary to some reports," adding that instead, "it will be scenes covering the lead-up to, and [the] aftermath."
Related Netflix features:
Video of the Week
Emily Stedman is the Features Editor for GoodTo covering all things TV, entertainment, royal, lifestyle, health and wellbeing. Boasting an encyclopaedic knowledge on all things TV, celebrity and royals, career highlights include working at HELLO! Magazine and as a royal researcher to Diana biographer Andrew Morton on his book Meghan: A Hollywood Princess. In her spare time, Emily can be found eating her way around London, swimming at her local Lido or curled up on the sofa binging the next best Netflix show.