The Ultimatum: Queer Love cast members: Everything we know about the line up
The Ultimatum is back, with a twist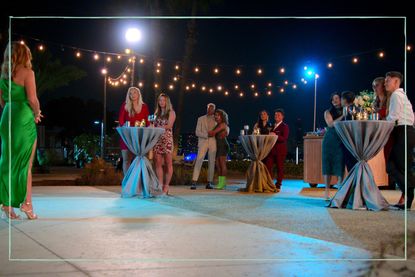 (Image credit: Netflix/Future)
The Ultimatum: Queer Love cast members have been a source of intrigue to fans of the show - here is everything we know about those appearing on the show.
Netflix's The Ultimatum: Marry or Move On garnered huge fan numbers when it aired in 2022. Following six couples with a big decision to make, one member of each pair had an ultimatum for the other: Get married, or get out. The contestants were allowed to act as though single, pairing with and dating other contestants to see how it felt to be away from their partners. After this trial period followed a reconciliation, where one of life's biggest decisions were made - the couples had to wed, or split for good. Now the show is back, but with a twist - the contestants featured are gay women and/or non-binary, who have reached a similar relationship crossroads: Should they marry, or call it quits? Here's everything we know about the cast members of The Ultimatum: Queer Love, before it airs on May 24.
If you've ever wondered which Ultimatum couples are still together in 2023, we have a full update for you. For Perfect Match fans wondering if Georgia and Dom are still together, we've got you covered. Similarly, are Nick and LC still together? You've got it - we have everything you need to know.
Lexi and Raelyn
Lexi: Age: 25 Pronouns: She/her Social media: Instagram
Raelyn: Age: 27 Pronouns: She/her Social media: Instagram
Lexi has been the one to offer Raelyn an ultimatum, having said she is "ready 130%" to make a lifelong commitment to her girlfriend of more than three years. Lexi is already something of a social media superstar, sharing racy content to Instagram and TikTok; she has amassed over half a million followers on Instagram, and nearly 350,000 on TikTok. In her latest Instagram post, Lexi revealed she "hadn't emotionally dealt with" the potential consequences of appearing on the show "for a single second." She met Raelyn on Bumble where they soon shared their first date in West Hollywood; they've now reached a crossroads.
Software engineer Raelyn feels unable to commit to marriage just yet, citing a tendency to overanalyze things as a reason for stalling. Much quieter on social media than her Insta-famous partner, Raelyn has spoken out about how important it is for her to feel represented on screen. In a recent post, she wrote "Growing up, the extent of queer representation for me was watching South Of Nowhere on putlocker when no one was home. It was seeing Emily on PLL or Santana on Glee and hiding my excitement. Representation matters and seeing the Netflix LGBTQ+ community come together to celebrate being out and proud reminds me of how far we've come. Embracing and loving yourself is a never ending learning experience so make sure you surround yourself with love, acceptance, and positivity to help you through the journey."
Yoly and Mal
Yoly: Age: 34 Pronouns: She/her Social media: Instagram
Mal: Age: 36 Pronouns: She/her/they Social media: Instagram
Yoly has issued partner Mal the ultimatum, and she's out for commitment. Fashion stylist Yoly also runs Lovers and Friends Chicago, curating events for Black and Brown Lesbians. Announcing her appearance on the show, Yoly posted to Instagram "Not me being on Netflix's first queer reality dating show. Lowkey looks really good, right?!????," receiving a flurry of positive responses from followers in the comments.
Mal feels she and Yoly aren't financially stable enough to take the next step in their relationship. It's not clear from Mal's social media what she does for a job, but she shares plenty of positive updates about her life. Her announcement at appearing on the series read "Soooooo. I did a thing… Super excited to share this journey with y'all. Thanks for riding this wave with me fam. Let's run it up!!"
Tiff and Mildred
Tiff: Age: 32 Pronouns: They/them Social media: Instagram
Mildred: Age: 33 Pronouns: She/her Social Media: Instagram
Tiff has reservations about a long-term commitment to Mildred, citing poor communication and plentiful fighting as her reasons. Tiff works as a personal coach, and hosts a podcast named Fweebs with friend Kari. Fweebs is described as a place friends can benefit from one another by lifting each other up, motivating, and helping one another accomplish life goals. Each episode covers the "Good, bad, the ugly and the really embarrassing."
Mildred and her teenage son were recovering from Mildred's difficult divorce from her husband, when Tiff sent her an Instagram DM and a relationship formed. Mildred works as a Zumba instructor, and describes herself as "Mother first. Bad bitch immediately after." Announcing her appearance on the series and hopes to finally pin down commitment from Tiff, Mildred wrote on Instagram "THE SECRET IS OUT YALL! I'm so honored to be part of Netflix's first Queer reality Dating show. Issa busy month for this little gay. Premieres May 24."
Vanessa and Xander
Vanessa: Age: 30 Pronouns: She/her Social media: Instagram
Xander: Age: 30 Pronouns: She/her/they Social media: Instagram
Vanessa met Xander when their boyfriends were best friends in high school. When the pair had both come out years later, they reconnected and have been a couple for four years. Vanessa has received the ultimatum from Xander, due to worries over losing her freedom should she make a lifelong commitment. Although contestants are forbidden from revealing the outcome of shows such as this, Vanessa and Xander had been living together in their native Hawaii. However, Vanessa's Instagram now puts her at being based in LA, possibly hinting at a split. She also described the consequences of the series as "a s**t show", again pointing to a less than positive outcome for the couple.
Xander wants to make Vanessa her wife, and for them to start a family. Xander works as a physical therapist, where her business - Move With Xan - helps clients move more efficiently and intentionally within their physical training. Predominantly working with those struggling with movement due to injury or other inhibiting factors, services are tailored to personal needs, offering a holistic approach to achieve goals. On appearing on the show, Xander said "All the feelings. All the chaos. On May 24th see how 10 of us navigate through tough conversations, make difficult decisions, and do our best to choose what is ultimately right for us."
Aussie and Sam
Aussie: Age: 42 Pronouns: Aussie Social media: No social media
Sam: Age: 31 Pronouns: She/her Social Media: No social media
Sam and Aussie met at an online social group for LGBTQ+ people during the pandemic, and have now been together a year and a half. Sam has been the one to issue an ultimatum to Aussie, despite being over a decade younger than her partner. Aussie (who prefers not to use pronouns but simply go by "Aussie"), suffers occasional bouts of anxiety, and would prefer to spend longer together as a couple before getting married. With the pair not having any social media accounts and little revealed about them online, it's difficult to tell where they're based and what they do for work. Keep an eye out - these snippets of information will likely be revealed on the show!
Related Features:
Video of the Week
Lucy is a multi-award nominated writer and blogger with six years' experience writing about entertainment, parenting and family life. Lucy has contributed content to PopSugar and moms.com. In the last three years, she has transformed her passion for streaming countless hours of television into specialising in entertainment writing. There is now nothing she loves more than watching the best shows on television and telling you why you should watch them.