Are Raven and SK still together and where are they now? Love is Blind season 3
**SPOILERS AHEAD**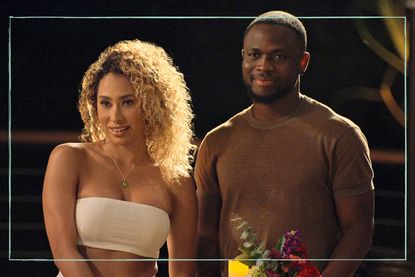 (Image credit: Future/Netflix)
The down to earth and drama-free duo from Love is Blind season 3 have people asking are Raven and SK still together?
The popular Netflix dating show with a difference is back and has everyone talking about the fate of the current Love is Blind season 3 cast (opens in new tab) and romantic pairings. From Andrew's fake 'tears' to Raven's jumping jacks - there's been plenty of standout moments. And the status of the 2022 cohort and their significant others is very much a hot topic, with many wanting to know if Alexa and Brennon are still together (opens in new tab) as well as Bartise and Nancy (opens in new tab) and Colleen and Matt (opens in new tab).
Netflix dropped the last few Love is Blind season 3 episodes in early November, finally showing us what went down at the weddings and after. We've delved into what happened between Raven and SK on the big day and whether the two are still together today.
Are Raven and SK still together?
Yes, at the Love is Blind season 3 reunion, it was confirmed that Raven and SK are still together. Whilst SK chose not to marry Raven during their wedding day, the two have been taking it "day by day" since their failed nuptials.
"So are y'all dating right now?" host Vanessa Lachey asked Raven at the reunion, to which they both replied: "Yeah". The two then got up from their separate seats and embraced, with Raven saying "Hi baby" to her beau, before sharing a kiss.
"It's so funny, we're watching this and he's like 'Oh my god, babe, I have to show you 'I'm getting so many DMs'. Oh my god, I was like 'stay out of my man's DMs'.
Fellow contestant Zanab who was with Cole (opens in new tab), then piped up giving her view of the two's relationship: "You bring out a side of Raven that like a lot of people don't get to see. 'Cause I love my girl but she's a tough, tough shell to crack. But when you do break her open she's so tender and so sweet and so loving. You brought that out of her."
It was a less joyous occasion for the two during their wedding day, when SK turned down Raven. "I do not," SK said at the altar, to a visibly shocked Raven. "Today, Raven we both know how we feel about each other. I love you. However, we have a very unique and complex set of circumstances. I feel like today is not the best time for us to do this."
An emotional Raven asks for a hug and says she's "sorry", before leaving SK at the altar. "I never want to have another wedding," she utters whilst walking away from the aisle.
SK goes onto explain to his mum that it just wasn't the "right time". He later reflects to the camera: "It is no question in my mind. I love Raven. I know she's probably mad and angry, but I just would feel really bad and really guilty to continue on, you know, in a marriage with her when I know that there are so many other unanswered questions.
"You know it's not just about me having to leave after our marriage. It's also about, like her not being flexible to, for example, maybe move to California with me. It's also about certain things that I know for a fact that she's very strong about. I still have a little bit of issue with the family situation.
"I have thought about the risk of losing her forever because of my decision today. As sad as it sounds, I think I would rather lose her than be in a marriage with her where I will feel like lots of shortcomings every day."
As for Raven, she told cameras that she was "planning on saying yes today". However, she appreciated that the two had their issues and that she understood it was "really hard for him to stand there" and say no to her.
"Like I am not the perfect Nigerian bride, and we've established that so many times," she said. "And I don't know if I can ever be that way just because that's not who I am."
Whilst the wedding wasn't a success it's nice to know that the two haven't given up on their romance - and rather just needed more time to grow and get comfortable.
What have Raven and SK said since?
The two have since spoken publicly about what happened on their wedding day and their reflections of their journey together.
Raven told PEOPLE (opens in new tab) that it was "a really emotional day" and that SK's no at the altar came as somewhat of a surprise. "I definitely was unprepared. We had gone through this whole experience. I was definitely on cloud nine after our build-up of having a great relationship, so I was a little shocked."
She added that she thinks the audience too were taken a back by her emotional response too. "I was clearly really shocked," Raven says. "I feel like the whole time, I was definitely not portrayed as an emotional person. So it was probably shocking for everyone to see me be such a crybaby."
SK felt that Love is Blind season 3 didn't show the extent of Raven and SK's love tale. "I think Raven and I's story, the way it was portrayed on the show, I kind of feel bad watching it, especially from the perspective of the audience, because a lot of our love story wasn't completely told in the way it was portrayed," he explained to PEOPLE. "The narrative focused a lot more on some other subjects and some other incidents in the show."
He also addressed how it was ultimately his decision to study in a different state that was the nail in the coffin for their relationship. And it's something that he doesn't blame Raven for not being supportive of.
"In our very first conversation, I brought it up. I was like, 'I'm actually getting ready to go to grad school in the fall.' And she didn't really have a problem with that," he says. "We said we're going to do things long distance and we're going to try it out. But of course, it's easier said than done... when things get real and now you have to put numbers on paper."
He adds: "I don't think we had enough time to be able to get there. And also, for her to trust me, right? It's been 10 days since we'd known each other and telling someone that you just met in 10 days to leave their own dreams and come pursue your own dreams, it's got to take a lot of gut to be able to do that."
Where is SK from Love is Blind now?
SK kept to his word and is currently studying at Berkley's Haas school of business, based in California. He plans to work in early-stage venture capital investing after graduating.
In an interview with Berkley (opens in new tab) he revealed that he didn't tell any of his new university friends that he was appearing on Love is Blind season 3. "I kept this secret from my classmates even though so many of them watch the show.
"I haven't stepped into a class since the announcement so I am just preparing myself for the 21 questions. I kept this from them because of the confidentiality agreement, and also to try to have as normal a first-year MBA experience as possible."
Where is Raven from Love is Blind now?
Raven has remained in Dallas and is continuing life with her first love: Pilates. The 29-year-old has shared a number of gym selfies and workout tutorials on her Instagram since the show and has been tagged in stories on nights out with her friends.
Raven opened up on how they two are managing to keep their relationship alive whilst living in different states. "Our communication, I think I can speak for both of us. Like we've never been on this level in any other relationship. Every time, I feel like we reach a new level. And like nothing is perfect but we've grown so much from this experiment first of all - from what we went through, from being apart - it makes it so much better when we're together.
She continues: "Yeah, of course I would prefer to be with him every day but we've grown so much from it and it's really beautiful to do that."
Related Netflix features:
Video of the Week